Reporters from across the globe descend on the Cape
BY STEPHEN CLARK
SPACEFLIGHT NOW
Posted: July 12, 2005


KENNEDY SPACE CENTER, Fla. - Members of the news media have descended upon central Florida this week as NASA prepares to launch the first space shuttle mission since Columbia's ill-fated flight two-and-a-half years ago that left the fleet grounded.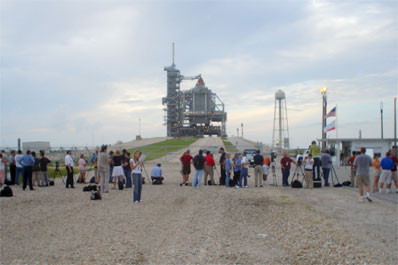 Journalists and photographers flocked to the launch pad Tuesday night to watch the service structure roll away from Discovery. Credit: Stephen Clark/Spaceflight Now



The eyes of the world will focus on Kennedy Space Center Wednesday when shuttle Discovery rumbles into space to embark on a 12-day mission to service the international space station. Spaceflight Now will provide extensive live play-by-play coverage of the flight in our Mission Status Center.

The NASA public affairs office at KSC is responsible for accommodating reporters and photographers covering space shuttle launches, and officials say they began preparing for the onslaught of media over a year ago as it became clear Discovery's mission was nearing.

"We've been planning a long time for this," said Bruce Buckingham, the news chief at Kennedy Space Center.

Officials took a number of issues into consideration for infrastructure to house reporters indoors away from the heat and platforms to be used by photographers to get a good view of Discovery and launch pad 39B sitting three-and-a-half miles away.

NASA opened up the accreditation process for Discovery's STS-114 mission in January in advance of a then-scheduled launch in May. Members of the press must be accredited by the public affairs office to receive credentials and a badge to cover the flight using NASA facilities.

The first round of accreditation closed in April, but with the announcement of a delay in Discovery's long-awaited mission to July, the press office chose to re-open the process for a week after Memorial Day before it was officially closed over a month ago.

All told, Buckingham said approximately 2,800 persons were badged for a variety of networks, television stations, newspapers, magazines, and web sites around the world. Officials estimate 700 foreign reporters -- a quarter of the total number -- were accredited representing about 30 countries. Japan enjoys a large contingent of media at the space center due to Discovery's mission specialist and lead spacewalker Soichi Noguchi.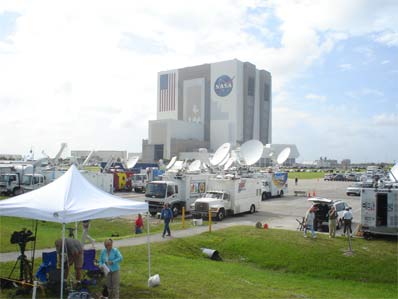 A few dozen satellite trucks were in place Tuesday at the Complex 39 press site. Credit: Stephen Clark/Spaceflight Now



A wild card in the final tally is determining the number of reporters who were planning to attend the May launch will opt not to come to Cape Canaveral to cover the liftoff in July, Buckingham said. Officials predict around 2,000 people will actually arrive and pick up a badge this week. Some television stations arrived a bit later than planned due to the coverage of Hurricane Dennis that battered the Gulf Coast over the weekend.

By Tuesday, a few dozen satellite trucks had taken their spots around the Kennedy Space Center press site, along with large numbers of high-volume mobile trailers. Scaffolding had been erected across the press site lawn overlooking the famous countdown clock.

Throughout the history of U.S. manned spaceflight, press members have turned out to attend milestone missions for over 40 years. For John Glenn's orbital Mercury flight in 1962, 379 reporters and photographers were at Cape Canaveral. Both the Apollo 11 moon landing in 1969 and the first space shuttle flight in 1981 garnered the attention of some 2,700 members of the press who showed up to receive badges.

Numbers gradually waned through the 1980's, with spikes of about 1,700 media officials for the launch of Sally Ride -- the first American woman in space -- in 1983, and of around 2,300 in 1988 for STS-26, the first shuttle mission after the Challenger accident two years earlier.

In the 1990's, the average press corps for a shuttle launch reached around 350 members strong. Some missions saw under 200 reporters at the KSC press site, while others such as the launch of the Hubble Space Telescope and the first Shuttle-Mir program flight were above normal. John Glenn's return to space aboard Discovery in 1998 also rose to the world stage, prompting 3,750 requests but KSC officials could not say Tuesday how many reporters actually attended the launch.


Additional coverage for subscribers:


VIDEO: TODAY'S COUNTDOWN STATUS BRIEFING DIAL-UP | BROADBAND


AUDIO: LISTEN TO COUNTDOWN STATUS BRIEFING FOR IPOD



VIDEO: MONDAY COUNTDOWN STATUS BRIEFING DIAL-UP | BROADBAND


AUDIO: LISTEN TO COUNTDOWN STATUS BRIEFING FOR IPOD


VIDEO: SHUTTLE PROCESSING OVERVIEW DIAL-UP | BROADBAND


AUDIO: LISTEN TO SHUTTLE PROCESSING OVERVIEW FOR IPOD


VIDEO: REVIEW OF PRE-LAUNCH ACTIVITIES DIAL-UP | BROADBAND


AUDIO: LISTEN TO REVIEW OF PRE-LAUNCH ACTIVITIES FOR IPOD



VIDEO: THE LAUNCH COUNTDOWN BEGINS! PLAY


VIDEO: WEATHER OFFICER GIVES LAUNCH FORECAST PLAY


VIDEO: SUNDAY COUNTDOWN STATUS BRIEFING DIAL-UP | BROADBAND


AUDIO: LISTEN TO COUNTDOWN STATUS BRIEFING FOR IPOD


VIDEO: SHUTTLE PROPULSION SYSTEM MODIFICATIONS PLAY


AUDIO: LISTEN TO PROPULSION SYSTEM BRIEFING FOR IPOD


VIDEO: DETAILS ON NEW LAUNCH TRACKING CAMERAS PLAY


AUDIO: LISTEN TO CAMERA BRIEFING FOR IPOD



VIDEO: MEET DISCOVERY'S SEVEN ASTRONAUTS DIAL-UP | BROADBAND


VIDEO: PREVIEW OF DISCOVERY'S MISSION DIAL-UP | BROADBAND


VIDEO: SPACE STATION WITHOUT SHUTTLE DIAL-UP | BROADBAND


MORE: SHUTTLE RETURN TO FLIGHT VIDEO LISTING


SUBSCRIBE NOW