Astronauts catch early flight to launch site
BY WILLIAM HARWOOD
STORY WRITTEN FOR CBS NEWS "SPACE PLACE" & USED WITH PERMISSION
Posted: July 9, 2005


Flying in one day early to dodge Hurricane Dennis, the shuttle Discovery's crew arrived at the Kennedy Space Center this evening to make final preparations for launch Wednesday on the first post-Columbia flight.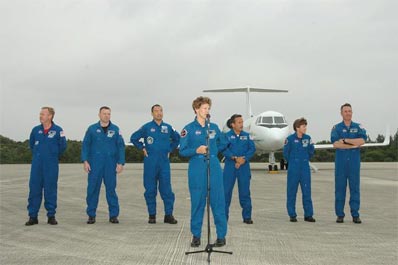 Shuttle Discovery's astronauts arrived at Kennedy Space Center this evening. Credit: NASA-KSC



"This shuttle flight is the beginning of a new chapter in space exploration," commander Eileen Collins told a crowd of journalists at the Shuttle Landing Facility. "We are going to finish building the international space station, we're going to do the science up there that needs to be done in learning how to keep people going in space for long periods of time (and) leaving low earth orbit and going back to the moon.

"By exploring, we make this world a better place to live in and we continue to grow as a human species. That's important, not just for the United States but for all of us around the world."

Collins, pilot James Kelly, flight engineer Stephen Robinson, Japanese astronaut Soichi Noguchi, Andrew Thomas, Wendy Lawrence and Charles Camarda hope to strap in Wednesday for a launch attempt at 3:51 p.m., weather permitting. The countdown begins at 6 p.m. Sunday.

While Hurricane Dennis did not churn up any serious weather at the Kennedy Space Center Saturday, rain and thunderstorms are expected next week and with a short five-minute launch window, the weather could play a major role in when Discovery finally gets off on the long-awaited flight.

"To all the folks traveling out here to launch, especially with Hurricane Dennis bearing down on the Gulf Coast, hopefully they'll all make it here safely and later on this week, on Wednesday, we'll light the candle and head back up into space."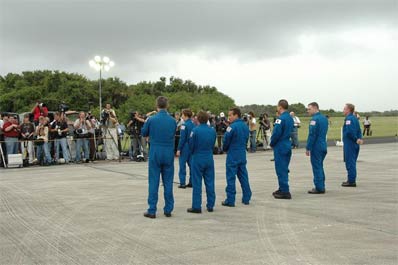 The crew addressed a large crowd of reporters and photographers gathered at the runway. Credit: NASA-KSC



Collins and her crewmates appeared relaxed and in good spirits as they departed the SLF for crew quarters. All seven said they were eager to finally resume shuttle flights two-and-a-half years after the Columbia disaster grounded NASA's fleet.

"That's way too long," Thomas said of the hiatus. "It's definitely time we went back to flight and back to space. And having the responsibility of the return-to-flight mission certainly makes me feel that sense of privilege even more.

"To all the people down here in Florida who have prepared the vehicle and done so much work to make the flight possible, I say thank you. And to all the taxpayers and the members of the public who support the space program, I very much want to thank you for your support. I would like you to know that as we execute the mission, we will do our very best to live up to the great trust you have put in us."

Noguchi, after addressing Japanese journalists in his native tongue, summed up the crew's mood in English, exclaiming: "Let's go fly!"


Additional coverage for subscribers:


VIDEO: ASTRONAUTS ARRIVE AT KENNEDY SPACE CENTER PLAY


VIDEO: POST-ARRIVAL SPEECHES BY EACH CREW MEMBER PLAY



VIDEO: MEET DISCOVERY'S SEVEN ASTRONAUTS DIAL-UP | BROADBAND


VIDEO: PREVIEW OF DISCOVERY'S MISSION DIAL-UP | BROADBAND


VIDEO: SPACE STATION WITHOUT SHUTTLE DIAL-UP | BROADBAND



VIDEO: "DEBRIS 101" EXPLAINS WHAT THREATENS THE SHUTTLE QT


VIDEO: REVIEW OF NASA'S EXTENSIVE IMPACT TESTING PERFORMED QT


VIDEO: PRESENTATION ON THE CHANGES MADE TO THE TANK QT


VIDEO: DAY-BY-DAY PREVIEW OF DISCOVERY'S MISSION QT


VIDEO: DETAILED SUMMARY OF MISSION'S THREE SPACEWALKS QT


VIDEO: STS-114 ACTIVITIES PLANNED ABOARD AND OUTSIDE ISS QT


VIDEO: CHANGES TO LAUNCH AND LANDING OPERATIONS QT


MORE: SHUTTLE RETURN TO FLIGHT VIDEO LISTING


SUBSCRIBE NOW