Shuttle launch debris risk uncertain but 'acceptable'
BY WILLIAM HARWOOD
STORY WRITTEN FOR CBS NEWS "SPACE PLACE" & USED WITH PERMISSION
Posted: June 24, 2005


NASA managers met today and decided to press ahead with plans to launch the shuttle Discovery next month even though engineers have been unable to precisely define the threat posed by ice shaking off the ship's external tank during launch.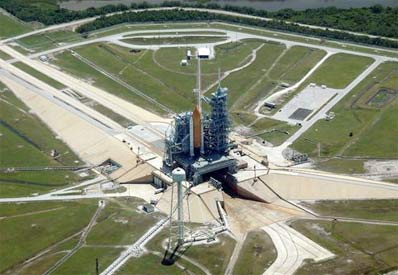 Space shuttle Discovery remains set for launch on July 13. Credit: NASA-KSC



"At the end of the day, the recommendation ... was that we're in an acceptable risk posture and they recommended to me, the program manager, that we proceed on with the launch," said shuttle chief Bill Parsons. "I accepted that recommendation. And that's where we're headed now."

A final decision on whether to proceed toward a planned July 13 launch of the shuttle Discovery will be made late next week, after a formal flight readiness review and after a final report by an independent panel charged with assessing NASA's implementation of post-Columbia safety upgrades.

At issue in recent weeks has been the threat posed by ice falling from from the shuttle's external tank, especially any of five brackets that hold a 17-inch liquid oxygen feedline to the exterior of the huge tank.

Despite intensive computer modeling, experiments to duplicate the launch environment and statistical analyses based on past flights and other factors, engineers have been unable to precisely characterize the likelihood of ice debris damaging the shuttle's heat shield tiles or wing leading edge panels during launch.

During an afternoon news briefing, Parsons and John Muratore, the manager in charge of the debris assessment, refused to provide numerical odds of impact damage, saying the issue is too complex and that such numbers would be meaningless without a thorough understanding of the assumptions that went into the calculations.

"It's a really complex formulation, going from how much ice can you have on the spacecraft and what velocities, at what vibration levels it shakes loose, how big are the pieces that shake loose and then how they transport through the aerodynamic environment," he said.

"And then, what's the resistance of the tiles to ice impacts and finally, given an ice crater - which is different from a foam (insulation) crater - how well can we enter (the atmosphere) with regard to that?

"The uncertainties in each of those areas are significant," he said. "There are all sorts of numbers that are floating around. We have nine different estimates for ice on tile from one ice location. ... It is a very complex problem.

"So what we did was, we looked at the relative risks and we're convinced the ... the remaining risks due to ice is around an order of magnitude less than the ones that we fixed."

Muratore said ice represents more of a threat to the shuttle's tiles than it does to its reinforced carbon carbon leading edge panels and that even though engineers used "all the supercomputers at NASA to run it down ... it doesn't lend itself to a single number."

"Impact dynamics are a very complicated engineering discipline," he said.

While he would not discuss the statistics underlying today's "go" recommendation, sources said some estimates of the likelihood of tile damage due to ice impacts - damage that would require repair or some other response - could be as high as 1-in-100 or so or as low as one in tens of thousands, depending on the assumptions that were made.

Engineers do not put much faith in either extreme because they simply do not have enough reliable test data to more precisely define the actual risk. And that won't change anytime soon. As one briefing chart put it, significant improvement in the understanding of the impact threat from ice and foam would require "another enormous undertaking."

The best way to improve that understanding in the near term, many engineers believe, is to collect actual flight data by launching Discovery as planned. They believe the studies carried out to date, plus NASA's experience in 113 previous shuttle missions, show the risk of a debris strike, whatever it might be, is acceptable.

"We believe it's an acceptable risk at this time," Parsons said.

Because Columbia was brought down during re-entry Feb. 1, 2003, by wing leading edge damage caused by an external tank foam strike during launch, NASA focused most of its intial return-to-flight efforts on characterizing the threat posed by foam and developing potential repair procedures.

The external tank's insulation was redesigned to eliminate the foam that was the direct cause of the Columbia disaster. Other improvements were implemented to minimize the size of foam debris that can pop off the tank due to thermal or aerodynamic stresses.

And while the astronauts will not have certified repair procesures on board, they will test a variety of repair techniques and carry out unprecedented external inspections. In the unlikely event unrepairable damage is detected, NASA has made plans for the crew to move into the international space station until a rescue mission could be launched.

The threat posed by ice debris came to light relatively recently, prompting a major effort to define the actual risk. The results of that analysis were presented to NASA managers today during a meeting at the Kennedy Space Center.

In the meantime, a panel of outside experts making up the Return to Flight Task Group plans to meet over the weekend to study today's results before holding a final hearing Monday in Washington.

The task group, chaired by former Apollo astronaut Thomas Stafford and former shuttle commander Richard Covey, was established by former NASA Administrator Sean O'Keefe to oversee NASA's implementation of recommendations made by the Columbia Accident Investigation Board. The CAIB made 29 recommendations to improve safety, 15 of which were to be implemented before the first post-Columbia shuttle flight.

NASA is not bound by the task group's assessment and the final decision to launch Discovery will be made by NASA Administrator Michael Griffin after next week's flight readiness review.

NASA had hoped to launch Discovery in mid May, but the flight was delayed after a fueling test April 14 because of concern about ice buildups around a flexible liquid oxygen feedline bellows assembly. In addition, two of four hydrogen fuel sensors operated intermittently and a pressure relief valve in the hydrogen section of the tank cycled more often than expected.

NASA managers ultimately ordered engineers to haul Discovery off the launch pad back to the Vehicle Assembly Building for attachment to an external tank and boosters originally slated for the second post-Columbia mission. The new tank is equipped with a heater to minimize ice buildups around the feedline bellows.

Before the rollback, however, a second fueling test was conducted May 20, confirming the hydrogen vent valve's unusual behavior. Engineers believe the valve cycling was associated with a jet-like device called a diffuser that injects helium into the tank to help maintain the proper temperature and to pressurize the tank for flight. A new dual-screen diffuser was used in Discovery's original tank and managers decided to switch back to the original single-screen design for the new tank.

As for the hydrogen sensors, which operated normally the second time around, NASA managers decided June 6 to forego a third tanking test, saying they are confident the new tank will behave normally during Discovery's countdown.

One wild card in the troubleshooting is the status of an electronics assesmbly in the shuttle's engine compartment that routes data from the fuel tank hydrogen sensors to the orbiter's flight computers. The original component was taken out after the April tanking test and disassembled for troubleshooting. No problems were found.

A box from the shuttle Endeavour was installed for the second tanking test and while it worked normally, it experienced a malfunction later. Engineers currently are testing a sensor box removed from the shuttle Atlantis and if no problems are found, it will be installed aboard Discovery. One of the other units will be reassembled, tested and re-installed in Atlantis.

Assuming the flight stays on schedule, commander Eileen Collins and her six crewmates - pilot James Kelly, flight engineer Robinson, Soichi Noguchi, Andrew Thomas, Wendy Lawrence and Charles Camarda - will fly to the Kennedy Space Center on Sunday, July 10. The countdown is scheduled to begin at 6 p.m. that night.

The shuttle's primary cargo includes a refurbished control moment gyroscope to replace one that failed earlier aboard the space station; a took kit and spare parts module that will be mounted on the station's exterior to enable future assembly work; and a pressurized logistics module loaded with space station equipment and supplies.


Additional coverage for subscribers:


VIDEO: "DEBRIS 101" EXPLAINS WHAT THREATENS THE SHUTTLE QT


VIDEO: REVIEW OF NASA'S EXTENSIVE IMPACT TESTING PERFORMED QT


VIDEO: PRESENTATION ON THE CHANGES MADE TO THE TANK QT


VIDEO: DAY-BY-DAY PREVIEW OF DISCOVERY'S MISSION QT


VIDEO: DETAILED SUMMARY OF MISSION'S THREE SPACEWALKS QT


VIDEO: STS-114 ACTIVITIES PLANNED ABOARD AND OUTSIDE ISS QT


VIDEO: CHANGES TO LAUNCH AND LANDING OPERATIONS QT


MORE: SHUTTLE RETURN TO FLIGHT VIDEO LISTING


SUBSCRIBE NOW