Engineers assess space shuttle launch schedule
BY WILLIAM HARWOOD
STORY WRITTEN FOR CBS NEWS "SPACE PLACE" & USED WITH PERMISSION
Posted: May 4, 2005


The shuttle Discovery's crew strapped in today for a dress rehearsal countdown while program managers continued assessing what work needs to be done - and whether it can be completed in time - for a July 13 launch attempt.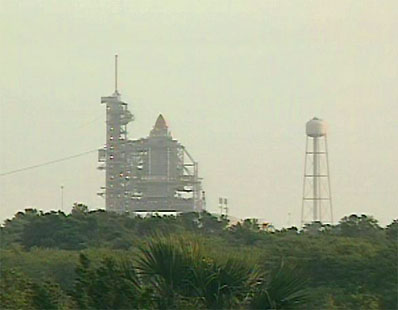 Space shuttle Discovery and her crew undergo a countdown rehearsal at pad 39B today. Credit: NASA TV/Spaceflight Now



In a traditional pre-flight milestone, commander Eileen Collins, pilot James Kelly, Stephen Robinson, Soichi Noguchi, Andrew Thomas, Wendy Lawrence and Charles Camarda donned their bright orange pressure suits and began climbing aboard Discovery shortly after 8 a.m. EDT (1200 GMT).

The countdown proceeded to the T-minus four-second mark when it ended with a simulated abort and main engine shut down at 11 a.m. EDT (1500 GMT). The test went smoothly and other than a minor communications glitch caused by a switch in the wrong position, no major problems were encountered.

"We had a very successful test. It felt to me like it was a real launch day," Collins told reporters this afternoon.




Additional coverage for subscribers:


VIDEO: COLLINS TALKS TO REPORTERS AFTER THE COUNTDOWN QT


VIDEO: COUNTDOWN ENDS WITH SIMULATED ENGINE SHUTDOWN QT


VIDEO: WATCH T-9 MINUTES THOUGH POST-ABORT SAFING QT


VIDEO: COMMANDER COLLINS CLIMBS TO HER FLIGHT DECK SEAT QT


VIDEO: ASTROVAN ARRIVES AT PAD; CREW HEADS UP ELEVATOR QT


VIDEO: ASTRONAUTS DEPART QUARTERS FOR LAUNCH PAD QT


VIDEO: CREWMEMBERS DON THEIR LAUNCH SPACESUITS QT


VIDEO: ASTRONAUTS SEATED FOR BREAKFAST TODAY QT


VIDEO: FOOTAGE OF THIS WEEK'S KSC TRAINING QT


SUBSCRIBE NOW





The terminal countdown demonstration test, or TCDT, was already scheduled when NASA managers last week decided to delay the first post-Columbia mission from May 22 to no earlier than July 13, the opening of the next available space station launch window.
The launch delay was ordered because of concern about the possibility of ice buildups around a bellows assembly that allows the external tank's 17-inch-wide liquid oxygen line to flex slightly during fueling and launch. At issue is whether such ice could break off and damage the shuttle's heat-shield tiles or wing leading edge panels during ascent.
Wanting more time to assess the overall ice threat, and to install a heater on the liquid oxygen feedline bellows, program managers opted to delay launch. They also needed more time to troubleshoot two potentially serious problems that cropped up during a test April 14 when the external tank was loaded with a half-million gallons of supercold rocket fuel.
Two of four sensors in the liquid hydrogen tank that detect low levels and help control the engine shutdown sequence failed to operate properly. In addition, a pressure relief valve cycled more often than expected, indicating a problem of some sort in another system.
The feedline bellows heater assembly must be installed back at the Vehicle Assembly Building. But engineers have not yet decided when to move Discovery off its oceanside launch pad. They are considering another tanking test before rollback to gather additional data on the fuel depletion sensors and the relief valve.
They also are considering whether to move Discovery to a different set of boosters and a fresh external fuel tank currently being assembled for the second post-Columbia mission. The tank for that mission includes additional instrumentation not available in Discovery's current tank.
As of this writing, no such decisions have been made. But given the amount of work left to do, sources say it will be difficult to meet the July 13 launch target.