Next shuttle flight delayed; rescue scenario formed
BY WILLIAM HARWOOD
STORY WRITTEN FOR CBS NEWS "SPACE PLACE" & USED WITH PERMISSION
Posted: February 19, 2004


The first post-Columbia shuttle mission will slip from September to March 2005 to give engineers more time to develop in-flight repair procedures and to take advantage of more favorable launch windows, officials said today. The slip also will give NASA and its contractors time to resolve problems with actuators in the shuttle's rudder and speedbrake assembly in the ship's vertical tail fin.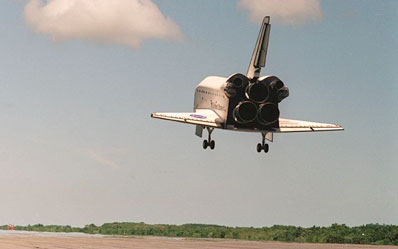 Concerns with space shuttle rudder/speedbrakes is one of the reasons NASA is delaying return-to-flight into 2005. Photo: NASA



NASA's Spaceflight Leadership Council, a panel made up of the agency's top managers, approved the change during a meeting today at the Johnson Space Center in Houston. The panel also approved plans to assign the flight to the shuttle Discovery, targeting launch for no earlier than March 6, 2005.

At the same time, engineers continue to refine plans to have a second shuttle ready for launch on an emergency rescue mission in case something goes wrong during Discovery's flight. In that case, commander Eileen Collins and her crew could be forced to seek "safe haven" aboard the international space station until a rescue flight could be attempted.

NASA plans to process a second shuttle that could be rolled to the pad and launched within 70 days of notification, assuming a three-shift around-the-clock work flow and no waived requirements, sources said. The flow possibly could be shortened to 35 days in a crisis.

The rescue flight, known as STS-300, would be crewed by four of the six astronauts already assigned to mission STS-115, the third flight in NASA's post-Columbia launch sequence. The STS-115 crew is made up of commander Brent Jett, pilot Chris Ferguson, Joe Tanner, Dan Burbank, Steve MacLean and Heidemarie Stefanyshyn-Piper.

STS-300 would provide backup for Collins' flight, known as STS-114, and the second post-Columbia mission, STS-121. Jett, Ferguson and two other STS-115 crew members would be trained to rescue either crew.

The mission would feature a normal rendezvous and docking with the space station. The stranded crew would return to Earth strapped into recumbent seats bolted to the floor of the rescue shuttle's lower deck.

Recumbent seats are needed to prevent balance problems for astronauts returning to Earth after being weightless for more than a month. Seven such seats would be required for Collins' crew, all of them mounted in the middeck area. Studies show all 11 returning astronauts would have time to bail out, if necessary, despite the crowded conditions on the lower deck.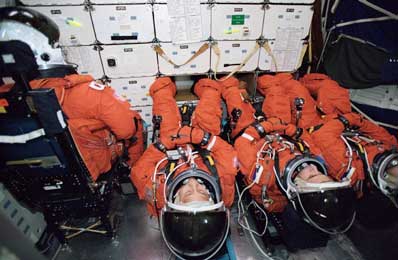 This file image shows three astronauts in recumbent seats. Photo: NASA



"It is our plan to put ourselves in a posture for return to flight, first launch, that the second vehicle will be ready to launch and go to the international space station and pick up the first crew if we had a problem with the vehicle and could not bring it down," said Michael Kostelnik, deputy associate administrator for the shuttle and station programs.

He told reporters today the space station could support a stranded shuttle crew for up to 90 days and possibly longer if required.

"For the first flight, we are going to have the capability to do this and we will have the proper software load and training for that mission such that we'd be in a position to have a crew capable of launching within the time period the station could support an expanded crew and bring down the first crew if we had a problem with the first vehicle," Kostelnik said.

"There's still a lot of planning to be done on this (but) this is the path we're going down for the first flight. Our experience for subsequent flights will be determined by our success and our problems associated with the first flight."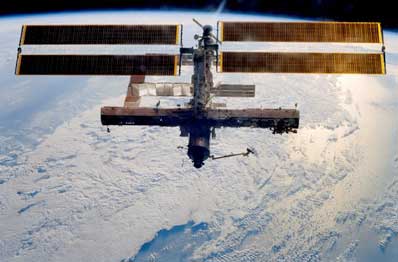 The space station as seen at the completion of the last shuttle assembly mission in December 2002. Photo: NASA



With Discovery now slated for the first post-Columbia mission, the shuttle Atlantis will serve as the STS-300 "launch-on-need" vehicle.

"I don't believe there's an awful lot of extra training or extra things we have to do for a rescue mission," said Bill Parsons, shuttle program manager. "Overall, it would be very similar to an STS-121 mission. It would be going to the international space station, docking, picking up crew, making sure we had the appropriate hardware and things we needed to bring that crew on board and then returning safely."

NASA managers originally said they hoped to launch the first post-Columbia flight this March or April. But last October, the target was pushed back to a launch window that opened around Sept. 12 and closed Oct. 10.

A variety of factors conspired to push the flight into 2005, including work to minimize foam shedding from the shuttle's external fuel tank and development of tile and wing leading edge repair materials and techniques. Other "long poles" include development of a camera and laser sensor package needed for in-flight inspection of the ship's thermal protection system.

Tile repair development is "going as well or better than expected," Parsons said today. Wing leading edge repair is "not as mature as the tile repair, but it is coming along."


| | |
| --- | --- |
| | NASA now requires shuttles to be launched only in daylight. Photo: NASA |
Another complicating factor is a photo documentation requirement to have daylight lighting for both launch and external fuel tank separation to determine whether any large pieces of foam separated from the tank and, if any did, whether the shuttle suffered any damage. The lighting requirement, combined with thermal constraints at the space station, translated into very limited launch windows through early 2005. After the September window, NASA had just three available days in November, none in December and three in January.

NASA now plans to target a launch window that would open around March 6, 2005, and extend into early April. But a Russian Soyuz crew transfer flight is scheduled for launch around April 10 and flight rules forbid launching a shuttle within 13 days of that date. As a result, NASA will have until roughly the end of March to get Discovery off the ground during that window.

The STS-121 mission is tentatively targeted for launch in May 2005.

As Parsons said, developing repair techniques for the reinforced carbon carbon panels that protect the leading edges of the shuttle's wings remains a major concern. But sources say recently discovered problems with actuators in the rudder/speedbrake assembly on the shuttle could prove equally time consuming to resolve.