NASA increases return-to-flight shuttle crew to seven
BY JUSTIN RAY
SPACEFLIGHT NOW
Posted: November 7, 2003


Two space veterans and a rookie have joined four other astronauts already training as the crew for NASA's first post-Columbia space shuttle mission, now targeted for launch next September.

Commander Eileen Collins, pilot Jim Kelly and mission specialists Steve Robinson and Soichi Noguchi have been preparing for the STS-114 flight to the International Space Station since 2001. They were due to blast off a month after Columbia's homecoming earlier this year. But the shuttle tragedy, of course, grounded the shuttle fleet.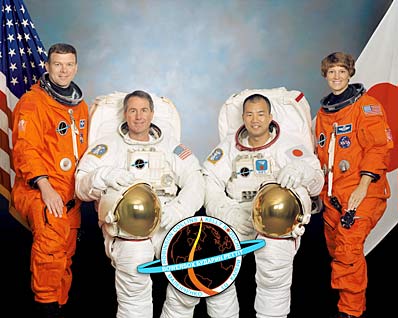 The original STS-114 shuttle crew: Kelly, Robinson, Noguchi and Collins. Photo: NASA



STS-114 was envisioned as a re-supply mission to the station and exchange of the resident crew -- with the three-man Expedition 7 launching on the shuttle and the Expedition 6 astronauts living on the station returning back to Earth.

When the "new" STS-114 flies next year, the originally four shuttle crew members will be joined by astronauts Andrew Thomas, Wendy Lawrence and Charles Camarda as mission specialists, NASA announced on Friday.

"STS-114 is going to be a complex developmental test flight, and this crew has the right set of skills and experience to help get the space shuttles safely flying again," said NASA's Associate Administrator for Space Flight William Readdy.

"STS-114 was always slated to have a crew of seven. But now, instead of three crew rotating on-and-off the International Space Station, all crew members will be dedicated to the STS-114 mission objectives."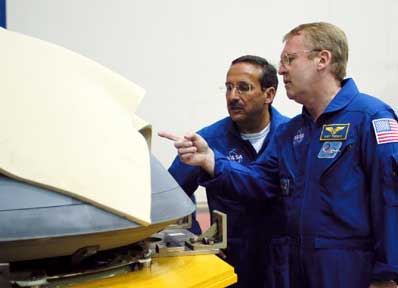 Astronauts Charles Camarda (left) and Andrew Thomas look at the nose cap recently removed from the shuttle Atlantis during a recent visit to Kennedy Space Center. Photo: NASA



The revised plan for this return-to-flight shuttle mission will see the crew test inspection and repair techniques for the orbiter's thermal protection system.

A long boom will be flown for the first time to survey the shuttle outer surface to detect any damage suffered during launch. A piece of foam from the external fuel tank struck Columbia's wing about 80 seconds after liftoff, dooming the craft on re-entry.

Spacewalking astronauts also plan to experiment with repair kits in the shuttle's payload bay.

Some station objectives initially slated for the mission will still occur, including the delivery of equipment and supplies using an Italian-built module carried up in the shuttle's payload bay and mounted to the Unity connecting module for unloading. Two other spacewalks are planned to replace a failed gyroscope that helps keep the station oriented in space and to hook up an external platform that supports spare parts for the outpost.

"This is a demanding mission and the addition of Andy, Wendy and Charlie, to this already well-qualified crew, ensures they have all the skills necessary to meet the challenge of return-to-flight and the resumption of space shuttle support of the International Space Station," add Bob Cabana, director of flight crew operations at NASA's Johnson Space Center.
| | |
| --- | --- |
| | Astronaut Wendy Lawrence looks at tiles on Atlantis while taking part in hands-on equipment and orbiter familiarization tour at KSC. Photo: NASA |
"Andy brings a wealth of experience in all areas of operations from his previous shuttle flights and Mir space station mission. Wendy is a superb robotics operator with detailed knowledge of all the shuttle systems. Charlie has been actively involved with the thermal protection system repair activities and has trained as a backup space station crewmember. He is thoroughly familiar with the systems on board the International Space Station," Cabana said.

"When coupled with Eileen, Jim, Steve and Soichi, who were already trained to perform the assembly tasks on this mission, the full crew will have the expertise and crew time to accomplish all mission objectives," Cabana said.

Collins served as pilot on STS-63 in 1995 and STS-84 in 1997. She flew as commander in 1999 on STS-93. Kelly piloted his first mission aboard STS-102 in 2001. Robinson was on STS-85 in 1997 and STS-95 in 1998. He served as a backup crewmember for Expedition 4.

Thomas, a long-duration Russian space station Mir veteran, also served aboard STS-77 in 1996, STS-89 and 91 to and from the Mir in 1998, and STS-102 in 2001. Lawrence, another space veteran, brings experience from STS-67 in 1995, STS-86 in 1997, and STS-91 in 1998.

Noguchi and Camarda, both selected as astronauts in 1996, will make their first flight to space on STS-114.