Photo of debris from area near left gear door released
BY WILLIAM HARWOOD
STORY WRITTEN FOR CBS NEWS "SPACE PLACE" & USED WITH PERMISSION
Posted: February 27, 2003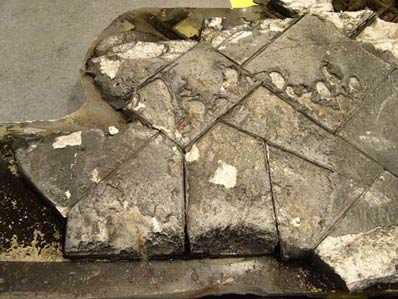 Photo: NASA



The Columbia Accident Investigation Board released a photograph this evening showing a heavily damaged, almost melted looking segment of left wing debris from an area near the ship's left main landing gear door.

The heat shield tiles on the outer surface of the wing debris appear almost lava like in appearance, certainly melted looking, indicating exposure to extreme heating.

The left-wing landing gear wheel well is an area of intense interest because telemetry showed abnormal temperature increases and sensor failures in the well in the minutes before Columbia's destruction Feb. 1. Engineers theorize a breach in the left wing allowed hot gas to circulate in or around the wheel well as the shuttle encountered the region of maximum atmospheric heating. The breach presumably worsened until a structural failure occurred.

Whether or not the debris shown in the photograph released this evening shows signs of such a breach is not yet known. But the tile damage is unusual in appearance, indicating exposure to extreme temperatures. Interestingly, the underside of the debris, sources say, shows no signs of such heating.






Hubble Calendar
NEW! This remarkable calendar features stunning images of planets, stars, gaseous nebulae, and galaxies captured by NASA's orbiting Hubble Space Telescope.


U.S. STORE

U.K. & WORLDWIDE STORE