Shuttle Columbia rockets into orbit for science flight
BY WILLIAM HARWOOD
STORY WRITTEN FOR CBS NEWS "SPACE PLACE" & USED WITH PERMISSION
Posted: January 16, 2003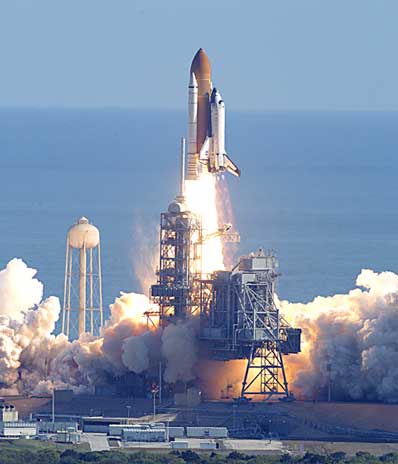 Columbia sails off its launch pad. Photo: NASA



With fighter planes and radars scanning the sky for intruders, the shuttle Columbia thundered away on a marathon 16-day science mission today, carrying a crew of seven - including the first Israeli astronaut - scores of experiments and a menagerie of animal and insect research subjects.

Running two years behind schedule, Columbia finally roared to life at 10:39 a.m. and rocketed away from pad 39A to kick off the 113th shuttle mission, one of the last missions on NASA's manifest that doesn't involve the international space station.




Video coverage for subscribers only:


VIDEO: COLUMBIA BLASTS OFF ON ITS SCIENCE MISSION QT or RV


VIDEO: PAD PARAMETER CAMERA REPLAY OF LIFTOFF QT or RV


VIDEO: VIEW ATOP THE VEHICLE ASSEMBLY BUILDING QT or RV


VIDEO: LAUNCH VIEW FROM COMPLEX 39 PRESS SITE QT or RV


VIDEO: ENGINEERING VIEW FROM PAD CAMERA 063 QT or RV


VIDEO: SEE SHUTTLE 'TWANG' DURING IGNITION QT or RV


VIDEO: TRACKING CAMERA IN FRONT OF PAD 39A QT or RV


VIDEO: VIEW FROM CAMERA ATOP WATER TOWER QT or RV


VIDEO: CLOSE-UP OF MAIN ENGINE IGNITION QT or RV


VIDEO: POWERFUL TRACKER AT PATRICK AFB QT or RV


VIDEO: STS-107 POST-LAUNCH NEWS CONFERENCE QT or RV


VIDEO: NASA ADMINISTRATOR NEWS CONFERENCE QT or RV


VIDEO: CREW SEATED FOR PRE-LAUNCH SNACK QT or RV


VIDEO: ASTRONAUTS DEPART THEIR QUARTERS TODAY QT or RV


VIDEO: COMMANDER HUSBAND CLIMBS INTO HIS SEAT QT or RV


VIDEO: FIRST ISRAELI ASTRONAUT BOARDS THE SHUTTLE QT or RV


PANORAMA: 360-DEGREE VIEW OF COLUMBIA ON THE PAD QT


VIDEO: WEDNESDAY'S COUNTDOWN STATUS BRIEFING QT or RV


VIDEO: TUESDAY'S COUNTDOWN STATUS BRIEFING QT or RV


VIDEO: MONDAY'S COUNTDOWN STATUS BRIEFING QT or RV


VIDEO: DETAILED OVERVIEW OF COLUMBIA'S MISSION QT or RV


VIDEO: MEET THE SEVEN COLUMBIA ASTRONAUTS QT or RV


SUBSCRIBE NOW



The goal of the flight is to carry out space station-class research in a variety of disciplines, ranging from biology to medicine, from materials science to pure physics and technology development, research that cannot yet be accommodated on the still-unfinished international space station.
"We're all familiar with the overhead required for continuing station operations, especially with a crew size of three," said U.S. mission scientist John Charles. "Missions like STS-107 were inserted in the manifest to do science as if they were on the space station.
"This is simulated space station science, although the science itself stands on its own right, with the goal of keeping the scientists who are involved in this kind of activity engaged and productive and moving forward until the space station can assume the leading role in research."
At the controls were commander Rick Husband, pilot William "Willie" McCool and flight engineer Kalpana Chawla. Their crewmates are physicians David Brown and Laurel Clark, payload commander Michael Anderson and Israeli air force Col. Ilan Ramon, at least the seventh Jew to fly in space but the first from Israel.
Also on board are 13 rats, eight garden orb weaver spiders, five silkworms and three cocoons, four Medaka fish eggs that will develop in space, three carpenter bees, 15 harvester ants and an assortment of fish.
The animals and insects are subjects of experiments, many of them designed by students, to learn more about how weightlessness affects growth and behavior.
"This mission is fairly unique compared to the shuttle flights we've flown recently in that it is a dedicated science mission," said lead flight director Kelly Beck. "It will span multiple disciplines, such as the life sciences, physical sciences, Earth and space sciences as well as the educational arena. This flight involves multiple NASA centers, the international community and universities and schools throughout the world."
To maximize their research time, the astronauts will work around the clock in two 12-hour shifts. Husband, Chawla, Clark and Ramon will make up the "red shift," working what amounts to a day shift in the United States, while McCool, Brown and Anderson will work the overnight "blue shift."
Ramon's presence on Columbia's crew generated more interest than usual in security precautions. But NASA managers insisted the policy implemented last year in the wake of the Sept. 11 terrorist attacks in New York and Washington was essentially unchanged.
Fighter jets were patrolling an FAA-mandated no-fly zone extending 30 miles in all directions from pad 39A, powerful military radar systems and reconnaissance planes were on station, scanning the skies for intruders, and the Coast Guard was patrolling off shore.
Truck-mounted missile batteries presumably were in place at the nearby Cape Canaveral Air Force Station, but Air Force officials do not discuss what ground assets are actually in place for a given launch.
But all of that is pretty much standard procedure in the post-Sept. 11 climate. NASA security chief David Saleeba, a former Secret Service agent, said his team has been "tweaking and re-tweaking" security precautions in recent weeks, but no major changes have been implemented.
"You're not going to see that much difference in the area of security for this launch than you did for the last several launches," he told reporters last week. "We're trying to still maintain an openness within the agency while still maintaining an appropriate level of security."
More armed guards than usual were visible at the Kennedy Space Center this morning, but security seemed more or less normal in the post-Sept. 11 climate. In any case, no incidents were immediately reported.
Columbia's mission is one of the most complex shuttle flights attempted in recent years, a mix of more than 80 government, university and commercial experiments from researchers in the United States, Canada, Japan, the European Space Agency and Israel.
But it is a mission that had a harder time than most getting off the ground.
The flight first showed up on the NASA manifest in September 1999 when launch was scheduled for Nov. 30, 2000. But the mission was delayed six times before a crew could even be named because of shuttle refurbishment and payload changes, including the addition - and subsequent deletion - of former Vice President Al Gore's Triana Earth-watching satellite.
Chawla, Anderson, Brown, Clark and Ramon were named to the flight in September 2000. At that point, launch was targeted for June 2001. By the time Husband and McCool were added to the crew in December 2000, launch had slipped to August 2001. It eventually slipped another year, to July 19, 2002, primarily because of technical problems with the orbiter and delays in space station missions.
Then, a month and a half before launch last summer, the shuttle fleet was grounded because of small but potentially dangerous cracks in fuel line baffles. When all was said and done, Columbia's flight slipped to this month, behind two higher-priority space station missions, STS-112 and STS-113.
"Initially there might be a bit of letdown or disappointment," Husband said of the most recent delay. "But then we realized we've been given a gift of more time to prepare. We were able to take some time off, so that was good for us and our families morale-wise, and we were also able to keep our level of proficiency with our training up. ... We feel like we're as well trained as we can possibly be."
Columbia's flight is a throwback to pre-station science missions using NASA's now-retired European-built Spacelab modules.
But in this modern incarnation, the bulk of the crew's research will be carried out in a commercially built Spacehab research double module made up of two smaller modules bolted together to make a single two-room laboratory connected to the shuttle's crew cabin by a long tunnel.
Mounted just behind the Spacehab module is a pallet of six more multi-investigation experiment packages that do not require hands-on operation.
"In the areas of biology and physiology, we'll be conducting several studies to study the effects of weightlessness on crystal growth, plant growth and also the cardiovascular and musculo-skeletal systems," Beck said. "The information we gain from these studies will help develop better drugs, with particular interest in the areas of cancer and osteoporosis research.
"We also have studies of weightless on the human body, which will lead a better understanding of the effects of spaceflight and help us develop better techniques to combat those effects and increase our durations in space," Beck said. "There are studies of combustion and fire suppression processes that will help us potentially lead to cleaner burning techniques here on the ground as well as improved fire suppresion and prevention techniques.
"We have experiments investigating compression of wet sand, which could lead to improved construction techniques, we also will be studying dust storms to gain a better understanding of those effects on weather patterns and to improve our forecasting capabilities.
"We also have experiments to refine the solar constant and the study the Earth's ozone layer. We also have several experiments to demonstrate new technologies, such as water recycling, thermal control, communications and navigation. So that just kind of gives you a flavor of the wide variety of things we'll be doing on this mission."
The research double module, or RDM, is 20 feet long, 14 feet wide and 11 feet high, provides 2,200 cubic feet of pressurized volume and is capable of accommodating up to 9,000 pounds of cargo and experiment hardware. For Columbia's flight, the module is loaded with about 7,500 pounds of experiment gear and supplies. Another 800 pounds of research equipment and samples are mounted in the shuttle middeck area.
Spacehab Inc. builds and outfits such modules for NASA on a commercial basis, primarily for use ferrying hardware and supplies to and from the international space station.
The company's modules have been used for research in the past, but the Spacehab double research module aboard Columbia is the first to be equipped with the support systems needed for space station-class science. Eighteen percent of the research space aboard the RDM aboard Columbia was sold by Spacehab to commercial users around the world while NASA booked the remaining 82 percent.