Atlantis crew returns home from space station mission
BY WILLIAM HARWOOD
SPACEFLIGHT NOW
Posted: September 20, 2000

| | |
| --- | --- |
| | An infrared camera captures Atlantis' nighttime landing. Photo: NASA TV/ Spaceflight Now |
Plunging through a slightly hazy, moon-lit sky, the space shuttle Atlantis glided home today, closing out a trail-blazing flight to outfit the international space station for arrival of its first full-time crew in just six weeks.

Falling into the glare of high-power spotlights, Atlantis settled to a tire-smoking touchdown on runway 15 at the Kennedy Space Center at 3:56:48 a.m. after a one-hour, 17-minute trip home from orbit.

Moments later, commander Terrence Wilcutt brought the 110-ton spaceplane to a halt on the runway centerline, officially ending the 99th shuttle mission after a 12-day voyage spanning 4.9 milllion miles and 185 complete orbits since blastoff Sept. 8.

"Houston, Atlantis, wheels stopped," Wilcutt said in a traditional call to mission control.

"Atlantis, Houston, roger, wheels stopped," replied astronaut Gus Loria from Houston. "Welcome home, congratulations on an outstanding job. We are proud of you all, proud of this team."

"Thank you. Good to be back."

Unofficial mission duration was 11 days 19 hours 11 minutes and one second.
| | |
| --- | --- |
| | The international space station as seen by the astronauts following undocking. Photo: NASA |
Wilcutt, pilot Scott Altman, Edward Lu, Richard Mastracchio, Daniel Burbank and Russian cosmonauts Yuri Malenchenko and Boris Morukov plan to spend the day at the Kennedy Space Center before flying back to Houston early Thursday.

"I'd just like to say thank you to the folks at KSC for preparing such a wonderful vehicle, Atlantis, which was absolutely superb," Wilcutt said after the crew's traditional runway walkaround. "We had a great time, we're all glad to be back and we can't wait to get back to our families."

The astronauts accomplished all of the mission's primary objectives, delivering more than 2.5 tons of supplies and equipment to the international space station and unloading another half-ton of gear from a Russian cargo ship.

During a six-hour 14-minute spacewalk on Sept. 11, Lu and Malenchenko electrically connected the new Russian Zvezda command module, which will provide the station's initial crew quarters, computer control and propulsion.

The astronauts then spent six days outfitting and activating the new module, hooking up its toilet, assembling the station's primary oxygen generator and testing critical safety systems. They also installed exercise equipment, stocked the pantry with food and delivered office supplies, personal hygiene items and more than 800 pounds of fresh water.

"To the general observer, it all just looked so easy," said veteran flight director Jeff Bantle. "The folks here on the ground and especially the crew, I thought they did an amazing job. They made everything look so easy."

The station's first full-time crew -- commander William Shepherd, Yuri Gidzenko and Sergei Krikalev -- is scheduled to blast off Oct. 30 aboard a Russian Soyuz ferry craft. They will move into the station two days later for a planned four-month stay. From that point forward, the outpost will be permanently staffed by rotating crews.

But first, NASA plans to launch the shuttle Discovery to the space station in just two weeks -- on Oct. 5 -- to deliver an 18,400-pound truss housing communications gear and four stabilizing gyroscopes.

The so-called Z1 truss will be mounted atop the U.S. Unity module and serve as the foundation for a huge set of solar arrays scheduled for delivery in early December.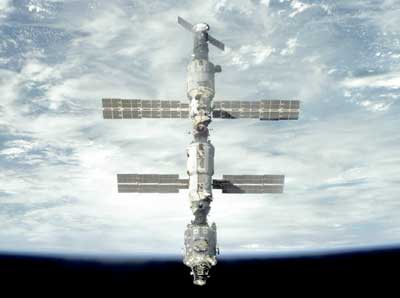 All the space station elements are visible in this view captured from Atlantis. From top to bottom are the Progress cargo craft, Zvezda, Zarya and the Unity node. Photo: NASA

Four back-to-back spacewalks will be required to electrically hook up the Z1 truss and to attach a pressurized docking port called a mating adaptor to Unity's Earth-facing hatch. It will be the most complex shuttle assembly mission to date.
If all goes well, the U.S. laboratory module Destiny, the scientific heart of the space station, will be attached in late January during Atlantis's next mission as the pace of station assembly accelerates.
"I think the entire team is real excited about these flights coming up and getting on with assembling the station," Bantle said. "From all accounts, it appears all the elements are ready. ... We're on schedule to go and everybody's real excited."
As for Atlantis's just-completed mission, Bantle said the astronauts "moved us a significant step closer" to getting a full-time crew aboard the station.