Endeavour cruises home after mapping planet Earth
BY JUSTIN RAY
SPACEFLIGHT NOW
Posted: Feb. 23, 2000

| | |
| --- | --- |
| | Shuttle Endeavour turns to align with Runway 33 on Tuesday. Photo: NASA TV/Spaceflight Now |
Space shuttle Endeavour gracefully glided to a safe landing on Tuesday with a spectacular Florida sunset as a backdrop.

With veteran commander Kevin Kregel at the controls, the shuttle touched down at 6:22 p.m. EST (2322 GMT) on Kennedy Space Center's swamp-surrounded runway.

"I guess we put on a fairly nice show where folks could see us from pretty far out. It was even better from inside," Kregel said after the six-person astronaut crew climbed from the shuttle.

Endeavour's highly successful mission to map the Earth's surface with radar was extended an extra 92-minute orbit to allow stiff crosswinds at KSC to ease.

Just a day before, flight controllers and meteorologists were worried the winds and low clouds would keep Endeavour from returning to its home port, diverting the shuttle to the backup landing site at Edwards Air Force Base, California.

NASA likes to avoid West Coast landings because of the $1 million cost of ferrying the shuttles back to Florida atop a modified 747 carrier jet and the week's worth of time lost preparing the spaceplane for its next mission.

During the round-the-clock mission, the astronauts operated a sophisticated radar system to map nearly 80 percent of the Earth surface or 47.6 million square miles. That area accounts for 95 percent of planet's population.
| | | |
| --- | --- | --- |
| | Endeavour swoops into Kennedy Space Center on Tuesday at 6:22 p.m. EST (2322 GMT). Photo: NASA | |
Tuesday's landing was the 21st consecutive to occur at KSC dating back to May 1996 and the 28th of the last 29 shuttle missions. KSC is the most used landing site for the space shuttle program with this its 50th touchdown. Edwards Air Force Base in California has seen 45 landings and White Sands in New Mexico supported one.

Endeavour's journey toward the pin-point landing began when the ship, flying upside down and backwards over the Indian Ocean northwest of Australia, fired its twin braking rockets to drop from orbit. The powerless glide through Earth atmosphere took nearly an hour.

Landfall in North America occurred over the southern tip of Alaska. Endeavour continued its southeastward track, flying over Canada, North Dakota, Minnesota, Iowa, Illinois, Kentucky, Tennessee, Alabama, Georgia and into Florida.

The shuttle completed 181 orbits around Earth during its 11-day, 5-hour, 39-minute voyage. That equates to 4.7 million miles traveled.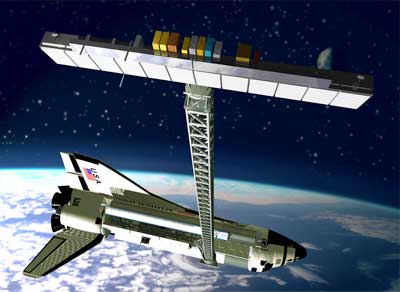 The SRTM antenna mast being deployed from Endeavour. Photo: DSS



The radar payload featured an antenna that filled Endeavour's payload bay and another antenna on the end of a 197-foot long accordion-like mast extended from the shuttle. The two antennas worked in concert to map the planet in daylight or darkness, clear or cloudy skies.

"It's 30,000 pounds of complex stuff with thousands of parts -- all built by the lowest bidder -- and it worked just perfectly," said project scientist Michael Kobrick. "It's the sexiest radar on or off the planet."

The 222 hours of data, recorded on 332 high-density tapes, will be carted off Endeavour and copied. Researchers will then use the information, which would fill more than 20,000 compact discs; to generate the finest three-dimensional elevation map of the Earth ever produced.

Such a map will help understand the lay of the land, allowing authorities to better plan soil conservation and flood control, military officials develop strategic targeting and commercial companies find better locations for cell phone towers.

"We're really proud to be part of this mission," Kregel said, speaking for his fellow five crewmates. "I think the radar images that we bring back, taken around the world, are going to help out mankind, humankind from all countries for many years to come."
| | |
| --- | --- |
| | Endeavour thunders away from pad 39A on February 11. Photo: NASA |
Endeavour's radar missed only a tiny fraction of its mapping targets. The 80,000 square miles unmapped regions are mostly scattered parts North America that are already imaged.

The Shuttle Radar Topography Mission was a joint partnership between NASA and the Department of Defense's National Imagery and Mapping Agency (NIMA), along with the German and Italian space agencies.

Joining Kregel on the first human space flight of the new millennium was pilot Dom Gorie, mission specialists Janice Voss, Janet Kavandi, Mamoru Mohri from Japan and Gerhard Thiele of Europe.

The astronauts will spend the night in Florida, and hold a press conference at 9:30 a.m. EST (1430 GMT) on Wednesday before returning to their homes in Houston, Texas.

Arrival at Ellington Field in Houston near the Johnson Space Center is expected at about 2:30 p.m. EST (1930 GMT). A welcoming ceremony is planned at Hangar 990 and is open to the general public.

The next shuttle launch is planned for around April 13. Atlantis will fly to the International Space Station with a seven-person crew to perform maintenance and deliver supplies.