The Mission






Rocket: Zenit 3SL
Payload: XM 3
Date: March 1, 2005
Window: 0351 GMT (10:51 p.m. EST Feb. 28)
Site: Equator, 154° West, Pacific Ocean
Satellite feed: AMC 9, Transponder 17, Ku-band, 83° West






Spaceflight Now +





Premium video content for our Spaceflight Now Plus subscribers.

Cassini update
Go inside the Cassini-Huygens mission to explore Saturn, its rings and moons with this lecture from NASA's Jet Propulsion Laboratory. (81min 05sec file)

Play video:
Dial-up | Broadband

Shuttle testing
Testing to support the space shuttle return to flight is being performed at NASA's Ames Research Center. This footage shows wind tunnel testing using a shuttle mockup and thermal protection system tests in the arc jet facility. (5min 02sec file)
Play video

History flashback
In this video clip from the archives, a Lockheed Titan 4A rocket blasts off from Cape Canaveral on February 7, 1994 carrying the U.S. Air Force's first Milstar communications satellite. (6min 17sec file)
Play video

Titan 4A rocket
The mobile service tower is retracted to expose the massive Titan 4A-Centaur rocket during the final hours of the countdown in 1994. Aerial video shot from a helicopter shows the booster standing on its Cape launch pad. (3min 06sec file)
Play video

NASA budget
NASA Administrator Sean O'Keefe, in his final press conference appearance, presents the 2006 budget information and answers reporters' questions on Hubble, the exploration plan and shuttle return-to-flight. (86min 37sec file)
Play video

Meet the next ISS crew
Expedition 11 commander Sergei Krikalev, flight engineer John Phillips and Soyuz taxi crewmember Roberto Vittori hold a pre-flight news conference in Houston. Topics included problems with the shuttle safe haven concept. (42min 23sec file)

Play video:
Dial-up | Broadband

Download audio:
For iPod

Final Atlas 3 launched
The last Lockheed Martin Atlas 3 rocket launches from Complex 36 at Cape Canaveral Air Force Station at 2:41 a.m. EST carrying a classified spy satellite cargo for the U.S. National Reconnaissance Office. This movie follows the mission through ignition of Centaur. (5min 30sec file)
Play video

Atlas 3 onboard
A camera mounted on the Centaur upper stage captured this dramatic footage of the spent first stage separation, deployment of the RL10 engine nozzle extension, the powerplant igniting and the rocket's nose cone falling away during launch.
Play video

Become a subscriber
More video





NewsAlert





Sign up for our NewsAlert service and have the latest news in astronomy and space e-mailed direct to your desktop.


Privacy note: your e-mail address will not be used for any other purpose.







Sea Launch rocket puts radio satellite into space
BY JUSTIN RAY
SPACEFLIGHT NOW
Posted: February 28, 2005


With its popularity growing and new subscribers steadily signing up, XM Satellite Radio successfully deployed its third broadcasting spacecraft Monday night using a sea-launched rocket from a platform floating in equatorial waters of the Pacific.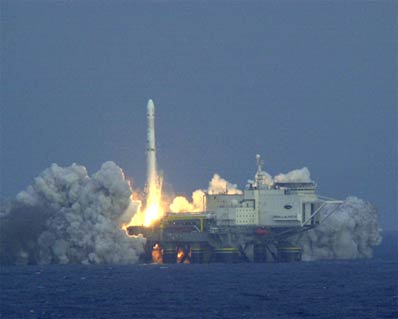 The Zenit rocket lifts off with XM 3. Credit: Sea Launch



The 20-story Zenit 3SL rocket roared skyward at 0351 GMT (10:51 p.m. EST) after nearly two weeks of delays prompted by bad weather, rough seas and technical issues with the booster.

"The launch was awesome. No matter how many times you see one, you always love to see it," Derek de Bastos, XM's vice president for engineering, said from the launch control ship. "It was a good sight to see after all of this hard work. And it was pretty loud, but I'm not sure if that was the rocket I was hearing or my own heart pounding in my head."

The two Ukrainian-made lower stages performed their firings to propel the Russian Block DM-SL upper stage and XM 3 satellite out of the atmosphere during the initial minutes of flight. The upper stage's main engine took over, completing a pair of firings separated by a half-hour coast to reach an elliptical geosynchronous transfer orbit stretching from 1,534 miles at its closest point to Earth to 22,241 miles at its highest point.

While flying above the coast of Gabon, Africa, explosive bolts holding the 10,350-pound satellite to the spent rocket motor were detonated, allowing small springs to release XM 3. By design, tip-off rates were imparted on the satellite to create a gentle tumble as it moved away at one-foot-per-second.

In the coming days, the spacecraft will maneuver itself into geostationary orbit 22,300 miles above the equator where it can match Earth's rotation and appear parked above 85 degrees West longitude.

The XM 3 spacecraft is a revised model from its two predecessors, which were deployed in 2001 before engineers discovered a crippling design flaw that degrades the power-generating capacity as the satellites age. The manufacturer -- Boeing Satellite Systems -- removed the faulty hardware and lengthened XM 3's twin solar arrays to overcome the power problem.

The satellites cover the entire lower 48 states, beaming programming to special receiving radios installed in subscribers' cars and portable units that you can take anywhere.

The system broadcasts digital programming to subscribers from coast to coast, including 67 commercial-free music channels, more than 60 channels of sports, talk, comedy, children's and entertainment programming, and 21 channels of traffic and weather information for select metropolitan areas.

More than 3.2 million subscribers listen to XM, which debuted in November 2001, making it the leading satellite radio service in the U.S.

"XM's growth to date demonstrates that the potential for satellite radio is far greater than anyone anticipated," said Hugh Panero, XM's president and CEO.

Earlier Monday, the company announced a rate hike, increasing the monthly fee from $9.99 to $12.95 beginning April 2.

"This new pricing approach will help fund future technology development, enable us to offer more attractively-priced radios and maintain our programming excellence. Together, these initiatives should result in XM exceeding its current target of 20 million customers by 2010," Panero said.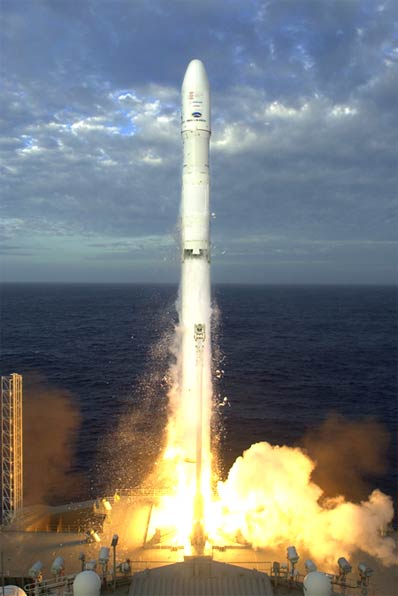 The Zenit rocket lifts off with XM 3. Credit: Sea Launch



Monday's mission was the 15th for Sea Launch dating to 1999 and the first since being sidelined by a problem with the Block DM-SL last summer.

The Odyssey launch platform and the Sea Launch Commander control ship departed home port in Long Beach, California, in early February for the voyage to the equator.

"After the first day or so you forget about being on a boat. It just becomes work without the commute," de Bastos said. "We work most of the time but every once in a while we had the chance to do some fishing. We caught maybe 30 or 40 fish before we stopped counting."

The vessels will head home to receive the next payload. Sea Launch says it intends to conduct six launches this year.