Rocket lofts satellite to beam digital radio across America
BY JUSTIN RAY
SPACEFLIGHT NOW
Posted: March 18, 2001

| | |
| --- | --- |
| | The Zenit 3SL rocket lifts off with XM-2. Photo: Sea Launch |
American motorists seeking something new from their car radios received a boost Sunday when a rocket launched from a platform in the middle of the Pacific Ocean and delivered a digital audio broadcasting satellite into orbit.

The Sea Launch Zenit 3SL rocket roared off the Odyssey platform anchored on the equator about 1,400 miles southeast of Hawaii at 2233:30 GMT (5:33:30 p.m. EST) with the first of two spacecraft for XM Satellite Radio.

Headquartered in Washington, D.C., the company is launching two of the most powerful commercial communications satellites ever constructed to create an orbiting network that will provide up to 100 channels of news, music, sports and entertainment programming directly to subscribers across the U.S.

The satellite successfully launched Sunday -- known as XM-2 or "Rock" -- is destined for a perch 22,300 miles above the equator at 115 degrees West longitude in geostationary orbit. The 10,284-pound craft was placed into a highly accurate transfer orbit by the three-stage Ukrainian-Russian rocket, and will soon fire its onboard kick engine to reach the proper position in space.

"Today's flawless launch puts one of the final pieces in place to kick off XM's revolutionary new radio service on schedule this summer," said Hugh Panero, XM's president and CEO. "We now have a satellite in the sky, XM-ready radios on retail shelves, our chipsets in production and our state-of-the-art broadcast studio humming."

Boeing Satellite Systems built "Rock" and its sister -- the XM-1 spacecraft nicknamed "Roll". Both are based upon Boeing's 702 model satellite design.

Due for launch in early May, "Roll" will be positioned at 85 degrees West longitude, allowing the two satellites to blanket the entire lower 48 states. They will work in tandem to relay XM Satellite Radio's programming to special receiving radios installed in subscribers' cars and portable units that you can take anywhere. The service is scheduled to debut this summer at a cost of $9.95 per month.

By broadcasting radio from overhead satellites and a network of ground repeaters, listeners will be able to hear one station from coast-to-coast. Truckers and travelers can drive from New York to Los Angeles and never lose their signal.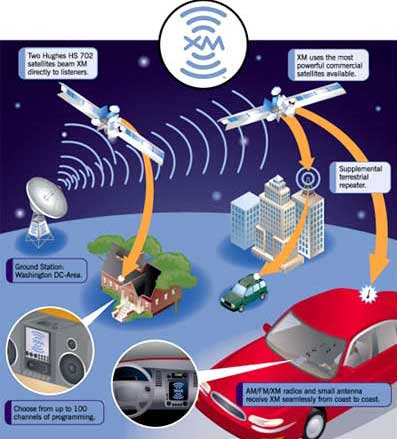 Illustration of XM Satellite Radio system. Photo: XM



XM Satellite Radio plans to offer original programming including a wide range of music genres, plus channels dedicated to its partners.

The popular NASCAR stock car racing series will have a 24-hour channel with live qualifying and race coverage and in-depth feature programming.

News and financial programming will include BBC World Service, CNN, PBS's News Hour with Jim Lehrer, The Weather Channel, Bloomberg, CNBC and USA Today.

Other specialty content will be provided by Black Entertainment Television, Hispanic Broadcast Corporation, C-SPAN Radio, Radio One, ASIAONE, CNN en Espanol, Clear Channel and DIRECTV, National Lampoon, Discovery, Christian broadcaster Salem Communications and Firesign Theatre.

Auto makers General Motors, American Honda Motor Co., American Isuzu, Suzuki and Freightliner have signed agreements to install the XM Satellite Radio receivers in vehicles before they roll off the factory line. However, those not buying a new car anytime soon can purchase the radios from a variety of stores like Sears, Best Buy or Circuit City.
| | |
| --- | --- |
| | An artist's concept of the XM 1 radio broadcasting spacecraft built by the Boeing Satellite Systems. |
XM does have a direct competitor -- Sirius Satellite Radio, which already has its spacecraft in Earth orbit. Both systems and project subscription rates are similar, but they will offer some different programming through their separate content providers.

"First there was AM, then FM, and now XM. Radio will never be the same," Panero said.

For Sea Launch this was the international consortium's sixth mission and the fifth to succeed. The launch platform and command ships will return to port in Long Beach, California, over the next several days to prepare for the XM-1 satellite's journey to orbit, which is less than two months away.

The spacecraft was just 11 seconds from launch on January 8 when controllers halted the countdown. There was a measurement reading on the satellite that engineers were concerned about.

In the end, XM-1 was fine but the abort occurred so late in the countdown that the rocket's first stage engine had started pre-ignition processes. The result was Sea Launch had to replace the engine before the liftoff could be rescheduled.

After returning to port, officials opted to launch XM-2 first, pull out a different Zenit rocket for use by XM-1 and send the vehicle used in the abort back to Ukraine for refurbishment.