New Intelsat satellite will only receive partial power
BY STEPHEN CLARK
SPACEFLIGHT NOW
Posted: July 1, 2012


Officials expect the Intelsat 19 communications satellite will suffer permanent performance degradation from a damaged solar array which finally popped loose in June after early attempts to deploy the panel failed.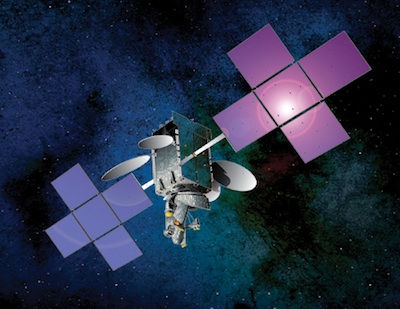 Artist's concept of Intelsat 19. Credit: Space Systems/Loral

The satellite's south solar array stayed folded against the spacecraft following its deployment from a Sea Launch Zenit 3SL rocket June 1. The north solar array unfurled as planned.
Intelsat confirmed the solar panel unfurled June 12, and engineers began activating the satellite's communications payload to determine how much of the craft's original mission could be accomplished.
All of Intelsat 19's communications antennas have deployed, officials said.
The communications firm announced last week that data received from Intelsat 19 indicate the south solar array is damaged, and the power available to the satellite will be reduced.
The satellite was manufactured by Space Systems/Loral of Palo Alto, Calif.
Intelsat said sufficient power is available to operate Intelsat 19's Ku-band and C-band payloads. The satellite carries 34 Ku-band and 24 C-band transponders.
Intelsat 19 was intended to distribute video and television services across the Asia-Pacific region from a position along the equator at 166 degrees east longitude. The craft was built to replace the Intelsat 8 satellite launched in 1998.
Officials expect the Intelsat 8 satellite will remain in service through the end of 2019, and Intelsat says there will be no interruption in service.
The satellite and the launch were insured, according to Intelsat.
The company expects Intelsat 19 has enough fuel to maneuver the satellite for approximately 15 years, which was the craft's intended design lifetime.
Testing of the satellite's communications payload will be completed by mid-July, Intelsat said.
Engineers are studying what caused Intelsat 19's solar array trouble, and the investigation's focus so far is on an unexpected, isolated event which registered on microphones and pressure sensors during ascent inside the payload fairing of the Sea Launch Zenit 3SL rocket.
The signature resembles an event observed on the 2004 launch of the Telstar 14/Estrela do Sul 1 communications satellite, another craft built by Space Systems/Loral which failed to deploy one of its solar panels.
Other Space Systems/Loral spacecraft on Sea Launch missions have had no solar array difficulties.