The Mission






Rocket: Zenit 3SL
Payload: Intelsat Americas 8
Date: June 23, 2005
Window: 1258-1458 GMT (8:58-10:58 a.m. EDT)
Site: Equator, 154° West, Pacific Ocean






Spaceflight Now +





Premium video content for our Spaceflight Now Plus subscribers.

Supply ship docking
The 18th Progress resupply ship launched to the International Space Station is guided to docking with the Zvezda service module's aft port via manual control from commander Sergei Krikalev. A problem thwarted plans for an automated linkup.

Play video:
Short | Extended version

Shuttle collection
As excitement builds for the first space shuttle launch in over two years, this comprehensive video selection captures the major pre-flight events for Discovery and her seven astronauts.
See selection

House hearing on ISS
The House Science Committee, Subcommittee on Space and Aeronautics, begins its hearing on the International Space Station. (29min 59sec file)
Play video

Phillips testifies
House members question Expedition 11 crew member John Phillips living on the International Space Station. (16min 33sec file)
Play video

Past ISS astronauts
The hearing continues with questioning by House members of former station astronauts Peggy Whitson and Mike Fincke. (31min 33sec file)
Play video

Become a subscriber
More video





NewsAlert





Sign up for our NewsAlert service and have the latest news in astronomy and space e-mailed direct to your desktop.


Privacy note: your e-mail address will not be used for any other purpose.







Sea Launch rocket lofts satellite for the Americas
BY JUSTIN RAY
SPACEFLIGHT NOW
Posted: June 23, 2005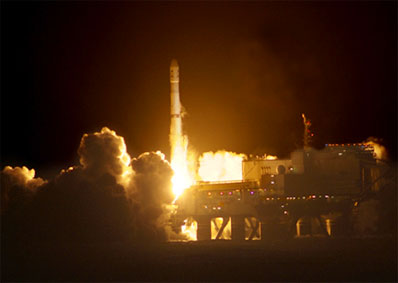 Liftoff! The Sea Launch Zenit 3SL rocket begins its flight carrying the Intelsat Americas 8 spacecraft. Credit: Sea Launch



Floating on a launch platform in the equatorial Pacific Ocean far from anywhere, a 20-story rocket roared to life in the peaceful predawn darkness this morning to haul a telecommunications satellite into space to serve the Americas.

The Sea Launch Zenit 3SL rocket lifted off at 1403 GMT (4:03 a.m. at the launch site; 10:03 a.m. EDT) carrying the 12,125-pound Intelsat Americas 8 spacecraft.

"As soon as the count reached L-1 minute, I ran outside," John Bergmann, Intelsat's senior manager of launch services, said from the control ship stationed three miles away from the platform. "There's nothing more exciting than seeing a live launch. And it was spectacular. The sky was very clear and I could see all the way to first stage separation and second stage ignition."


| | |
| --- | --- |
| | The Zenit rocket lifts off with Intelsat Americas 8. Credit: Sea Launch |
The commercial space booster uses Ukrainian-made Zenit first and second stages to power the first eight minutes of flight and a Russian-manufactured Block DM-SL upper stage to accelerate the payload to the target altitude for deployment 29 minutes after liftoff. Past Sea Launch missions have featured two firings by the upper stage, doubling the flight time, but the profile using a single burn was chosen for today's mission.

After a 65-minute delay in the countdown to resolve concerns with ground equipment, the 17th Sea Launch flight rocketed away for a smooth half-hour ascent.

"This is just the way I like 'em -- short, sweet and perfect," Sea Launch president Jim Maser said after the mission. He was joined by other senior officials in watching the liftoff remotely from Sea Launch home port in Long Beach, Calif.

"This was a beautiful launch, right by the numbers. We had a little delay in the beginning, but when we got to down to zero we lifted off and it looked just perfect," Maser added.

The Intelsat Americas 8 satellite was delivered into orbit with a high point of 22,148 miles, low point of 126 miles and inclination of zero degrees from the equator. Ground controllers will command the spacecraft's onboard engine to fire several times in the coming days to circularize the orbit.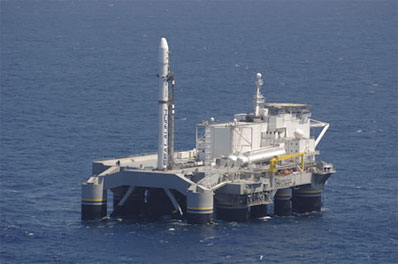 A pre-launch photo from earlier this week shows the Zenit rocket after being erected upright on its launch platform. Credit: Sea Launch



When it enters operation in August, the tri-band spacecraft will relay voice, video and data broadcasting services via its C-band, Ku-band and Ka-band payloads to cover the Americas, the Caribbean, Hawaii and Alaska from an orbital slot of 89 degrees West Longitude.

"People from Alaska to Argentina will be using this satellite," said Kevin Mulloy, president of Intelsat Global Service Corp.

"IA-8 represents a very important launch for Intelsat and North American customers as it offers high-powered Ku-Band coverage of all 50 states, relieving some of the current capacity constraints facing all operators serving the U.S. market," said Intelsat, Ltd. CEO, David McGlade.

"Intelsat is better positioned than ever to serve the U.S., South American and Caribbean markets and to support the growth of emerging services such as DTH, distribution of high-definition cable programming and broadband data networks. Our customers across the region will benefit from the higher power, increased network flexibility and cost-effective capacity IA-8 offers, which will allow them to grow their businesses with greater efficiency."

Originally manufactured by Space Systems/Loral under the name Telstar 8 for operator Loral Skynet, the craft was part of last year's acquisition of the North American Telstar satellite assets by Intelsat.

This particular spacecraft has been waiting a long time to finally reach orbit.

"It has been quite a ride. I've been involved in this program since it started April 1st of 1999. It seemed like we were never going to get this off the ground. Fortunately, Intelsat came along to rescue us, and they got a nice satellite," said John Brown, vice president of Loral Skynet.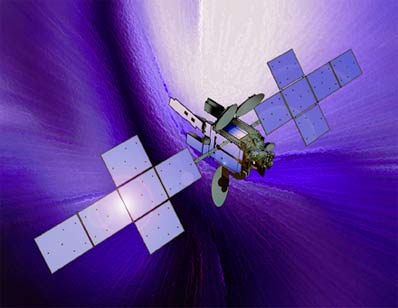 An artist's concept shows the Intelsat Americas 8 spacecraft in orbit. Credit: Space Systems/Loral



A more recent delay occurred with the Intelsat Americas 7 satellite, formally known as Telstar 7, experienced a breakdown in orbit. While an investigation was carried out, Intelsat decided to postpone launching the new craft last December since both IA-7 and -8 were built by Loral.

The probe blamed a design flaw with a wiring harness located where one of the spacecraft's solar panels joins the main satellite body had a number of unused lines ungrounded. An electrical charge built up inside these wires to the point where they "arced," causing adjacent power lines to short and creating a momentary, intense burst of heat inside the wire harness, investigators reported.

After control of the satellite was regained following the incident, partial use of the craft's communications capabilities were restored.

Intelsat says its new IA-8 spacecraft does not have the same design issue with ungrounded wiring as the earlier craft, giving the needed confidence to proceed with today's launch.

This marked Sea Launch's third flight of 2005. Next up is the Inmarsat 4-F2 mobile communications satellite scheduled for launch in the fall. One or two additional missions could be staged by year's end. However, the customers for those launches have not been disclosed.