Communications satellite launched from Pacific Ocean
BY JUSTIN RAY
SPACEFLIGHT NOW
Posted: October 1, 2003


The Galaxy 13/Horizons 1 spacecraft boosted into space Wednesday aboard a Sea Launch Zenit 3SL rocket promises to relay High-Definition Television services across the United States as part of its joint American and Japanese ownership.

Launch occurred right on schedule at 0403 GMT (12:03 a.m. EDT) as the Ukrainian-Russian vehicle roared off its ocean-going platform positioned in the equatorial Pacific.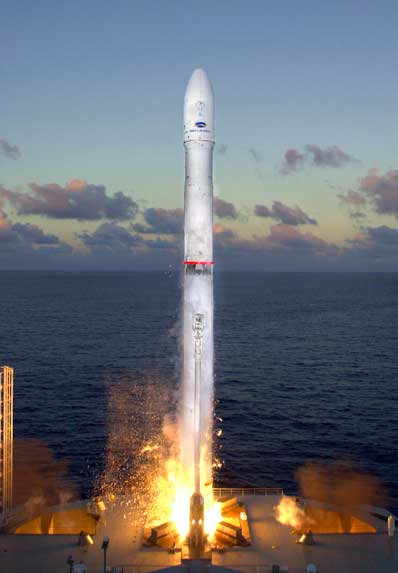 The Sea Launch rocket lifts off carrying the Galaxy 13/Horizons 1 satellite. Photo: Sea Launch



An hour later, the 9,081-pound satellite was deployed into geosynchronous transfer orbit to the delight of team members aboard the Sea Launch Commander control ship at the liftoff site and officials watching at the Sea Launch Home Port in Long Beach, California.

"It was a flawless launch," said Joe Wright, president and CEO of PanAmSat.

"This 10th successful launch is a major milestone for Sea Launch. We can only go forward from here," added Jim Maser, president and general manager of Sea Launch.

In the coming days, the satellite will maneuver itself into geostationary orbit 22,300 miles above the equator where it can match Earth's rotation and appear parked above 127 degrees West longitude. It will be used by Connecticut-based PanAmSat and Tokyo-based JSAT corporations to provide digital video, Internet and data transmission services to North and Central America, Alaska and Hawaii.

Built by Boeing using the 601HP-model design, the satellite carries 24 C-band and 24 Ku-band transponders.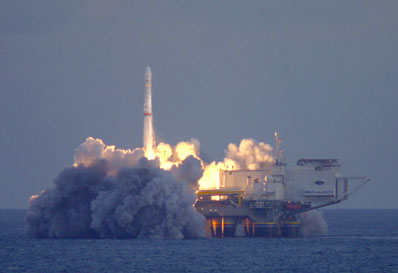 Liftoff as seen from the Sea Launch Commander ship located about three miles from the Odyssey platform. Photo: Sea Launch



PanAmSat will own and use the C-band payload on the satellite, called Galaxy 13, as part of the company's Galaxy cable neighborhood.

"This launch of Galaxy 13/Horizons 1 is important to PanAmSat in many respects," Wright said. "It is a powerful addition to our fleet, providing a platform for HDTV and other advanced technology in a key location, creating the first high-definition neighborhood and helping to meet the growing demand for high resolution television viewing."

Wright continued, "We have already pioneered the HDTV format with such customers as Disney/ESPN and NHK. Forty-one million homes are expected to have High-Definition access in five years and we will be there with them, providing the biggest names in cable television and the most powerful and reliable satellite transmission available. When combined with our existing video transmission service to cable companies, it has no equal. It is the future for video in the U.S."

The satellite's roster of customers already includes: Charter Communications, E!, Gospel Music TV, HBO, HD Net, Starz Encore and Turner.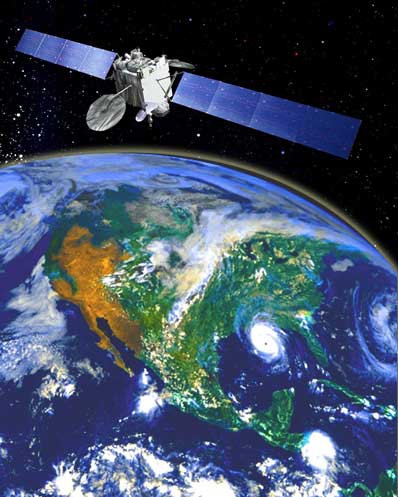 An artist's concept of the Galaxy 13/Horizons 1 spacecraft. Photo: Boeing



PanAmSat and JSAT will jointly develop and own the new satellite's Ku-band payload, called Horizons 1, to offer a variety of digital video, Internet and data services as well as to create new IP-based content distribution networks.

"Galaxy 13/Horizons 1 also gives us new Ku-band capacity that is needed today in the U.S.," said Wright. "And, very importantly, this launch begins our relationship with JSAT which we expect to expand as we look at global growth opportunities together."

"Today's events also mark a great opportunity for JSAT to offer its customers new distribution avenues for their digital product," added Kiyoshi Isozaki, JSAT's president and chief executive officer. "Galaxy 13/Horizons 1 is the product of PanAmSat and JSAT's insistence on quality from design-to-finish for a 15-plus-year mission. By partnering with PanAmSat, we are able to expand our reach into a vibrant marketplace."

Officials said that Galaxy 13/Horizons 1 will operate under dual licenses, with the C-band payload licensed through the Federal Communications Commission in the U.S., and the Ku-band licensed through Japan's Ministry of Public Management, Home Affairs, Posts and Telecommunications.

Galaxy 13/Horizons 1 will replace Galaxy 9 at the 127-degrees West longitude orbital slot. Galaxy 9 will migrate to 74 degrees West longitude and become the new Galaxy in-orbit spare.

The next Sea Launch mission, the fourth and final of 2003, is expected in November. The consortium's backlog now stands at 14 firm launch orders. Four or five launches are expected to occur in 2004, officials said.




Flight Data File
Vehicle: Zenit 3SL
Payload: Galaxy 13/Horizons 1
Launch date: October 1, 2003
Launch window: 0403-0442 GMT (12:03-12:42 a.m. EDT)
Launch site: Equator, 154° West, Pacific Ocean
Satellite broadcast: Galaxy 4, Transponder 18, C-band


Apollo 17 DVD now shipping
Relive the last manned mission to the moon with this six-disc DVD featuring more than 25 hours of footage. Now shipping from the Astronomy Now Store.


U.S. STORE

U.K. & WORLDWIDE STORE




Mars DVD
Explore the Red Planet from the comfort of your home with this interactive DVD. Includes 3D glasses for viewing three-dimensional images of Mars.


U.S. STORE

U.K. & WORLDWIDE STORE


Hubble Posters

Stunning posters featuring images from the Hubble Space Telescope and world-renowned astrophotographer David Malin are now available from the Astronomy Now Store.


U.S. STORE

U.K. & WORLDWIDE STORE