Powerhouse spacecraft launched for North America
BY STEPHEN CLARK
SPACEFLIGHT NOW
Posted: May 21, 2008


A Zenit rocket blasted off and disappeared into a moonlit sky early Wednesday, launching a successful one-hour mission to deploy a 10,200-pound cable television broadcasting satellite to cover North America.


| | |
| --- | --- |
| | Credit: Sea Launch |
The Galaxy 18 satellite began its trip to space at 0943 GMT (5:43 a.m. EDT), or around midnight at the equatorial launch site in the middle of the Pacific Ocean.

Propelled off its ocean-going launch platform by 1.6 million pounds of thrust, the Ukrainian booster pitched east from the launch pad, dropping its first stage and U.S.-built payload fairing within the first four minutes of the flight. The rocket's second stage and Block DM-SL upper stage separated as planned about eight-and-a-half minutes into the mission.

The Russian upper stage fired its engine twice, first to enter a temporary parking orbit, then to send Galaxy 18 on a looping trajectory with a high point 22,144 miles above Earth. The rocket released the satellite about 61 minutes after liftoff.

A ground station in South Africa received the first signals from the spacecraft a few minutes later, confirming it was healthy after arriving in orbit.

"On time launch, on time separation, on time acquisition. It was an outstanding mission," said Rob Peckham, president and general manager of Sea Launch Co.

Peckham said the rocket put Galaxy 18 in an accurate orbit with an inclination of zero degrees and altitude numbers within two miles of pre-launch targets.

"We're obviously extremely proud of today's mission and the results," Peckham said.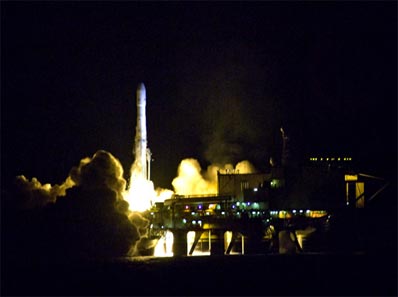 Credit: Sea Launch


Intelsat Ltd. of Bermuda will use Galaxy 18's communications payload to reach customers across the continental United States, Alaska, Hawaii, Puerto Rico, Canada, and Mexico.
"I would like to thank Sea Launch for doing a great job with today's mission," said Thierry Guillemin, Intelsat chief technical officer.
Sea Launch did not give the formal go-ahead for the flight until Monday due to an unexplained technical issue during another Zenit launch last month. The April Zenit launch delivered an Israeli communications craft to an orbit just shy of the rocket's objective.
Last month's Zenit flight was the first mission for Land Launch, a Sea Launch spinoff program aimed at hauling medium-class satellites into space.
"The (Sea Launch) Chief Systems Engineer reviewed the response to our inquiry and determined that we could lift the launch constraint on Galaxy 18," said Paula Korn, Sea Launch spokesperson.
Korn said she could not comment further about the issue because the April mission was conducted under the management of Space International Services Ltd., the Moscow-based firm that partnered with Sea Launch to form the Land Launch program.
Galaxy 18 will spend the next few weeks circularizing its orbit at an altitude of about 22,300 miles. The craft will be stationed along the equator at 123 degrees west longitude for a mission expected to last more than 15 years.
"Once Galaxy 18 completes its in-orbit testing, it will operate in a powerhouse role in the Intelsat fleet, delivering some of the most popular programming to millions of American homes," said David McGlade, Intelsat CEO.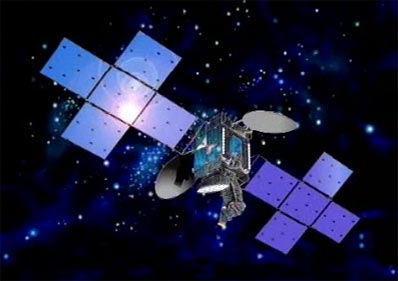 Credit: Loral



The spacecraft will replace Galaxy 10R, a satellite that was stricken by problems with its xenon ion propulsion system in 2004. The eight-year-old craft was originally designed for a lifetime of 15 years, but the propulsion failure forced its owners to order a replacement earlier than planned. PanAmSat Corp. signed the Galaxy 18 construction contract with Space Systems/Loral in 2005, a year before PanAmSat merged with Intelsat.

Equipped with 24 C-band and 24 Ku-band transponders, Galaxy 18 will broadcast cable television programming for Intelsat's corporate and government customers. Galaxy 18 will also provide data and other communications services, according to Intelsat.

"ESPN, Viacom and Showtime are just a few of the premier customers who anchor the 123 degrees west location," McGlade said. "That is why our North American Galaxy fleet is unequaled in terms of cable distribution reach and holds an industry-leading customer base."

"It's a very powerful and excellent spacecraft for video over North America," Guillemin said. "It will be going in the cable arc, so major applications are video, in particular video distribution. But what this is providing for areas like Alaska is also data (and) voice connectivity. It's everything you can need in terms of communication."

McGlade said Intelsat plans to invest up to $500 million in the company's satellite fleet and ground infrastructure this year, including the launch of the Galaxy 19 satellite on another Sea Launch mission this fall.

The Sea Launch Commander control ship and the Odyssey launch platform will sail back to Sea Launch's California home port to begin preparing for the company's next mission in July.