Sea Launch resumes flights after year-long lull
BY SPACEFLIGHT NOW
Posted: June 15, 2002


Sea Launch's Zenit 3SL rocket roared off its ocean-going launch platform for the first time in over a year Saturday, carrying the ultra-powerful Galaxy 3C communications satellite into its planned Earth orbit.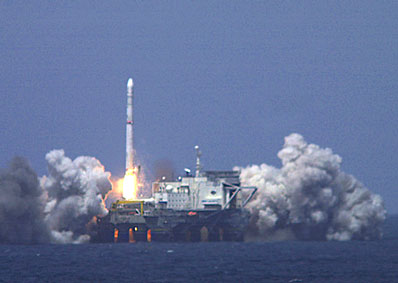 The Zenit 3SL rocket blasts off with Galaxy 3C. Photo: Sea Launch



Liftoff proceeded right on schedule at 2239 GMT (6:39 p.m. EDT) from a converted oil-drilling rig in the equatorial waters of the Pacific Ocean. The hour-long flight successfully deployed the payload into an egg-shaped transfer orbit with an apogee of 25,769 miles, a perigee of 224 kilometers and an inclination of zero degrees, all of which are right on pre-launch targets.

"We went straight down the pike and everything was right on target. You can't plan a launch better than this one has gone," said Sea Launch president Jim Maser.

Going into Saturday's mission, Sea Launch had been stalled for 13 months waiting for its next satellite cargo to be ready for liftoff. That lengthy delay was due in part to a design flaw uncovered on a model of spacecraft upon which Galaxy 3C was built.

Boeing Satellite Systems -- the builder of PanAmSat's Galaxy 3C spacecraft -- found degraded electricity production from the solar arrays of the company's newest design of communications satellites, called the Boeing 702.

The flaw was detected in concentrator devices on the solar panels of the seven Boeing 702 craft that were previously launched over the past couple of years. The concentrators, designed to enhance power production, are slowly losing their optical qualities in orbit, gradually reducing the electricity being made by the solar arrays.

To offset the decline in power, Boeing engineers decided to remove the concentrators on Galaxy 3C and other future Boeing 702 spacecraft, and to add a sixth panel to the solar arrays.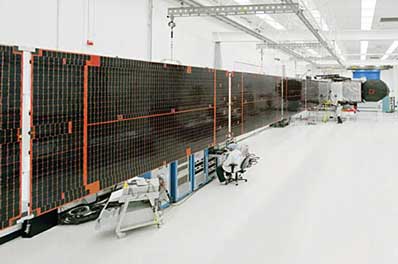 One of Galaxy 3C's solar arrays is deployed in a factory test. Photo: Boeing



"The return to flight of the Boeing 702 is a critical milestone for us. We are confident that the quality-focused implementation of Boeing best practices has greatly strengthened BSS. We are most grateful to PanAmSat for their renewed confidence in BSS and the 702-product line," said Randy Brinkley, president of Boeing Satellite Systems.

The addition of an extra panel extended the tip-to-tip length of the solar arrays to 157 feet, which is comparable to the wing span of a Boeing 767 jetliner. Galaxy 3C weighed about 10,700 pounds at liftoff, marking the second heaviest payload ever lofted in the eight launches of the Sea Launch Zenit 3SL rocket.

With an expected 15 kilowatts of power being made at the end of its anticipated 15-year lifetime, Galaxy 3C is one of the most powerful communications satellites ever launched.

Over the next few weeks, Galaxy 3C will use on-board chemical propulsion systems to do the majority of the orbit-raising maneuvers to guide the spacecraft from the highly elliptical transfer orbit to the geosynchronous altitude of 22,300 miles. After that step is complete, Galaxy 3C's major antennas and twin solar wings will be deployed, setting the stage for the operation of the craft's xenon ion propulsion system to fine tune the orbital parameters.


| | |
| --- | --- |
| | An artist's concept of the Galaxy 3C satellite fully deployed in orbit. Photo: Boeing |
"Once we have achieved geosynchronous orbit, we will then test the satellite and its subsystems to make sure they meet all the requirements of the mission," said Art Rosales, vice president of commercial programs for Boeing Satellite Systems. "After that is complete, we will then position the spacecraft to its final location at 95 degrees West longitude, and hand it over to the owner, PanAmSat. We anticipate will conclude in about mid-September."

Included in Galaxy 3C's communications payload are 24 C-band transponders and 53 Ku-band transponders, which will reach PanAmSat customers in the United States and Latin America.

Services provided by Galaxy 3C include voice transmissions, data and television relay, direct-to-user products and Internet capacity.

Specific users are DirecTV customers in Latin America, as well as Chevron, China Central TV, HBO, Hughes Network Systems, MicroSpace, Scientific Atlanta, and Verestar, Inc.

Galaxy 3C will replace Galaxy 3R in the 95 degrees West slot in geostationary orbit, where it will complement the Galaxy 8i satellite that will also soon be replaced.

"Galaxy 3C is a perfect example of why customers choose PanAmSat: it's versatile, robust and technologically advanced. As we move ahead, we look forward to working with our customers, leveraging the power of our fleet, and strengthening our leadership position in the industry," PanAmSat president and CEO Joe Wright said.

For PanAmSat, the launch of Galaxy 3C represented the end of a 30-month, $2-billion satellite replacement plan that began in December 1999 with the launch of Galaxy 11.

Galaxy 3C becomes the 22nd spacecraft in PanAmSat's global communications satellite fleet.