Sea Launch mission for Eutelsat delayed
BY STEPHEN CLARK
SPACEFLIGHT NOW
Posted: April 7, 2014


Sea Launch has delayed its next mission after a rocket component was damaged during preflight testing at the company's home port in Southern California, officials announced last week.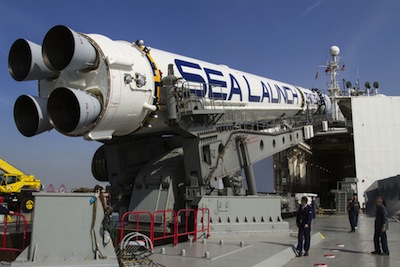 The Zenit 3SL rocket undergoes a "dry rollout" on the Odyssey launch platform March 29. Photo credit: Sea Launch

The company's Zenit 3SL rocket was set to boost the Eutelsat 3B communications satellite into orbit April 15 from a mobile ocean-based launch platform, marking Sea Launch's first mission since a launch failure seconds after liftoff in February 2013.
Sea Launch's Odyssey launch platform and Sea Launch Commander control ship were due to depart home port in Long Beach, Calif., in the first week of April.
One of the final milestones before the vessels left California for the equatorial Pacific launch site was the attachment of the Eutelsat 3B spacecraft to the Zenit 3SL launcher inside the Sea Launch Commander control ship, which also serves as an assembly hall for the company's rockets.
Once the rocket was attached to its satellite payload, technicians transferred the integrated vehicle to the adjacent Odyssey platform for a final check on top of the vessel's launch mount.
The Switzerland-based, Russian-owned launch services provider said a "discrepancy in the nominal movement of the cable-mast and the Zenit 2S [launch vehicle] lateral plate occurred while installing the [rocket] onto the launch pad."
The Zenit 2S name refers to the rocket's core two-stage vehicle, which is designed and built in Ukraine by Yuzhnoye and Yuzhmash. The basic Zenit 2S booster is topped by a Block DM-SL upper stage supplied by Energia, the Moscow-based space contractor which also owns a majority stake in Sea Launch.
Sea Launch said in a statement the error on the launch pad March 29 caused mechanical damage to the lateral planet on the Zenit rocket's interstage truss, which connects the first and second stages of the Ukrainian part of the launcher.
"A decision was made to de-mate the payload unit and Block DM-SL aboard the Sea Launch Commander to resolve the issue, establish the root cause and perform additional checks of the interface between the launch vehicle and ground support equipment connectors," the statement said.
Eutelsat 3B is one of two Sea Launch missions with firm payload assignments. A dual-payload launch with Russian and Angolan communications satellites is on the manifest for 2016.
Sergey Gugkaev, Sea Launch's CEO, said in March the company was negotiating with a customer for another launch opportunity by the end of 2014.
Sea Launch also has several more contract options with satellite operators.
Manufactured by Airbus Defence and Space, Eutelsat 3B will provide broadband, multimedia and television services over Latin America, Europe, Africa, the Middle East and Central Asia. The spacecraft is owned by Paris-based Eutelsat.
Follow Stephen Clark on Twitter: @StephenClark1.