First rocket launch of 2004 has successful outcome
BY JUSTIN RAY
SPACEFLIGHT NOW
Posted: January 11, 2004


Riding the first space launch of 2004, a satellite dubbed the "Star of the South" successfully ascended into the sky Saturday night to relay communications for Brazil and other parts of the Americas.

The Estrela do Sul 1 spacecraft was delivered into Earth orbit by a three-stage Ukrainian-Russian rocket flown by Sea Launch. Liftoff of the 200-foot-tall booster from the Odyssey launch platform stationed on the equator about 1,400 miles south of Hawaii occurred at 11:13 p.m. EST (0413 GMT).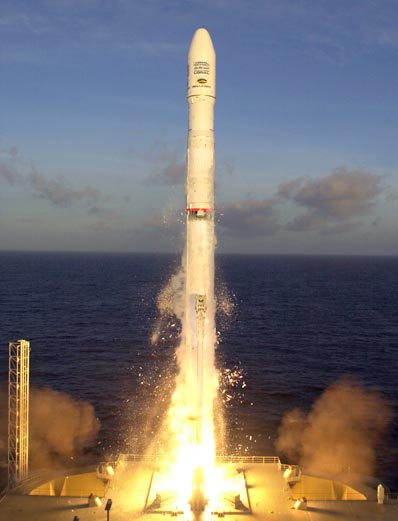 The Sea Launch rocket lifts off carrying the Telstar 14/Estrela do Sul 1 satellite. Photo: Sea Launch



The 10,350-pound satellite, built by Space Systems/Loral of Palo Alto, California, was deployed into an elliptical geosynchronous transfer orbit 65 minutes later while flying over the Indian Ocean.

"I can't think of a better way to start the year off," Jim Maser, president of Sea Launch, said after the mission. "We've really started off the year with a great success and I hope it continues the rest of the year for everybody involved in the industry."

In the coming days, the satellite will maneuver itself into a circular geostationary orbit 22,300 miles above the equator where it can match Earth's rotation and appear parked above 63 degrees West longitude. It is expected to be checked out and ready for service in about one month.

Estrela do Sul 1 will be operated by Loral Skynet do Brasil. Half of the craft's power will be dedicated to Brazilian communications needs -- television programming, data broadcasting and distance learning applications.

The satellite, also called Telstar 14 by Loral, carries 41 high-powered Ku-band transponders with several transmission beams. In addition to the dedicated service to Brazil, the Mercosul Beam covers southern portions of South America; the Andean Beam serves northwestern South America; the NAFTA Beam extends from Central America to Canada and the North Atlantic Beam will be used for Connexion by Boeing's Internet-to-aircraft service.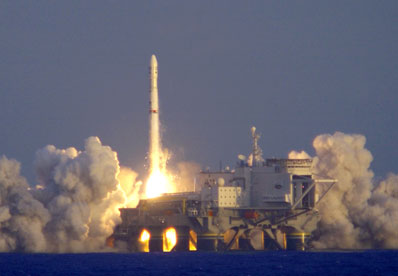 Liftoff as seen from the Sea Launch Commander ship located about three miles from the Odyssey platform. Photo: Sea Launch



"Telstar 14/Estrela do Sul 1 will become the backbone of Loral's fixed satellite services business in Latin America. With this new satellite, Loral will have the capability to offer its customers unique coverage patterns in Brazil and Latin America and will be the first Brazilian operator to offer its own Ku-band service to Brazil," said Terry Hart, president of Loral Skynet.

"The launch of Telstar 14/Estrela do Sul 1 represents an important expansion of our international fixed satellite services fleet," Hart added. "We believe there is great growth potential in the markets -- particularly Brazil -- and the applications this new satellite will support. Our plans call for a further expansion of the fleet to a total of five by mid-year when we launch Telstar 18 which will serve a large portion of Asia, another growing market."

Loral Skynet do Brasil, Ltd. is the first private Brazilian satellite company to offer Ku-band satellite services. The company has a ground station in Rio de Janeiro that will provide tracking, telemetry and control.

The satellite is designed to operate for over 15 years.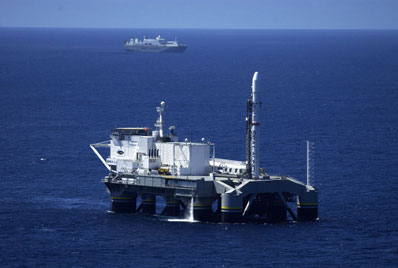 A pre-liftoff view of the Odyssey platform and Sea Launch Commander control ship during the countdown for Saturday's mission. Photo: Sea Launch



Originally slated to fly aboard the third Delta 4 rocket mission, Estrela do Sul was switched to Sea Launch by Boeing Launch Services -- the marketer of both vehicles. Delta 4 is no longer in the commercial satellite launch business.

For Sea Launch, this was the first of five-or-six missions expected in 2004. The next launch is scheduled for late next month when the Loral-built DirecTV 7S direct-to-home TV broadcasting satellite will be carried aloft. The spacecraft was supposed to fly aboard a European Ariane 5 rocket but was shifted to Sea Launch due to Arianespace scheduling conflicts. Another Loral satellite, the Telstar 18, will use Sea Launch in April.




Flight Data File
Vehicle: Zenit 3SL
Payload: Telstar 14/Estrela do Sul 1
Launch date: January 10, 2004
Launch window: 11:13 p.m. EST (0413 GMT on 11th)
Launch site: Equator, 154° West, Pacific Ocean
Satellite broadcast: Telstar 7, Transponder 18, Ku-band