Sea Launch boosts relay satellite for DISH Network
BY JUSTIN RAY
SPACEFLIGHT NOW
Posted: July 16, 2008


A powerful new broadcaster for the DISH Network satellite television system was successfully shot into space today aboard a multi-national Sea Launch Zenit 3SL rocket.


| | |
| --- | --- |
| | The Zenit rocket lifts off from the Odyssey platform. Credit: Sea Launch |
The booster began its hour-long ascent carrying the EchoStar 11 spacecraft at 0520:59 GMT (1:20:59 a.m. EDT), roaring skyward shortly after sunset trailing the flickering flames from its four-nozzle first stage engine.

The 20-story, million-pound rocket pitched eastward and headed downrange from the Odyssey launch pad, a floating platform positioned in equatorial waters of the Pacific, about 1,400 miles south of Hawaii.

The two Ukrainian-made lower stages of the Zenit performed their firings to propel the Russian Block DM-SL upper stage and satellite out of the atmosphere during the initial eight-and-a-half minutes of flight.

The upper stage then took over, completing an initial engine burn to reach a preliminary orbit less than 14 minutes after launch. The rocket coasted for a half-hour, flying over South America, before re-igniting for a seven-minute firing to accelerate the payload into an elliptical geosynchronous transfer orbit with a high point of 22,149 miles and low point of 466 miles.

Restraints holding the 12,150-pound satellite to the spent rocket motor were released over the western Indian Ocean, allowing the payload to separate and begin its 15-year mission in space.

"What a great launch," said Kjell Karlsen, the newly appointed president and general manager of Sea Launch. "This is my first launch as president. My knees are still shaking."

The satellite will use an onboard engine to reach a circular geostationary orbit 22,300 miles above the equator where it can match Earth's rotation and seem parked over one spot of the globe. Its final destination will be the slot at 110 degrees West longitude to cover the United States.


| | |
| --- | --- |
| | An artist's concept shows the EchoStar 11 satellite in space. Credit: Loral |
Built by Space Systems/Loral of Palo Alto, California, the craft is equipped with Ku-band transponders to relay direct-to-home TV programming for DISH Network.

"EchoStar 11 is a powerful 20-kW satellite, designed to expand capacity for DISH Network," said John Celli, president and chief operating officer of Space Systems/Loral.

"The real significance of this satellite for us is it's truly going to add a lot of capability," said Rohan Zaveri, vice president of space programs for DISH Network. "What we are really going to get is the ability to deliver more programming, more choices to our customers. We are going to do that because the satellite actually has the ability give us more power."

"At Space Systems/Loral, we are the leader in high-power satellite technology. So this is one of the prime examples of how the high-power aspects of a satellite, as well as the high-performance payload, benefit an application like direct broadcasting of TV signals," said Hampton Chan, Space Systems/Loral's executive director of advanced programs and space systems.

DISH customers are anxiously awaiting the new satellite's entrance into service. Earlier this year, the AMERICOM 14 spacecraft that would have provided its capacity to the direct broadcast system under a lease deal was lost in a Russian Proton rocket failure.

But today's rocket flight appeared smooth, and ground controllers established contact with EchoStar 11 via a tracking station in Australia right as planned. It marked the third time Sea Launch had deployed an EchoStar satellite, following EchoStar 9 in 2003 and EchoStar 10 in 2006.

"We're proud of our role in DISH Network's continued success. We thank you for your continued trust and confidence in our system and our team," Karlsen said.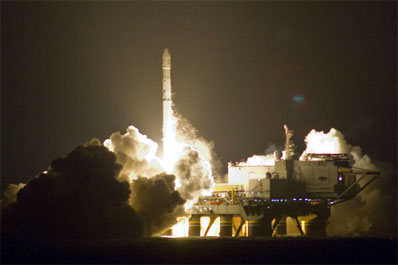 As viewed from the Sea Launch Commander assembly and control ship, the Zenit rocket begins its ascent with EchoStar 11. Credit: Sea Launch



Spaceflight Now visited Sea Launch one week before Odyssey set sail to begin the EchoStar 11 launch campaign. See our exclusive photo galley here and an overview of Sea Launch operations here.

This is a busy year for Sea Launch, now having completed four flights and another two slated to occur in the coming months. Next up will be the launch of the Galaxy 19 telecommunications satellite for Intelsat.

In addition, officials anticipate conducting one or two missions using the company's Land Launch subsidiary from Baikonur Cosmodrome in Kazakhstan by year's end.