French imaging satellite in orbit after launch from India
BY STEPHEN CLARK
SPACEFLIGHT NOW
Posted: June 30, 2014


A commercial imaging satellite blasted off on top of an Indian rocket Monday, reaching orbit a few minutes later to punctuate the deployment of a fleet of French spacecraft designed to monitor Earth with regularity and precision.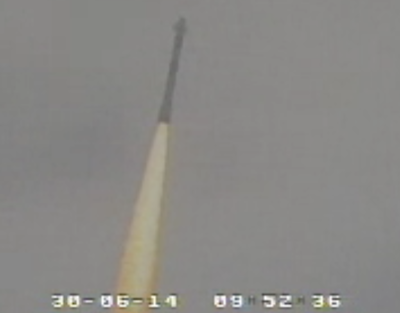 The Polar Satellite Launch Vehicle lifted off at 9:52 a.m. local time from the Satish Dhawan Space Center on India's east coast. Credit: ISRO

Carrying a sharp-eyed camera able to resolve objects on the ground as small as cars, the Spot 7 satellite joins an identical craft launched in 2012 to collect daily imagery of any point on the globe.
The spacecraft lifted off on top of a 14-story Polar Satellite Launch Vehicle at 0422 GMT (12:22 a.m. EDT) from the Satish Dhawan Space Center on India's east coast. The four-stage rocket released the 1,574-pound satellite in orbit less than 18 minutes later.
Four small co-passengers deployed from the PSLV's fourth stage moments later, beginning experimental missions for organizations in Germany, Canada and Singapore.
The Indian Space Research Organization declared the launch a success.
Indian Prime Minister Narendra Modi witnessed the launch from the space center and addressed engineers in the control center moments after the flight's conclusion.
"My congratulations to the brilliant space scientists and the Department of Space for yet another successful launch of the Polar Satellite [Launch Vehicle,]" Modi said. "We have perfectly placed five satellites into their orbits. This fills every Indian's heart with pride, and I can see it reflected in the joy and satisfaction on your faces."
Monday's launch was the 27th PSLV flight since 1993 and the workhorse launcher's 23rd successful mission in a row.
"India's advanced space program puts her in an elite global group of five or six countries today. This is one domain in which we are at the international cutting edge," Modi said.
Modi cited India's retired Chandrayaan 1 lunar orbiter and the Mars Orbiter Mission currently on the way to the red planet as emblematic of India's growing space program. He said the Mars Orbiter Mission's $72 million cost -- less than the production cost of the film "Gravity" -- was evidence of a "new paradigm of frugal engineering and the power of imagination."
"PSLV iteslf has launched 67 satellites, of which 40 have been foreign satellites coming from 19 countries," Modi said. "These satellites [launched Monday] are all from developed nations: France, Canada, Germany and Singapore."
Airbus Defence and Space, builder of the Spot 7 satellite, booked the craft's launch on a PSLV with Antrix Corp., ISRO's commercial sales arm. Another PSLV boosted the Spot 6 satellite into orbit in September 2012.
Spot 7's camera has a resolution of 1.5 meters, or about 4.9 feet, from the satellite's perch 694 kilometers, or 431 miles, above Earth.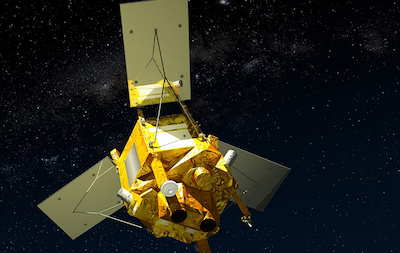 Artist's concept of the Spot 7 satellite. Credit: Airbus Defence and Space

The spacecraft will boost itself higher from its drop-off altitude following Monday's launch, phasing its orbit to fly 180 degrees apart from Spot 6 to maximize global coverage. The satellites complement France's Pleiades Earth observation satellites, which supply users with higher resolution imagery but cover less territory per day.
The less sensitive Spot 5 satellite launched in 2002 is also still in operation.
Officials expect Spot 7 to function at least 10 years.
Airbus built the Spot 6 and 7 satellites with private funding and hopes to sell the imagery to a range of commercial and government clients, including French military authorities, which already receive satellite photos from the two Pleiades spacecraft.
Spot 6 and 7 can observe a swath of ground 60 kilometers, or 37 miles, wide on a single pass.
The satellites are able to pivot in orbit to see targets anywhere within 1,500 kilometers, or about 900 miles, of their position. Airbus says the two satellites combined can image up to 6 million square kilometers, or 2.3 million square miles, every day.
Germany's 31-pound AISSat spacecraft launched Monday will identify and track ships with a deployable four-meter long, or 13.1-foot, antenna designed to collect information transmitted by vessels in busy shipping lanes, such as the North Sea and the U.S. East Coast.
Built by the DLR Institute of Space Systems in Bremen, Germany, AISSat will extend its antenna in the next few days, then begin listening to automatic identification signals from maritime traffic. In busy zones, the chorus of radio signals can overwhelm conventional ship-tracking satellites.
"They receive everything at once -- which would be equivalent to listening to 100 radio stations at the same time," said Jorg Behrens, AISSat project manager at DLR, the German Aerospace Centre. "The ships all broadcast their signals at once."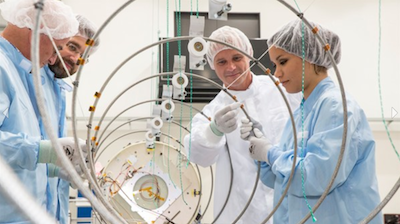 Engineers work on the antenna for the AISSat mission. Credit: DLR

AISSat's antenna will point its antenna directly toward Earth to track ships in a smaller area. Behrens likens the satellite's antenna to the beam of a flashlight.
"There is a lot of room for improvement in high-traffic regions, and our antenna could be a good way to do this," Behrens said.
Two 33-pound cubical satellites built by the University of Toronto Institute for Aerospace Studies rode Monday's launch into orbit to begin formation flying trials with a cold gas propulsion system, an inter-satellite communications link and GPS receivers.
A nanosatellite launched Monday for Nanyang Technical University in Singapore will eject a tiny smartphone-sized daughter satellite later in its mission.
Follow Stephen Clark on Twitter: @StephenClark1.