Indian rocket readied for launch of French satellite
BY STEPHEN CLARK
SPACEFLIGHT NOW
Posted: June 29, 2014


Engineers are gearing up for liftoff of a French commercial Earth observation satellite and a package of secondary payloads on an Indian Polar Satellite Launch Vehicle early Monday.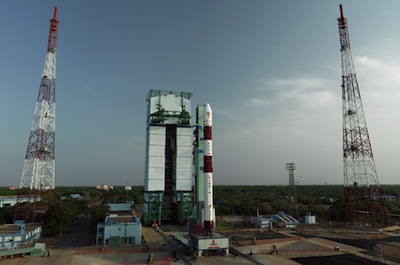 Artist's concept of the Athena spacecraft. Credit: Athena project team

The rocket is set for takeoff at 0422 GMT (12:22 a.m. EDT) Monday from the Satish Dhawan Space Center on India's east coast. Launch will occur at 9:52 a.m. local time at the launch base.
Satellites from France, Canada, Germany and Singapore are mounted inside the aerodynamic nose fairing of the 14-story Polar Satellite Launch Vehicle, which is poised for liftoff from the space center's "First Launch Pad" on Sriharikota Island about 50 miles north of Chennai.
Monday's launch will mark the PSLV's second flight of the year and the 27th PSLV mission since the launcher debuted in 1993.
The prime payload on Monday's PSLV mission -- dubbed PSLV-C23 -- is France's Spot 7 imaging satellite manufactured by Airbus Defence and Space. Developed with private funding, Spot 7 will join an identical satellite named Spot 6 launched by another Indian rocket in September 2012.
"It took just three-and-a-half years to design and manufacture the Spot 6 and 7 satellite system, a record time. This has made the Spot 6 and Spot 7 program a global benchmark, through the use of our technological expertise to enhance quality, speed of delivery and reduce the level of risk involved in the projects," said Francois Auque, head of the space systems division of Airbus Defence and Space.
Airbus plans to sell pictures from the Spot 6 and 7 satellites to commercial and government clients, complementing the French Pleiades high-resolution imaging satellites, which offer even sharper imagery.
Like its twin, Spot 7 can see objects on the ground as small as 1.5 meters, or about 4.9 feet.
When both satellites are operational, Spot 6 and 7 will collect imagery of up to 1.2 million square miles of the Earth's surface each day, according to Airbus.
After deploying from the PSLV's fourth stage, Spot 7 will maneuver into an orbit flying 180 degrees opposite from Spot 6, ensuring at least one of the satellites can image the same point on Earth every day.
The PSLV will boost Spot 7 and its co-passengers into an orbit about 407 miles high tilted at an angle of 98.2 degrees to Earth's equator.
The mission will begin with ignition of the PSLV's first stage solid rocket motor, which produces nearly 1.1 million pounds of thrust and burns for about a minute and 42 seconds.
Monday's launch will use a PSLV without its six strap-on motors, a version known as the "core alone" configuration.
The rocket's liquid-fueled Vikas second stage engine will fire for about two-and-a-half minutes. The PSLV's payload fairing will jettison during the second stage burn.
The solid-fueled third stage motor and liquid-fueled fourth stage will accelerate the rocket into orbit before deploying the 1,574-pound Spot 7 spacecraft nearly 18 minutes after liftoff.
Four satellites built in Canada, Germany and Singapore will be ejected from the rocket in the next two minutes to complete the mission.
Follow Stephen Clark on Twitter: @StephenClark1.