Commercial Proton flights cleared to resume in March
BY STEPHEN CLARK
SPACEFLIGHT NOW
Posted: February 12, 2013


An anomaly during a December Proton rocket launch of a Russian communications satellite was caused by the failure of a bearing inside the launcher's Breeze M upper stage, ultimately causing the launcher to release its commercial payload in the wrong orbit, International Launch Services announced Tuesday.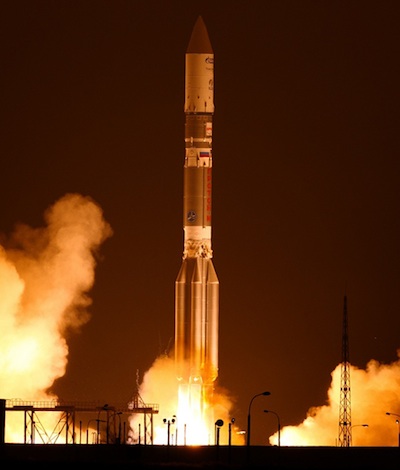 Photo of the Dec. 8 launch of a Proton rocket. Credit: Khrunichev

Experts found the most probable root cause of the mishap was a "combination of adverse conditions" leading to the failure of a bearing inside the main engine of the launcher's Breeze M upper stage.
The Dec. 8 launch carried the Yamal 402 communications satellite for Gazprom Space Systems, a division of Russian oil and gas producer Gazprom.
After lifting off from the Baikonur Cosmodrome in Kazakhstan, the three-stage Proton rocket boosted a Breeze M upper stage and the Yamal 402 satellite on an arcing suborbital trajectory. The Breeze M engine was supposed to fire four times to place the payload in an elliptical transfer orbit.
But the Breeze M's fourth burn, which was scheduled to last nine minutes, ended about four minutes early when a bearing failed on the oxidizer side of the main engine's turbopump, according to engineers who examined data from the mission.
The "adverse conditions" affected the Breeze M during the start of the upper stage's third burn, but the engine bearing did not fail until the fourth burn about five hours later.
The upper stage deployed Yamal 402 in the wrong orbit, and the satellite used its own propulsion system to reach its operational position 22,300 miles over the equator. But the satellite used more fuel than originally planned, shortening its projected lifetime from 15 years to 11 years, according to industry sources.
A Russian board of inquiry finished its investigation into the mishap in January, and U.S.-based International Launch Services, which manages commercial Proton/Breeze M missions, convened an oversight committee to review the results.
The ILS oversight board agreed with the Russian commission and approved plans to resume commercial Proton/Breeze M launches in March.
The Dec. 8 launch mishap marked the third problematic Proton/Breeze M launch since August 2011.
A Russian government-sponsored launch of two communications satellites Aug. 7 failed due to a component within the Breeze M's pressurization system which was not manufactured to specifications. In August 2011, another Breeze M failure was attributed to a programming error.
Karen Monaghan, an ILS spokesperson, said the anomaly shared no commonality with previous launches.
The next Proton/Breeze M flight will launch the Satmex 8 communications satellite in March for Mexican operator Satmex.
The launch of the Anik G1 communications satellite for Telesat of Canada will follow in April.