Thales 'confident' in recovery of Yamal 402 satellite
BY STEPHEN CLARK
SPACEFLIGHT NOW
Posted: December 13, 2012


A communications satellite owned by a division of Gazprom, the Russian oil and gas producer, is steadily moving toward its operational orbit after a Proton rocket and Breeze M upper stage deployed the craft in an unplanned orbit Saturday, according to industry officials.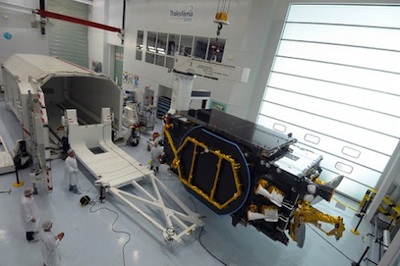 Photo of the Yamal 402 satellite at its production facility in Cannes, France. Credit: Thales Alenia Space

The Yamal 402 communications satellite lifted off on a Proton rocket Saturday, but the booster's Breeze M upper stage encountered a problem 9 hours into the mission, leaving the spacecraft in an orbit with the wrong altitude and inclination.
Built by Moscow-based Khrunichev, the Proton and Breeze M vehicles serve the commercial market under the auspices of International Launch Services, a U.S.-based subsidiary of Khrunichev.
The liquid-fueled Breeze M stage deployed the Yamal 402 satellite in an orbit stretching from a low point of about 1,900 miles to a high point of nearly 22,200 miles. It's orbital inclination at the time of separation was about 26 degrees.
The Breeze M engine shut down about four minutes earlier than planned on its final burn to place Yamal 402 in a geostationary transfer orbit. The rocket was targeting an orbit with a higher low point, or perigee, and an inclination of 9 degrees, which would have put Yamal 402 closer to its ultimate destination in geostationary orbit 22,300 miles over the equator.
Engineers are confident the satellite will reach its operational position with enough fuel to last for much of its planned lifetime, according to an official with Thales Alenia Space, which constructed the Yamal 402 spacecraft in Cannes, France.
But the craft will burn more propellant than anticipated to make up for the shortfall during launch. The Thales official said Thursday that officials remain cautious in their optimism.
A source quoted by Russia's Novosti news agency said Yamal 402's service life will be reduced to 11 years from its original 15-year design life.
The satellite's primary thruster will fire four times to place the craft in a circular orbit. As of Thursday, three of the burns were completed.
Yamal 402 was designed to provide Ku-band communications services to Russia, former Soviet states, Europe, the Middle East and Africa for Gazprom Space Systems.
In a statement released Monday, Thales said the Yamal 402 satellite was "nominal" following launch and its solar panels partially deployed as planned.
An updated posted Sunday on Khrunichev's website said the spacecraft will be handed over to Gazprom as planned on Jan. 8.