Proton rocket boosts Turkish telecom satellite to orbit
BY STEPHEN CLARK
SPACEFLIGHT NOW
Posted: February 15, 2014


A Turkish telecommunications satellite launched aboard an International Launch Services Proton rocket Friday to begin several decades of service for government and commercial users.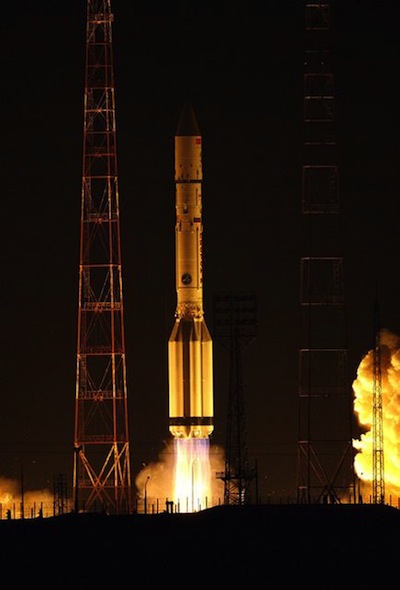 The Proton rocket with Turksat 4A launched at 2109 GMT (4:09 p.m. EST) Friday, or 3:09 a.m. local time Saturday at the Baikonur Cosmodrome in Kazakhstan. Credit: Khrunichev/ILS

The Turksat 4A satellite, built by Mitsubishi Electric Corp. in Japan, lifted off at 2109 GMT (4:09 p.m. EST) Friday from the Baikonur Cosmodrome in Kazakhstan. Housed inside an aerodynamic shroud at the top of a Proton rocket, the spacecraft weighed about 5.3 tons with its fuel tanks full at the time of launch.
The 191-foot-tall rocket soared into partly cloudy skies from the frigid space center before shedding its six-engine first stage about two minutes after liftoff. The Proton's second and third stages fired smoothly before the mission's Breeze M upper stage took over for five maneuvers to boost Turksat 4A into a high-altitude orbit near the equator.
It took nine hours for the Breeze M upper stage to do its work before depositing Turksat 4A into geostationary transfer orbit at 0621 GMT (1:21 a.m. EST) Saturday. The rocket was targeting an oval-shaped orbit with a low point of about 6,000 miles and a high point more than 22,200 miles above Earth.
International Launch Services, the U.S.-based company managing the commercial Proton mission, declared the flight a success in a statement released Saturday.
"This is the first ILS Proton launch for our partners, Mitsubishi Electric and Turksat, and we are happy to have such a strong foundation for our new relationship," said Phil Slack, ILS president, in the statement. "We are honored to be entrusted to deliver our customers' satellites to orbit. Thank you to all of the teams at Mitsubishi Electric, Turksat, Khrunichev, and ILS, who have made this launch a success."
ILS is owned by Khrunichev State Research and Production Space Center, the Russian builder of the Proton rocket and Breeze M upper stage.
Turksat 4A is healthy following launch and has deployed its two electricity-generating solar panels to a wingspan of nearly 83 feet, according to the craft's operator, Turksat AS.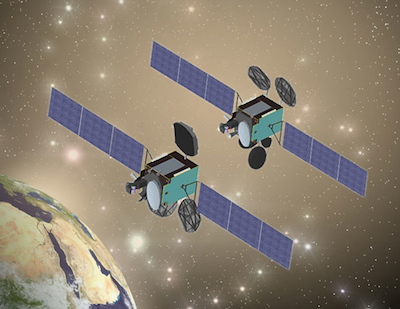 Artist's concept of the Turksat 4A and Turksat 4B satellites. Credit: MELCO

With a design based on Mitsubishi Electric's DS2000 satellite bus, Turksat 4A will power its way into a circular geostationary orbit over the next 10 days, Turksat said in a press release.
Such an orbit allows a satellite to hover over a fixed geographic position on Earth because the craft's orbital speed and the rate of the planet's rotation match.
The spacecraft will initially move over the equator at 50 degrees east longitude for testing before transferring to an operational location at 42 degrees east, according to Turksat.
Outfitted with Ku-band transponders for direct television broadcasts, along with C-band and Ka-band payloads, Turksat 4A will reach customers in a swath from England to China.
Turksat 4A also adds Africa to the Turkish satellite telecom market.
"With Turksat 4A, Turkey's satellite broadcasting capacity will be increased vastly," said Lütfi Elvan, Turkey's minister of transport, maritime affairs and communications. "Turkey will be connected to many of the African countries which we could not provide broadcasting services before. For any country in [the] Africa region, it will be easy to receive our TV broadcasts with the Turksat 4A satellite."
Another Turkish satellite, Turksat 4B, will launch on a Proton rocket later this year.
The next Proton rocket launch is scheduled for March 15 with the Express AT1 and Express AT2 spacecraft for Russia's civil communications satellite operator.
Follow Stephen Clark on Twitter: @StephenClark1.