Sirius XM Radio spacecraft launches on Proton rocket
BY STEPHEN CLARK
SPACEFLIGHT NOW
Posted: October 26, 2013


A Proton rocket and a Breeze M upper stage guided a fresh satellite into orbit Friday to begin a 15-year mission broadcasting hundreds of music, news and entertainment channels to Sirius XM Radio's 25 million subscribers in North America.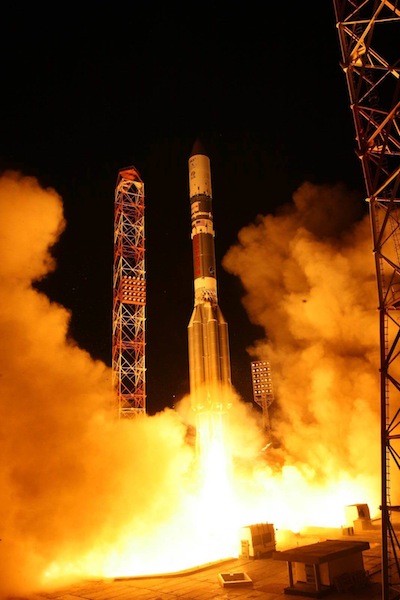 The Proton rocket with Sirius FM6 launched at 1808 GMT (2:08 p.m. EDT) Friday, or 12:08 a.m. local time Saturday at the Baikonur Cosmodrome in Kazakhstan. Credit: Roscosmos

Weighing 6.6 tons with a full load of fuel, the Sirius FM6 spacecraft is bound for an orbital position 22,300 miles over the equator at 116 degrees west longitude, where it will expand Sirius XM Radio's fleet of satellites.
Once it is operational, Sirius FM6 will become the 10th satellite in the company's space network, including payloads launched before Sirius Satellite Radio and XM Satellite Radio - the two pioneer satellite radio broadcasters - merged to form Sirius XM Radio in 2008.
Fitted with a large deployable reflector, Sirius FM6 was built by Space Systems/Loral in Palo Alto, Calif. Loral says the spacecraft is one of the most powerful satellites on the market today, with its solar arrays designed to generate nearly 20 kilowatts of power at the end of its life.
The launch of Sirius FM6 completes the company's second-generation satellite fleet and begins a three-year hiatus in satellite construction spending, according to David Frear, Sirius XM Radio's chief financial officer and executive vice president.
The satellite started its journey to orbit at 1808:54 GMT (2:08:54 p.m. EDT), vaulting off its launch pad at the Baikonur Cosmodrome in Kazakhstan atop a 191-foot-tall Proton rocket.
With its first stage emitting blue-orange exhaust from six RD-276 engines, the hydrazine-fueled launcher streaked into the midnight sky over Baikonur, shedding its lower stages and payload fairing within the first six minutes of flight.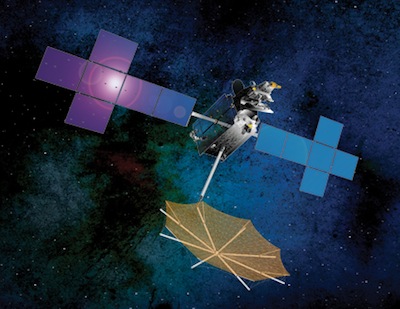 Artist's concept of Sirius FM6. Credit: Space Systems/Loral

The Proton's third stage cut off at about T+plus 9 minutes, 20 seconds, yielding to the launcher's Breeze M upper stage, which was responsible for putting Sirius FM6 into precise position in an orbit with a high point of 22,236 miles, a low point of 2,563 miles and an inclination of 23.18 degrees.
The Breeze M ignited its main engine five times over nine hours, boosting Sirius FM6's altitude and moving its orbit closer to its ultimate destination over the equator.
But the Breeze M's fuel tank is not big enough to finish the job, meaning Sirius FM6 - like almost all communications satellites - will have to fire its own thruster to circularize the orbit's altitude at 22,300 miles.
The Breeze M deployed the 13,234-pound spacecraft at 0320 GMT Saturday (11:20 p.m. EDT Friday) to conclude the launch.
ILS issued a statement late Friday, U.S. time, declaring the flight a success.
"For over a decade, SiriusXM has entrusted ILS Proton to deliver their satellites into orbit," said Phil Slack, ILS president. "It is a tremendous honor for ILS to have been a part of the satellite radio industry since 2000, with the launch of SiriusXM's first generation fleet on ILS Proton within a 5 month period. Thank you to all of the teams that made this successful launch possible, including SiriusXM, SSL, Khrunichev, and ILS."
The next Proton launch is scheduled for mid-November with a Raduga communications satellite for the Russian military. The next commercial Proton flight on the ILS manifest is slated for Dec. 8 with the Inmarsat 5 F1 satellite for London-based Inmarsat's Global Xpress superfast broadband service.