Proton launch for Sirius XM Radio pushed back to Friday
BY STEPHEN CLARK
SPACEFLIGHT NOW
Posted: October 21, 2013


International Launch Services has rescheduled the launch of a Proton rocket with a fresh satellite for Sirius XM Radio for Friday to give engineers time to resolve an unspecified problem with a satellite ground station in South Africa.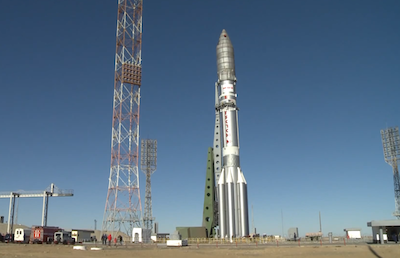 The Proton rocket on the launch pad at the Baikonur Cosmodrome in Kazakhstan. Credit: Roscosmos

The 19-story rocket was set to blast off Sunday from the Baikonur Cosmodrome in Kazakhstan with Sirius FM6, a 13,234-pound spacecraft to bolster Sirius XM Radio's satellite fleet broadcasting music, news and entertainment programming to radios across the United States and Canada.
Officials decided to scrub Sunday's launch to fix an issue with a communications station in South Africa, according to Khrunichev State Research and Production Space Center, the Proton rocket's Moscow-based manufacturer. The ground station is supposed to receive signals from the spacecraft after it arrives in orbit.
The delay, initially expected to be as short as one day, was extended to five days on Monday.
Liftoff is now slated for Friday at 1808 GMT (2:08 p.m. EDT), according to ILS, the U.S.-based, Russian-owned Proton marketing and sales firm.
The Proton and Breeze M will place Sirius FM6 into an elliptical geostationary transfer orbit during a nine-hour mission. Sirius FM6's own propulsion system will finish the job of placing the satellite in a circular orbit over the equator, where it will operate for 15 years.
It is not clear what, if any, effect the delay of Sirius FM6's launch will have on the Proton launch manifest. The workhorse launcher's next flight was scheduled for early November with a Russian Raduga military communications satellite.
Two more Proton launches are on the books for December, one carrying the Inmarsat 5 F1 satellite for London-based Inmarsat's Global Xpress superfast broadband service, and another Proton mission launching the Express AM5 broadcasting satellite for the state-owned Russian Satellite Communications Co.
The Proton rocket has a full plate of missions in the coming months after the heavy-lift booster was grounded following a fiery crash seconds after a liftoff in early July that destroyed the rocket and three Glonass navigation satellites.
Russian officials put a moratorium on Proton launches for three months while engineers investigated the mishap. The inquiry found angular rate sensors were improperly installed into the Proton rocket, causing the July 2 failure.