Proton launcher returns to commercial service
BY JUSTIN RAY
SPACEFLIGHT NOW
Posted: August 19, 2008


Commercial flights of Russia's Proton rocket successfully resumed Monday night, putting into orbit a sophisticated mobile communications satellite that joins two other spacecraft to offer global broadband coverage.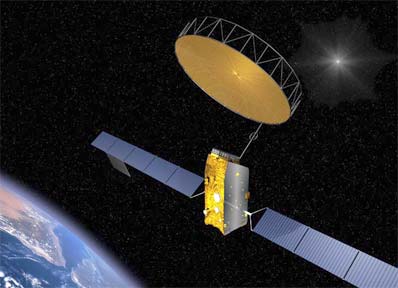 An artist's concept shows the Inmarsat 4-series satellite in orbit. Credit: EADS Astrium



The Proton six main engines ignited at liftoff to blast the 19-story rocket away from Baikonur Cosmodrome in Kazakhstan at 2243 GMT (6:43 p.m. EDT). After first stage separation two minutes into flight, four engines aboard the second stage fired for three-and-a-half minutes. The Proton's third stage then came to life for its four-minute job, during which time the protective payload fairing shielding Inmarsat 4-F3 satellite was let go after reaching the upper atmosphere.

The Proton booster's three core stages delivered the upper stage and the payload into an initial suborbital trajectory by T+plus 10 minutes. That set the stage for the Breeze M upper stage to conduct five burns over nine hours that methodically propelled 13,140-pound Inmarsat craft into the desired orbit for deployment, which was targeted to have a low point around 2,654 miles, high point of 22,236 miles and inclination of 22.8 degrees to the equator.

"This is a major milestone event for Inmarsat. ILS is proud to be a part of the construction of their global service with the successful Proton launch of Inmarsat 4-F3 today," said International Launch Services President Frank McKenna.

The satellite's onboard engine system will complete the task of circularizing the orbit to an altitude of 22,300 miles along the equator, and controllers will later guide the craft into an orbital slot at 98 degrees West longitude.

Built in Europe by EADS Astrium, this third craft in a three-satellite series will provide office-like broadband services such as Internet, email, voice and data-relay using laptop and palm-sized terminals.

The Inmarsat 4-series satellites transmit over 200 spot beams to deliver strong signals to the small receivers. Each craft has a giant unfurlable antenna reflector stretching 30 by 39 feet.

The new craft are 60 times more powerful and have 20 times more capacity than their predecessors, the Inmarsat 3-series of satellites.

Inmarsat 4-F1 was flown aboard an Atlas 5 rocket in March 2005; and the F2 satellite was lofted in November 2005 by Sea Launch.

Once the F3 spacecraft becomes operational later this year, the next-generation constellation will provide global coverage for users at sea, in the air and on land.

The two Inmarsat 4 satellites currently cover to 85 percent of the world's landmass and 98 percent of the planet's population. The third craft will complete the world-wide coverage after a decade of development and a $1.5 billion investment.

Monday's launch was the first for the Breeze M upper stage aboard a Proton since a redesign effort by Russian rocket-maker Khrunichev.

A Breeze M motor failed during its last launch on March 14 when an exhaust gas duct in the main engine ruptured. The stage was in the midst of a lengthy engine firing to propel the AMERICOM 14 satellite payload toward geosynchronous transfer orbit, but the mishap left the commercial communications spacecraft well short of its intended destination.

The redesign replaced the faulty duct, which led to the main engine's turbopump shutting down, with a thicker-walled conduit.

"We thank ILS for its due diligence in returning to flight successfully," said Andrew Sukawaty, president and CEO of Inmarsat.

ILS plans three more Proton launches this year, plus the Russian government has three federal flights planned for the heavy-duty rocket.