Proton rocket's commercial marketer begins new era
BY JUSTIN RAY
SPACEFLIGHT NOW
Posted: November 8, 2006

| | |
| --- | --- |
| | The Proton rocket launches BADR 4. Photo: ILS |
International Launch Services' first flight since its reorganization to focus exclusively on commercial Russian Proton rocket missions successfully lofted an Arab telecommunications satellite Wednesday.

ILS was formed in 1995 as a joint venture between Russian aerospace firms and the U.S. Lockheed Martin to jointly market the Proton and American Atlas families of rockets.

Lockheed Martin sold its part last month, leading ILS to transform into a new company solely dedicated to selling satellite-launching missions using the Khrunichev-built Proton rocket with Breeze M upper stages. ILS remains headquartered in McLean, Virginia, a suburb of Washington, D.C.

"We want the Proton to be synonymous with solid, reliable, on-time performance," says Frank McKenna, the new ILS president who took over October 11.

ILS is moving toward a business model of flying three-to-five Protons per year and capturing launch contracts that are profitable.

"Striving for market share, and the attendant fierce competition and significant reductions in pricing, has led to losses and financial debt. This is not a sustainable business position in the long run," ILS said in a recent statement.

"The establishment of a stand-alone ILS that is financially restructured without debt, and with a solid backlog of missions, provides the foundation for a great business for commercial Proton."

ILS has conducted 38 Proton launches since 1996, including Wednesday's flight that lifted off from Baikonur Cosmodrome in Kazakhstan at 2001 GMT (3:01 p.m. EST) with the BADR 4 spacecraft for ARABSAT of Riyadh, Saudi Arabia. It took four hours for the launch vehicle to haul the BADR 4 satellite into the proper orbit.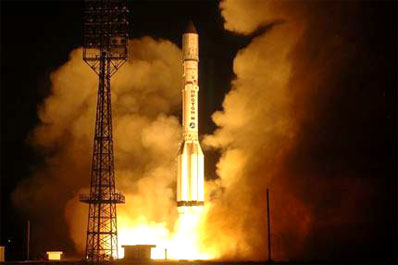 The Proton rocket launches BADR 4. Photo: ILS



The Proton first stage's six RD-275 engines ignited at liftoff to blast the 20-story rocket away from Earth on two million pounds of thrust. After first stage separation two minutes into flight, four engines aboard the second stage fired for three-and-a-half minutes. The Proton's third stage then came to life for its four-minute job, during which time the protective payload fairing shielding BADR 4 was let go after reaching the upper atmosphere.

The Proton booster's three core stages delivered the upper stage and the payload into an initial suborbital trajectory by T+plus 10 minutes. That set the stage for the Breeze M upper stage to conduct four burns that methodically propelled BADR 4 into the desired orbit for deployment. The stage first reached a parking orbit 108 miles high by T+plus 15 minutes, before the remaining three steps raised altitude and reduced orbital inclination.

The second firing began 65 minutes into flight and lasted a half-hour in duration. Then the emptied auxiliary fuel tank on rocket motor was jettisoned. The Breeze M immediately re-ignited its main engine for three more minutes of propulsion to reach a highly elliptical intermediate orbit, which was targeted to have a low point around 539 miles, high point of 22,239 miles and inclination of 51.5 degrees to the equator.

After coasting through space for about two hours, the upper stage gave a final push lasting nine minutes to deliver the payload into a geosynchronous transfer orbit, which was expected to have a low point of 1,957 miles, a high point of about 22,237 miles and an inclination of 14.2 degrees.

The satellite's onboard engine system will complete the task of circularizing the orbit to an altitude of 22,300 miles along the equator, and controllers will later guide the craft into an orbital slot at 26 degrees East longitude.

The 7,231-pound satellite was built by Astrium using the Eurostar E2000+ model design and has a 15-year expected life. Alcatel Alenia Space manufactured the communications payload.

"I am delighted that ARABSAT's BADR 4 has been injected into transfer orbit by ILS. Astrium has worked tirelessly to ensure that this latest significant step in the development of ARABSAT's business is a resounding success. We look forward to continuing our fruitful relationship with ARABSAT," said Antoine Bouvier, Astrium chairman and chief executive officer.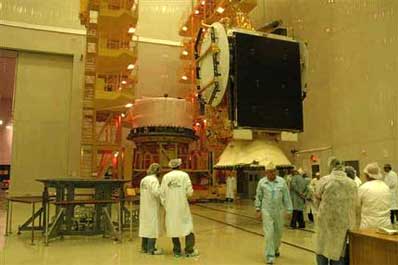 The BADR 4 is seen here next to the Breeze M upper stage during launch preparations. Photo: ILS



ARABSAT will operate the craft, which is equipped with 32 Ku-band transponders, to beam television and Internet broadband services across the Middle East -- from Morocco to the Gulf -- and parts of Europe.

"The successful launch of BADR 4 represents the realization of a critical milestone in ARABSAT's new strategic deployment, as well as the company's steadfast commitment to consolidating its historical position as the leading operator of direct-to-home services in the Middle East and North Africa region," said Khalid Balkheyour, ARABSAT's chief executive officer.

"Thanks to the superb combined performance of the Proton launcher and Astrium design and manufacturing, BADR-4 is now the most state-of-the-art satellite to serve the region, providing the 130 million viewers watching our 26 degrees East video 'hot spot' with an unrivalled level of in-orbit reliability and back-up, as well as unprecedented reach serving all of the 324 million inhabitants now fully covered from Morocco and Algeria to the Arabian Gulf with the highest power ever."

The BADR 4 satellite, previously called ARABSAT 4B, is the second in ARABSAT's fourth-generation telecommunications satellite series. But the first was lost in a Proton/Breeze M failure earlier this year. Astrium manufactured both craft and has been awarded a contract to replace the one lost February 28.

Wednesday's mission was the third ILS Proton of 2006, with one more expected in December to launch the Malaysian MEASAT 3 communications satellite.