Proton's return-to-flight mission delayed by glitch
BY STEPHEN CLARK
SPACEFLIGHT NOW
Posted: September 13, 2013


Grounded since a startling launch failure in July, Russia's Proton rocket will have to wait at least another two weeks to resume flights due to a technical problem on the booster's first stage.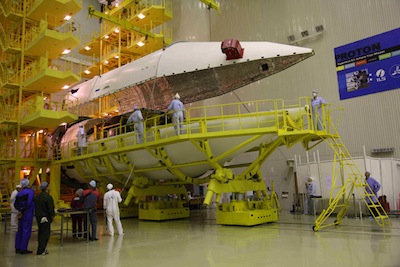 The ASTRA 2E spacecraft in encapsulated inside the Proton's payload fairing. Credit: Khrunichev

The Proton rocket's next flight, previously set for Sept. 16, will be delayed to allow engineers to resolve a glitch on the launcher's first stage, according to International Launch Services, the Proton's U.S.-based commercial marketing firm.
"The launch date will be determined at a later time," ILS said in a statement Thursday.
The Proton's return-to-flight mission will loft the ASTRA 2E communications satellite for SES of Luxembourg. The 13,271-pound satellite will beam Ku-band and Ka-band signals over Europe, North Africa and the Middle east, serving direct-to-home and broadband markets.
The ASTRA 2E satellite will be deployed about nine hours after the Proton rocket's launch from the Baikonur Cosmodrome in Kazakhstan. The commercial payload will be lifted into a high-altitude geostationary transfer orbit by a Breeze M upper stage.
"On September 11, Khrunichev engineers at the launch site received an out of tolerance reading on the first stage of the vehicle," the ILS statement said. "It was determined that further investigation is necessary, requiring the launch vehicle to be returned to the processing hall for additional testing. The vehicle and satellite remain in a safe configuration at the launch site."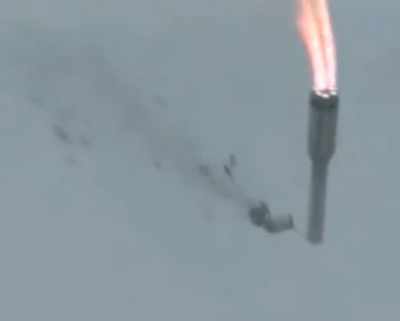 The July 2 launch failure. Credit: TsENKI TV/Spaceflight Now

Engineers with Khrunichev State Research and Production Space Center, the Proton rocket's Russian contractor, will investigate and fix the problem.
The Proton rocket's next launch was tentatively reset for Sept. 30, according to a source quoted by Russia's RIA Novosti news agency, but the target launch date is not yet confirmed.
The delay in ASTRA 2E's launch will likely push back by at least a couple of weeks the Proton's next commercial mission under the auspices of ILS, which was scheduled for Oct. 9 with the Sirius FM6 satellite for Sirius XM Radio.
The Proton rocket has not launched since a dramatic July 2 launch failure, in which the 19-story launcher wildly oscillated immediately after liftoff before turning upside down and crashing into the ground about a mile from its launch pad.
Russian investigators traced the cause of the fiery mishap, which was captured on professional and amateur video, to three improperly installed yaw angular rate sensors. The devices feed data on the rocket's orientation in flight to the Proton's computer.