Proton rocket to resume flights in September
BY STEPHEN CLARK
SPACEFLIGHT NOW
Posted: August 15, 2013


Russia's Proton rocket is scheduled to resume launches in September after a fiery mishap of the expendable booster destroyed three Russian navigation satellites at the Baikonur Cosmodrome in July, the Proton's U.S.-based commercial sales firm announced Wednesday.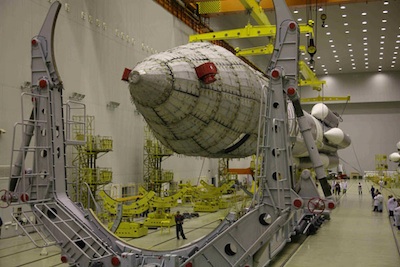 File photo of a Proton rocket. Credit: Khrunichev

The Proton rocket, a workhorse for commercial communications satellites and heavy Russian government payloads, has been grounded since the July 2 accident.
Russian investigators found three yaw angular rate sensors, which provide information on the rocket's orientation, were installed upside down when the Proton launcher was assembled.
The improperly installed sensors fed bad information to the Proton's computers, and the 19-story booster almost immediately flew off course moments after liftoff July 2. It gyrated wildly as it ascended from the launch pad, then tilted over and broke apart before exploding in a fireball upon impact with the ground at the Baikonur Cosmodrome in Kazakhstan.
Three Russian Glonass M navigation satellites were destroyed in the mishap. No injuries were reported.
Russia's Interfax news agency said the mission was insured for about $200 million.
The dramatic failure was a scene reminiscent of rocket explosions in the early days of the Space Age.
Officials recovered two of the yaw sensors in the rocket's debris field, finding evidence they were forcibly installed 180 degrees from their proper position.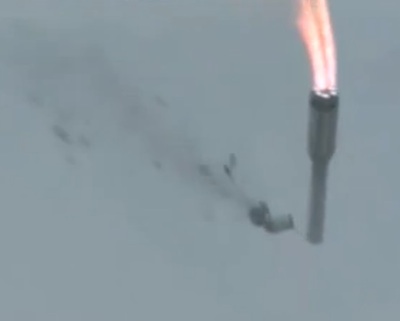 Image of the Proton launch failure of July 2. Credit: TsENKI TV

Investigators instructed the manufacturer of the yaw sensors to change their design to prevent their improper installation on future rockets. The Proton's prime contractor - Khrunichev State Research and Production Space Center - should institute video and photo documentation standards to monitor assembly of Proton rockets, investigators said.
Russian Prime Minister Dmitry Medvedev ordered an investigation to find the cause of the Proton accident. International Launch Services, the Virginia-based company responsible for commercial Proton missions, established its own review board to study the results of the Russian state commission inquiry.
ILS, which was not involved in the botched July 2 launch, said Wednesday it agreed with the conclusions of Russian investigators. The ILS oversight board included technical experts, customer representatives and insurance underwriters.
The Proton's return-to-flight mission is set for Sept. 15 with the ASTRA 2E communications satellite owned by SES of Luxembourg, according to ILS.
ASTRA 2E was delivered to the Baikonur Cosmodrome from its manufacturer - Astrium Satellites in France - in June, before the July 2 launch failure. Launch preparations for the ASTRA 2E mission were suspended during the investigation.
ILS officials said the Proton manifest for the rest of 2013 will be finalized soon.