The Mission






Rocket: Proton M with Breeze M upper stage
Payload: Anik F1R
Date: Sept. 8, 2005
Time: 2153 GMT (5:53 p.m. EDT)
Site: Baikonur Cosmodrome, Kazakhstan
Satellite feed: Intelsat Americas 6, Transponder 9, C-band, 93° West

Mission Status Center






Spaceflight Now +





Premium video content for our Spaceflight Now Plus subscribers.

Hill-climbing Mars rover
The Mars Exploration Rover Spirit has reached the summit of Husband Hill, returning a spectacular panorama from the hilltop in the vast Gusev Crater. Scientists held a news conference Sept. 1 to reveal the panorama and give an update on the twin rover mission.

Full coverage

Planes track Discovery
To gain a new perspective on space shuttle Discovery's ascent and gather additional imagery for the return to flight mission, NASA dispatched a pair of high-flying WB-57 aircraft equipped with sharp video cameras in their noses.

Full coverage

Rocket booster cams
When space shuttle Discovery launched its two solid-fuel booster rockets were equipped with video cameras, providing dazzling footage of separation from the external fuel tank, their free fall and splashdown in the sea.

Full coverage

Discovery ferried home
Mounted atop a modified Boeing 747, space shuttle Discovery was ferried across the country from Edwards Air Force Base, California, to Kennedy Space Center, Florida.

Full coverage

Shuttle tank returned
Shuttle fuel tank ET-119 is loaded onto a barge at Kennedy Space Center for the trip back to Lockheed Martin's Michoud Assembly Facility in New Orleans. The tank will be used in the investigation to determine why foam peeled away from Discovery's tank on STS-114 in July.

Full coverage

Delta 4 launch delayed
Launch of the GOES-N weather observatory aboard a Boeing Delta 4 rocket is postponed at Cape Canaveral, Florida.

Full coverage

Mars probe leaves Earth
The Mars Reconnaissance Orbiter lifts off aboard a Lockheed Martin Atlas 5 rocket from Cape Canaveral's Complex 41.

Full coverage

Launch pad demolition
Explosives topple the abandoned Complex 13 mobile service tower at Cape Canaveral Air Force Station. This video was shot from the blockhouse roof at neighboring Complex 14 where John Glenn was launched in 1962.

Play video:
Full view | Close-up

Become a subscriber
More video







Russian Proton rocket launches Canadian satellite
BY JUSTIN RAY
SPACEFLIGHT NOW
Posted: September 9, 2005



| | |
| --- | --- |
| | The Proton rocket fires to life for its launch of Anik F1R. Credit: ILS |
A powerful broadcasting platform to beam television, data and air-traffic navigation signals across North America arrived in orbit today, capping a 9-hour ascent atop a Russian-made rocket.

The Canadian Anik F1R satellite began its 15-year space mission at 2153:40 GMT (5:53:40 p.m. EDT) Thursday when it launched from the Baikonur Cosmodrome in Kazakhstan.

Over the next 10 minutes, the commercial Proton M rocket's lower three stages completed their programmed firings to heave the 9,900-pound spacecraft skyward from the remote launch site in Central Asia.

Then the Breeze M upper stage assumed control, conducting an initial engine firing to reach a preliminary orbit around Earth. Four more burns strategically timed during the next nine hours methodically raised the altitude into a looping orbit stretching 22,300 miles at its farthest distance from the planet, 2,000 miles at the closest and inclined 10 degrees from the equator.

The rocket's mission -- managed by International Launch Services -- was hailed as a success when the payload was safely released from the upper stage.


| | |
| --- | --- |
| | The Anik F1R spacecraft is seen here mounted atop its Breeze M upper stage during pre-launch processing. Credit: ILS |
Anik F1R's onboard propulsion system will complete the task of circularizing the altitude to geostationary orbit 22,300 miles above the equator where the craft will be parked at 107.3 degrees West longitude over the eastern Pacific Ocean.

Canadian satellite operator Telesat, a firm created in 1969 and distinguished by launching the world's first commercial domestic communications satellite into geostationary orbit in 1972, plans to press Anik F1R into service this fall.

The new spacecraft is the "latest in a long line of Telesat satellites to pioneer critical services that benefit millions of people across North America every day," said Larry Boisvert, Telesat's president and CEO.

It features 32 Ku-band and 24 C-band transponders for television transmission and data relay services, forming a telecommunications network for use by broadcasters, businesses and governments throughout North America.

In addition, a navigation package operating in C-band for uplink and L-band for downlink will provide precision Global Positioning System-based guidance information to aircraft at thousands of airports and landing strips that lack such a capability today, Telesat says.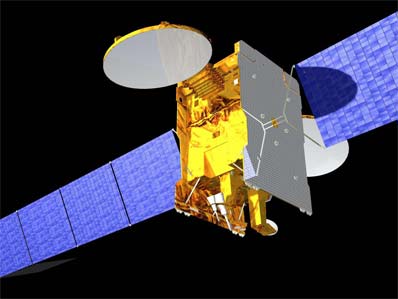 An artist's concept depicts the Anik F1R satellite deployed in space. Credit: EADS Astrium



The craft was built in Europe by EADS Astrium and is based on that company's E3000 design in the Eurostar family of satellites. Anik F1R replaces the five-year-old Anik F1 spacecraft, which is stricken with a solar array design flaw that has shortened its service life.

This launch was the third ILS Proton mission of 2005. The joint U.S./Russian venture, formed 10 years ago to sell Proton and American Atlas rockets, has completed six launches this year between its two vehicle fleets. All have been successful.

"With today's launch, the Proton Breeze M continues its 100 percent successful mission record," said ILS President Mark Albrecht. "We're glad to again provide a good launch for Telesat, which had the confidence in ILS to be the first commercial customer for this configuration nearly three years ago."

"Telesat's success would not be possible without partners such as ILS. After all, reliable satellite communications begin with a reliable satellite launch," said Boisvert.

The key players in today's launch -- ILS Proton, EADS Astrium and Telesat -- will team up again next year to launch the Anik F3 spacecraft.