The Pegasus rocket
ORBITAL SCIENCES FACTS/SPACEFLIGHT NOW
Posted: June 6, 2000

| | |
| --- | --- |
| | A Pegasus rocket ignites five seconds after release from its L-1011 carrier jet. Photo: NASA TV/Spaceflight Now |
Pegasus XL is a winged, three-stage, solid rocket booster which weighs approximately 23,130 kg (51,000 lbm) and measures 16.9 m (55.4 ft) in length and 1.27 m (50 in) in diameter and has a wing span of 6.7 m (22 ft). It is lifted by an L-1011 carrier aircraft to a level flight condition of about 11,900 m (39,000 ft) and Mach 0.80. Five seconds after release from the aircraft Stage 1 motor ignition occurs. The vehicle's autonomous guidance and flight control system provide the guidance necessary to insert payloads into a wide range of trajectories.

The Pegasus Vehicle design combines state-of-the-art, flight-proven technologies, and conservative design margins to achieve performance and reliability at reduced cost. The vehicle incorporates seven major elements: three solid rocket motors, a payload fairing, a lifting wing, an avionics assembly, and an aft skirt assembly including three movable control fins. Pegasus also has an option for a liquid propellant fourth stage, HAPS.

Solid Rocket Motors
The three Alliant Techsystems solid rocket motors were designed and optimized specifically for Pegasus and include features that emphasize reliability, manufacturability, and affordability. The designs were developed using previously flight-proven and qualified materials and components. Common design features, materials, and production techniques are applied to all three motors to maximize cost efficiency and reliability. These motors are fully flight-qualified.

Payload Fairing
The Pegasus payload fairing consists of two composite shell halves, a nose cap integral to a shell half, and a separation system. Each shell half is composed of a cylinder and ogive Sections, which are held together with two titanium straps along the cylinder and a retention bolt in the nose. A cork and Room Temperature Vulcanizing (RTV) Thermal Protection System (TPS) provides protection to the graphite composite fairing structure. The amount of TPS applied has been determined to optimize fairing performance and payload environment protection.

The two straps are tensioned using bolts, which are severed during fairing separation with pyrotechnic bolt cutters, while the retention bolt in the nose is released with a pyrotechnic separation nut. The base of the fairing is retained with Orbital's low-contamination frangible separation joint. These ordnance events are sequenced for proper separation dynamics. A hot gas generator internal to the fairing is also activated at separation to pressure two piston-driven pushoff thrusters. These units, in conjunction with cams, force the two fairing halves apart. The halves rotate about fall-away hinges, which guide them away from the satellite and launch vehicle.

The fairing and separation system were fully qualified through a series of structural, functional, and contamination ground vacuum tests and have been successfully flown on all Pegasus XL Missions.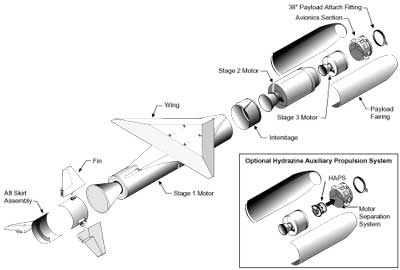 Diagram of Pegasus rocket. Photo: Orbital Sciences


Avionics
The Pegasus avionics system is a digital distributed processor design that implements recent developments in hardware, software, communications, and systems design. Mission reliability is achieved by the use of simple designs, high-reliability components, high design margins and extensive testing at the subsystem and system level.
The heart of the Pegasus avionics system is a multiprocessor, 32-bit flight computer. The flight computer communicates with the Inertial Measurement Unit (IMU), the launch panel electronics on the carrier aircraft and all vehicle subsystems using standard RS-422 digital serial data links. Most avionics on the vehicle feature integral microprocessors to perform local processing and to handle communications with the flight computer. This RS-422 architecture is central to Pegasus's rapid integration and test, as it allows unit and system-level testing to be accomplished using commercially available ground support equipment with off-the-shelf hardware.
Wing
The Pegasus wing uses a truncated delta platform with a double wedge profile. Wing panels are made of a graphite-faced Nomex-foam sandwich. Channel section graphite spars carry the primary bending loads and half-ribs and reinforcing lay-ups further stabilize the panels and reduce stress concentrations. The wing central box structure has fittings at each corner which provide the structural interface between the Pegasus and the OCA.
Aft Skirt Assembly
The aft skirt assembly is composed of the aft skirt, three fins, and the fin actuator subsystem. The aft skirt is an all-aluminum structure of conventional ring and stressed-skin design with machined bridge fittings for installation of the electromechanical fin actuators. The skirt is segmented to allow installation around the first stage nozzle. Fin construction is one-piece solid foam core and wet-laid graphite composite construction around a central titanium shaft.
Orbital Carrier Aircraft

| | |
| --- | --- |
| The OCA with a Pegasus rocket strapped to its belly. Photo: NASA TV/Spaceflight Now | |
Orbital furnishes and operates the Orbital Carrier Aircraft (OCA). After integration at Orbital's West Coast integration site at VAFB, the OCA can provide polar and high-inclination launches utilizing the tracking, telemetry, and command (TT&C) facilities of the WR. The OCA can provide lower inclination missions from the East Coast using either the NASA or ER TT&C facilities. The OCA is made available for mission support on a priority basis during the contract-specified launch window.

The OCA also has the capability to ferry Pegasus trans-continentally or trans-oceanic (depending on landing site) to support ferry and campaign missions.




Flight data file
Vehicle: Pegasus XL
Payload: TSX-5
Launch date: June 7, 2000
Launch window: 1302-1357 GMT (9:02-9:57 a.m. EDT)
Launch site: Over Pacific Ocean



Pre-launch briefing
Launch preview - Our story describing the launch and TSX-5 satellite's mission.



Launch timeline - Chart with times and descriptions of events to occur during the launch.



TSX-5 - Description of the U.S. Air Force satellite to be launched.