Sun probe arrives at launch site for mating to booster
BY JUSTIN RAY
SPACEFLIGHT NOW
Posted: April 23, 2013


A solar observatory designed to study how the Sun's atmosphere is energized has been trucked to Vandenberg Air Force Base in California, the ground base where the air-launched Pegasus rocket booster will be readied to propel the NASA satellite into orbit in June.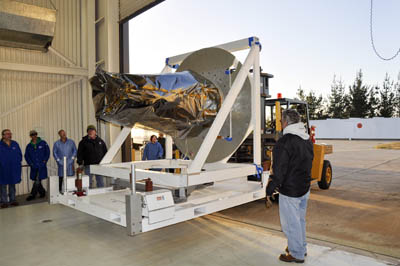 IRIS arrives at the hangar. Credit: VAFB/Randy Beaudoin



The Interface Region Imaging Spectrograph spacecraft, or IRIS, was developed by the Lockheed Martin Advanced Technology Center. It is outfitted with an ultraviolet telescope and spectrograph to help scientists understand a mystery about the Sun's working forces.

"IRIS will contribute significantly to our understanding of the interface region between the sun's photosphere and corona," said Joe Davila, IRIS mission scientist at NASA's Goddard Space Flight Center. "This region is crucial for understanding how the corona gets so hot."

The highly-focused science mission promises to close the knowledge gap about energy transport on the Sun by following the flow of energy and plasma between the surface and the solar corona.

"With the high-resolution images from IRIS, scientists will be able to use advanced computer models to unravel how matter, light and energy move from the sun's 6,000 Kelvin surface to its million Kelvin corona," said Eric Ianson, IRIS mission manager. "Scientists will be able to combine data from NASA's IRIS and Solar Dynamics Observatory and the NASA/JAXA Hinode missions to obtain a more comprehensive understanding of the sun's atmosphere."

After departing from the runway at California's Vandenberg Air Force Base on June 26, an L-1011 carrier jet will haul the winged rocket over the Pacific Ocean and release it at 7:27 p.m. local time (10:27 p.m. EDT).

The IRIS spacecraft, weighing about 440 pounds and stretching 7 feet in length, is ideally sized for the Pegasus launch that will be making its 42nd flight. Its heritage includes deploying over 70 satellites since 1990 for NASA, commercial customers and the U.S. military.

Lockheed Martin shipped the satellite from its Sunnyvale manufacturing facilities to Vandenberg on April 16, traveling about 250 miles.

"The entire IRIS team is enormously pleased that we've reached this crucial milestone," said Gary Kushner, Lockheed Martin IRIS program manager. "After many months of hard work by the Lockheed Martin team and all of our collaborators and subcontractors in designing, engineering, building and testing the instrument and integrated spacecraft, our goal of putting it into orbit is in sight and we look forward to producing great science at a low cost."

Once in the Pegasus hangar, IRIS was powered up, put through post-shipment functional testing and changing of the onboard battery. Activities this week include instrument and spacecraft system-level testing.

IRIS will be mated to the Pegasus about 25 days before launch, then the two halves of of the rocket nose cone will be installed 12 days ahead of the flight. The fully assembled rocket will be rolled on a trailer out to the runway for attachment to the L-1011 carrier aircraft just a few days prior to takeoff.

Commissioning of the observatory should be finished and the start of science operations begins a month into the mission.

"With IRIS, we have a unique opportunity to provide significant missing pieces in our understanding of energy transport on the Sun. The complex processes and enormous contrasts of density, temperature and magnetic field within this interface region require instrument and modeling capabilities that are now finally within our reach," said Alan Title, IRIS principal investigator.