BY JUSTIN RAY


October 9, 2000 -- Follow the countdown and launch of the Pegasus rocket with NASA's HETE 2 spacecraft. Reload this page for the very latest on the mission.





Flight data file
Vehicle: Hybrid Pegasus
Payload: HETE 2
Launch date: Oct. 9, 2000
Launch time: 0538 GMT (1:38 a.m. EDT)
Staging site: Kwajalein Missile Range



Pre-launch briefing
Mission preview - Our story describing the launch of the HETE 2 satellite.



Launch timeline - Detailed chart of events to occur during the launch.



HETE 2 - Description of NASA satellite to search of gamma ray burst.


Video vault

The High Energy Transient Explorer 2 spacecraft as seen in NASA animation. HETE 2 will seek out gamma ray bursts.
PLAY (206k, 14sec QuickTime file)


From the history archives watch a previous Orbital Sciences Pegasus rocket launch, which is dropped from the belly of an L-1011 carrier jet.
PLAY (179k, 17sec QuickTime file)


Download QuickTime 4 software to view this file.


Snapshot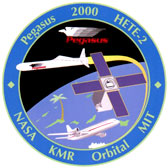 HETE 2 patch. Courtesy of Space Country