BY JUSTIN RAY


July 24, 2000 -- Follow the countdown and launch of a U.S. Air Force Minotaur rocket with the Mightysat 2.1 technology demonstration satellite. Reload this page for the very latest on the mission.





Video vault

The U.S. Air Force Minotaur rocket lifts off from Vandenberg Air Force Base in California on July 19 with Mightysat 2.1.
PLAY (292k, 32sec QuickTime file)


Download QuickTime 4 software to view this file.


Snapshots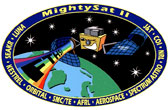 The Mightysat 2.1 patch. Photo: AFRL/Kirtland AFB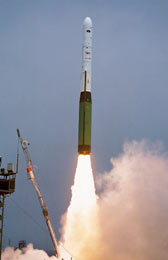 Minotaur lifts off. Photo: Orbital Sciences



Flight data file
Vehicle: OSPSLV Minotaur
Payload: Mightysat 2.1
Launch date: July 19, 2000
Launch window: 2009-2135 GMT (4:09-5:35 p.m. EDT)
Launch site: CLF, Vandenberg Air Force Base, Calif.



Pre-launch briefing
Launch timeline - Chart with description of events to occur during launch.



Minotaur - Facts and background information of OSP Space Launch Vehicle.



Mightysat 2.1 - A look at the satellite to be carried aloft by Minotaur.