Lockheed Martin nears end of first Orion launch campaign
BY STEPHEN CLARK
SPACEFLIGHT NOW
Posted: June 2, 2014


Technicians have bolted an ablative heat shield to NASA's first space-rated Orion spacecraft for an unmanned orbital test flight later this year, setting the stage for the attachment of the spaceship's pressurized crew module with a mock service module.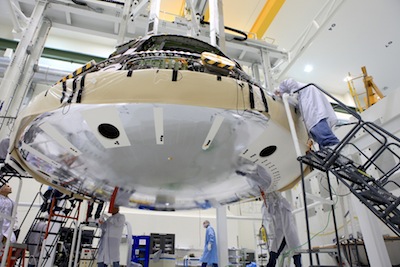 The heat shield for the first Orion space mission is attached to the Orion crew capsule at the Kennedy Space Center in Florida. Credit: NASA

"You can imagine all the challenges of putting a large spacecraft together for the first time," said Laurence Price, Lockheed Martin's deputy program manager. "Most recently, we've gotten through random vibration testing of the crew module, and we've completed all the functional performance testing of the electronics and software, so all that is behind us. Our recent challenge has been installing our heat shield with its hundreds of bolt holes to carry tensile and shear loads."
The 16.5-foot-diameter ablative heat shield will protect the Orion spacecraft when it plunges back into Earth's atmosphere at the end of its mission, encountering temperatures of nearly 4,000 degrees Fahrenheit during re-entry.
The heat shield was attached to the Orion spacecraft's olive-green aluminum-lithium metal structure with hundreds of bolts and fasteners in a multi-day procedure inside the Operations and Checkout Building at NASA's Kennedy Space Center in Florida.
Technicians working for Lockheed Martin Corp., Orion's prime contractor, will next connect the Orion functional crew module with a dummy service module, a mock structure assembled to replicate the mass and size of Orion's real service module, which is being developed in Europe to fly on a 2017 test mission.
"We'll mate the service module and crew module and then install the backshell thermal protection material and forward bay cover over the parachutes," Price said. "Then we'll run some electromagnetic radiation testing on the assembled vehicle before we're ready for ground processing with the launch team."
The Orion spacecraft is set for launch in December on a United Launch Alliance Delta 4-Heavy rocket on a four-hour autonomous test flight reaching up to 3,600 miles above Earth, about 15 times higher than the orbit of the International Space Station.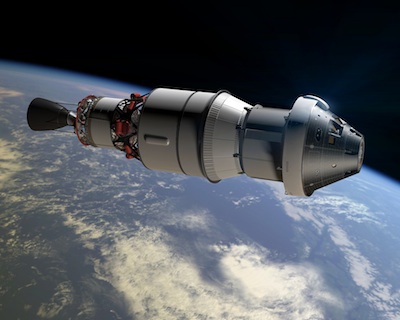 Artist's concept of the Orion spacecraft and the Delta 4 rocket's upper stage in orbit. Credit: NASA

The heat shield is composed of a titanium skeleton and carbon fiber skin overlaid with a fiberglass-phenolic honeycomb structure with 320,000 cells filled with the ablative material Avcoat. Engineers will closely watch the performance of Orion's thermal protection system on the December flight, which will re-enter the atmosphere at 20,000 mph, faster than any crewed spacecraft since the Apollo moon missions.
Engineers say the mission, called Exploration Flight Test 1, will verify the design of the capsule's heat shield, avionics, parachutes and other systems before a full-up Orion spacecraft with a life support system, cockpit displays and crew accommodations launches at the end of 2017 on a more ambitious unmanned test flight to the vicinity of the moon.
The Orion spacecraft is NASA's next-generation crew vehicle designed to carry astronauts on expeditions beyond low Earth orbit aboard the Space Launch System, which is set for an inaugural launch on Orion's second flight in 2017.
Lockheed Martin proposed the EFT-1 mission as a risk-reduction exercise to wring out Orion's design, plus serve as practice for the craft's ground processing team in Florida, where the contractor plans to assemble all Orion capsules before launch. Mission controllers NASA's Johnson Space Center in Houston will also track the progress of the flight.
"In the last three months, we've accomplished significant assembly and checkout concerns," Price said in an interview. "It's the first time we've ever put this together. We've had a tremendous relationship with the NASA team and our suppliers to be able to accomplish all that for when we into little problems, where something doesn't fit or something doesn't work right ... It's all panning out."
This summer, Lockheed Martin will move the Orion crew and service modules to a decommissioned space shuttle facility at KSC to add the spacecraft's launch abort system, a solid-fueled rocket tower designed to boost the capsule away from a launch mishap.
United Launch Alliance will position the mission's Delta 4-Heavy rocket on the Complex 37 launch complex at nearby Cape Canaveral Air Force Station in September after finishing up modifications to the launch pad for the Orion spacecraft, which is slightly taller than the standard Delta 4 nose cone.
Liftoff is currently scheduled for Dec. 4 to begin the two-orbit, four-hour test flight, which ends with a parachute-assisted splashdown in the Pacific Ocean.
Follow Stephen Clark on Twitter: @StephenClark1.