Orion spacecraft powered on ahead of 2014 test flight
BY STEPHEN CLARK
SPACEFLIGHT NOW
Posted: October 28, 2013


The first Orion spacecraft to fly in space was powered up inside a cavernous assembly hall at the Kennedy Space Center last week, one year before it is scheduled to launch on an unmanned orbital test flight, NASA and Lockheed Martin Corp. announced Monday.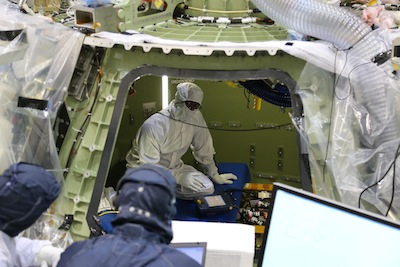 Technicians work inside the Orion crew module being built at Kennedy Space Center to prepare it for its first power on. Credit: Lockheed Martin

Technicians working for Lockheed Martin Corp., prime contractor for the Orion crew capsule, activated the spacecraft's main control computers for systems tests inside the Operations and Checkout Building at KSC.
"Preliminary data indicate Orion's vehicle management computer, as well as its innovative power and data distribution system - which use state-of-the-art networking capabilities - performed as expected," NASA said in a statement.
Lockheed Martin is readying the Orion spacecraft for its first spaceflight, called Exploration Flight Test-1, currently scheduled to launch on a United Launch Alliance Delta 4-Heavy rocket between Sept. 18 and Oct. 18, 2014, according to a NASA spokesperson.
The Delta 4 rocket will boost Orion approximately 3,600 miles above Earth on a four-hour unmanned test flight. The spacecraft will plunge back into the atmosphere at more than 20,000, and its heat shield will endure temperatures up to 4,000 degrees Fahrenheit.
The power-up last week was the first time an Orion avionics suite was switched on inside a flight worthy spacecraft. Orion's vehicle management computer, designed and manufactured by Honeywell Aerospace, is responsible for managing all software commands that control the spacecraft's flight, communications and navigation systems, according to NASA.
The computer contains two modules to execute flight software and other control functions, a high-density flash memory module, and an Internet protocol network router module with hardline interfaces to the vehicle's communications and tracking equipment, Honeywell said in a press release.
"The main computers received commands from the ground, knew where to send them, read the data from different channels, and successfully relayed electrical responses back to the [Test Launch and Control Center]," Lockheed Martin said in a statement.
The aerospace contractor said further avionics testing is planned over the next six months as more systems are installed in the cone-shaped spacecraft, which measures nearly 11 feet tall and 16.5 feet in diameter at its base.
"It's been an exciting ride so far, but we're really getting to the good part now," said Mark Geyer, Orion program manager, in a NASA press release. "This is where we start to see the finish line. Our team across the country has been working hard to build the hardware that goes into Orion, and now the vehicle and all our plans are coming to life."
In the next few months, technicians will affix Orion's heat shield to the base of the crew capsule and finish assembly of the spacecraft's service module, a dummy version of the propulsion section planned to fly with Orion on a second unmanned test flight to launch aboard NASA's Space Launch System heavy-lift rocket in 2017.
The first crewed Orion mission is scheduled to launch on the second SLS flight in 2021.