Sierra Nevada protests NASA commercial crew decision
BY STEPHEN CLARK
SPACEFLIGHT NOW
Posted: September 26, 2014


After being left out of NASA contracts to carry astronauts to the International Space Station, Sierra Nevada Corp. said Friday it has filed a protest asking the U.S. Government Accountability Office to review the space agency's $6.8 billion award to Boeing and SpaceX.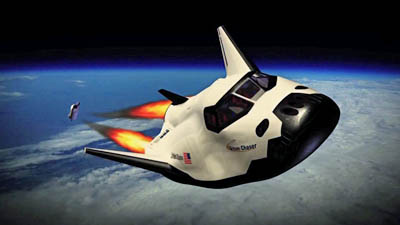 Artist's concept of Sierra Nevada's Dream Chaser spacecraft. Credit: Sierra Nevada Corp.

The company cited "serious questions and inconsistencies in the source selection process" as the reason for filing the legal challenge to the GAO, which must decide on the protest by Jan. 5, 2015.
"SNC's filing seeks a further detailed review and evaluation of the submitted proposals and capabilities," the company said in a statement Friday. "SNC takes the nation's human spaceflight capability and taxpayer's money very seriously. SNC believes the result of further evaluation of the proposals submitted will be that America ends up with a more capable vehicle, at a much lower cost, with a robust and sustainable future."
Sierra Nevada is developing the Dream Chaser spacecraft, a lifting body designed to launch on a rocket and land on a runway, to carry astronauts and supplies to low Earth orbit.
NASA announced Sept. 16 it awarded Boeing and SpaceX contracts to finish development of their crew-capable space capsules to begin flying NASA astronauts to the space station by the end of 2017.
Boeing's deal, worth up to $4.2 billion, pays for finishing the design of the aerospace contractor's CST-100 spacecraft, plus unmanned and piloted test flights to low Earth orbit.
SpaceX's $2.6 billion contract covers the same work to develop and certify its Dragon V2 space capsule for crewed flights, according to NASA.
Sierra Nevada said Friday its bid was $900 million less than Boeing's proposal -- making it the second-lowest bid -- despite "near equivalent" scoring on technical and past performance merits in NASA's source selection process.
"The company believes that, in this time of critical budget limits, it is more important than ever to deliver the best value to the American public," Sierra Nevada said in a statement. "With the current awards, the U.S. government would spend up to $900 million more at the publicly announced contracted level for a space program equivalent to the program that SNC proposed. Given those facts, we believe that a thorough review must be conducted of the award decision."
In its request for bids for the Commercial Crew Transportation Capability, or CCtCap, contracts, NASA said price was the primary evaluation criteria for its decision. Two other factors, mission suitability and past performance, were to be combined to receive equal consideration by NASA when it decided which companies would win awards.
"SNC's Dream Chaser proposal was the second lowest priced proposal in the CCtCap competition," the company said in a statement. "SNC's proposal also achieved mission suitability scores comparable to the other two proposals."
According to the Sierra Nevada press release, all three providers complied with NASA requirements and were eligible to receive awards under the CCtCap program, which follows three rounds of funding awarded by NASA since 2010.
NASA has not released details on the rationale for its awards to Boeing and SpaceX. Information on contract decisions are often included in source selection statements, which are usually released in the weeks after public announcements of contract awards.
Phil McAlister, director of commercial spaceflight at NASA Headquarters, said Sept. 17 that the agency plans to release the CCtCap source selection statement.
Agency officials have said Boeing and SpaceX's proposals met the same NASA contract requirements, despite their different monetary values. NASA officials have not disclosed their reasons for bypassing Sierra Nevada.
"We set our requirements," McAlister told a Federal Aviation Administration advisory committee Sept. 17, the day after NASA's commercial crew contract announcement. "The companies had to meet those requirements. You go to different suppliers, you get different bids."
The Louisville, Colo.-based Dream Chaser program, buoyed by more than $350 million in NASA funding since 2010, is on pace for unpowered glide test flights to a runway landing at Edwards Air Force Base, Calif., before the end of the year.
The glide flights will complete Sierra Nevada's Dream Chaser work under its current agreement with NASA.
If NASA's commercial crew contract decision stands, funding for further development of a human-rated Dream Chaser spacecraft will have to come from private or foreign sources.
Sierra Nevada said it assembled a team of more than 30 U.S. industrial suppliers, 10 universities, and 10 international space agency and industry partners to work on the Dream Chaser program.
The Dream Chaser is designed to lift off on top of a United Launch Alliance Atlas 5 rocket, ferry up to seven astronauts or cargo to the International Space Station, and return to Earth for landing on a runway at NASA's Kennedy Space Center in Florida.
Sierra Nevada officials said the company would continue working on the Dream Chaser program, eyeing a bid to deliver supplies to the space station under a new NASA cargo contract to follow up on logistics missions currently flown by SpaceX and Orbital Sciences Corp.
Sierra Nevada announced Friday's protest a day after officials said the company had cut its Dream Chaser workforce following the contract loss.
The company said it reduced its Colorado workforce by 9 percent after five years of rapid growth from 200 employees to more than 1,100 workers today.
"This reduction was confined to the Dream Chaser team and support staff and does not affect our other programs," said Krystal Scordo, a Sierra Nevada spokesperson.
Follow Stephen Clark on Twitter: @StephenClark1.