NASA watchdog challenges space station cost estimates
BY STEPHEN CLARK
SPACEFLIGHT NOW
Posted: September 18, 2014


NASA's inspector general reported Thursday that the International Space Station will likely cost more to operate over the next decade than officials expect, questioning the orbiting research lab's budget footing as the U.S. government seeks commitments from international partners to extend its lifetime beyond 2020.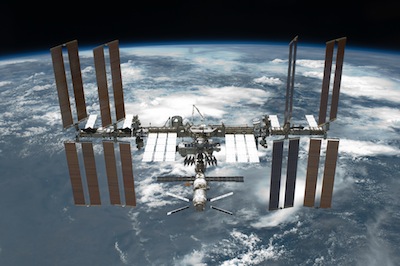 File photo of the International Space Station from 2011. Credit: NASA

The inspector general called NASA's space station cost estimates "overly optimistic" and blamed rising transportation costs for the projected budget growth.
One reason costs are expected to increase is the expense of purchasing rides for astronauts on U.S. commercial crew capsules, which could cost more than the payments NASA is sending to Russia for seats on Soyuz spacecraft, the report said.
"NASA officials expect higher crew and cargo transportation costs to be the main driver of future increases in the cost of the ISS program," the report said, adding the space station's projected transportation costs are "unrealistic."
Uncertainty over the future participation of NASA's partners in the space station program also adds risk to the budget, according to the report released by NASA Inspector General Paul Martin.
The White House announced in January its intention to extend U.S. support for the space station to 2024, but governments in Russia, Europe, Japan and Canada are still debating their plans.
Based on past performance, it is unlikely NASA can keep its space station operating budget between $3 billion and $4 billion as currently expected, the inspector general said.
Martin wrote that NASA's estimates for commercial crew transportation costs are based on the cost of a seat on Russia's Soyuz ferry craft in 2016 at $70.7 million per round-trip flight. For a four-person crew expected to fly on one commercial crew spacecraft, each mission would cost $283 million using the Soyuz figure.
"However, the program's independent government cost estimates project significantly higher crew transportation costs when using commercial crew companies," the inspector general wrote in the audit.
NASA awarded Boeing Co. and SpaceX contracts Tuesday to complete development of privately-owned space taxis to carry astronauts to the space station and back to Earth. Each deal includes a commitment by NASA for at least two full-up flights to ferry crews to the station, with a provision for up to six missions.
Boeing's contract is worth $4.2 billion, and SpaceX's award is valued at $2.6 billion, according to NASA.
The companies are working on separate Apollo-style space capsules -- Boeing's CST-100 and SpaceX's Dragon V2 -- designed to launch on top of a rocket and parachute back to Earth.
NASA has not released a breakdown of the costs in each contract, so it is not clear how much of the money will go toward spacecraft development efforts, test flights, or operational missions, making it impossible -- at least so far -- to directly compare the price of a ride on a Boeing or SpaceX capsule with a Soyuz seat.
Boeing and SpaceX have also not publicly disclosed a price-per-seat number for CST-100 and Dragon missions.
NASA pays commercial contractors -- SpaceX and Orbital Sciences Corp. -- an average of $175 million per mission to resupply the space station. The added complexity of a human-rated spaceship with life support systems, cockpit displays, seats, and a docking system will likely push the cost of crewed missions higher.
Boeing and SpaceX intend to make their crew-capable space capsules reusable, an innovation that could ultimately reduce costs. But the jury is still out on the economic viability of such a plan, and it is not known if NASA's contract endorses the companies' reusability proposals.
Since the space shuttle's retirement in 2011, NASA has contracted with the Russian government to launch its astronauts to the space station. The crews also return to Earth in Soyuz vehicles.
NASA's schedule calls for switching U.S. space station crews to Boeing and SpaceX spacecraft by the end of 2017.
NASA had challenged the companies vying for the commercial crew job to offer the agency's astronauts rides to the space station for less than Russia is charging.
"When you look at the per mission price, it's going to be hard to beat the Soyuz price, but we'll see," said Mike Suffredini, NASA's space station program manager, in an interview with CBS News this spring. "I hope not, because we've been telling them they've got to be below that because we're trying to encourage them to give us a cost-effective system."
The inspector general raised more questions about the future of cargo transportation to the space station, a service currently performed by the unmanned SpaceX Dragon and Orbital Sciences Cygnus commercial supply ships, Russian Progress freighters, and cargo craft from Japan and the European Space Agency.
The commercial Dragon and Cygnus spacecraft must receive upgrades to handle more cargo or fly more often to meet NASA's space station resupply needs after 2016, the report said. Either alternative could increase costs to NASA.
The United States has spent almost $75 billion on the space station program to date, including construction costs, operating costs, and funding for 37 space shuttle flights to build and support the complex, according to the OIG report.
Contributions from space station partners put the total cost of the project at more than $100 billion.
The inspector general recommended NASA try to secure commitments from the space station's partners for improved cost sharing.
According to the report, NASA officials say there are no major technical obstacles to extending the life of the football field-sized space station beyond 2020, but issues such as degradation of the station's power-generating solar arrays, the breakdown of parts, and the inability to launch very large replacement components to the complex need attention.
Engineers have not identified any major issues that would prevent operating the space station until 2024, and NASA is leading studies to determine if it is feasible to keep the outpost flying until 2028.
Follow Stephen Clark on Twitter: @StephenClark1.