Arianespace nets six commercial launch contracts
BY STEPHEN CLARK
SPACEFLIGHT NOW
Posted: September 8, 2014
Updated September 9


Arianespace has snatched up contracts to launch six commercial communications satellites, the French launch services firm announced this week, after taking aim on rival SpaceX by slashing prices.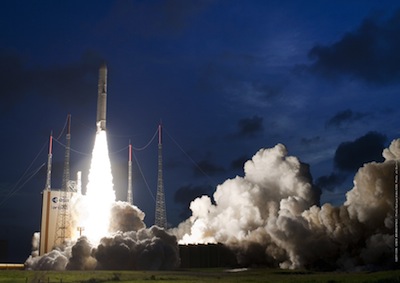 File photo of an Ariane 5 launch from French Guiana. Credit: ESA/CNES/Arianespace - Photo Video Optique CSG

The satellites will be put in orbit by Ariane 5 rockets launched from French Guiana in 2016 and 2017, riding in the lower berth of the Ariane 5's payload fairing, which is tailored two launch two communications satellites on one flight.
The contracts are for KTsat's Koreasat 7 satellite, the Hylas 4 satellite owned by Avanti Communications, the Intelsat 36 communications satellite, JCSAT 15 from Japan's Sky Perfect JSAT Corp., Al Yah 3 for Al Yah Satellite Communications Co., and Indonesia's Telkom 3S spacecraft.
Arianespace announced four of the launch deals Monday on the opening day of Euroconsult's World Satellite Business Week in Paris. The contracts for Al Yah 3 and Telkom 3S were unveiled Tuesday.
Financial terms were not disclosed, but Arianespace chief executive Stephane Israel has said the company had lowered its prices for smaller payloads to be launched on the Ariane 5 rocket after pressure from SpaceX, which promotes its prices on its website.
According to SpaceX, a Falcon 9 launch runs about $61.2 million under a standard payment plan for a launch in 2016.
"We are very honored by our customers' renewed confidence, as well as the new customers we have added to our clientele," Israel said in a statement. "The 11 contracts signed so far this year, and the two exclusive negotiations under way, clearly demonstrate the pertinence of Arianespace's product offering, which strikes an optimum balance between reliability, availability and cost."
The smaller satellites, with launch masses between 3 and 4 metric tons, are well-sized for the lower berth of the dual-payload version of the Ariane 5 used on commercial missions. The upper slot inside the rocket's 5.4-meter diameter aerodynamic fairing is reserved for larger satellites weighing up to about 6,500 kilograms, or more than 14,000 pounds.
The five spacecraft announced this week to launch on Ariane 5 rockets will weigh less than 4 metric tons, or 8,800 pounds.
Satellites of that size are prime business targets for SpaceX. The Falcon 9 rocket can loft up to 4,850 kilograms, or 10,692 pounds, to geostationary transfer orbit, the drop-off point for communications satellites en route to operating posts 22,300 miles over the equator.
SpaceX is selling launches of the Falcon Heavy rocket, a heavy-lifter scheduled for its first test launch next year, for heavier satellites like those that fly in the Ariane 5's upper position.
Inmarsat of London has booked one firm launch and paid for two contract options for Falcon Heavy flights, and Intelsat has signed up for a Falcon Heavy flight.
Built by Thales Alenia Space of France and Italy, the Koreasat 7 satellite will launch on an Ariane 5 rocket in 2016, according to an Arianespace press release. Koreasat 7 will provide Ku-band and Ka-band broadcasting and telecommunications services for KTsat over Korea, the Philippines, Indonesia and India.
The Hylas 4 spacecraft, built by Orbital Sciences Corp. of Dulles, Va., will be operated by Britain's Avanti Communications to provide direct television broadcast and data transmission services over Africa, Latin America and Europe. It will lift off on an Ariane 5 rocket in the first half of 2017.
The Intelsat 36 satellite is set for launch in the third quarter of 2016, Arianespace said. The craft is being built by Space Systems/Loral of Palo Alto, Calif., to support media and content distribution services in Africa and South Asia.
JCSAT 15 will be launched in 2016 for Tokyo-based Sky Perfect JSAT Corp.'s pay television service. Also manufactured by Space Systems/Loral, its coverage area will include Japan, Oceania and the Indian Ocean, Arianespace said.
Al Yah 3, built by Orbital Sciences, will supply nearly 600 million customers in Africa and Brazil with broadband Internet for Abu Dhabi-based Al Yah Satellite Communications Co.
Manufactured by Thales, PT Telkom's Telkom 3S satellite will launch in late 2016 to provide high-definition television and Internet servies over Indonesia, Malaysia and Southeast Asia.
The six wins announced this week make for 13 Ariane 5 orders so far this year, including eight payloads to launch on Ariane 5 ECA vehicles, the version used for commercial communications satellite launches. Arianespace also signed a deal in August to launch 12 European Galileo navigation satellites on three dedicated Ariane 5 rockets.
The Ariane 5 rocket notched its 60th straight success on its last launch in July.
The deals grow Arianespace's backlog to more than 4.5 billion euros, or $5.8 billion. Arianespace said it has booked 40 satellites to be launched by Ariane 5 into geostationary transfer orbit two-at-a-time, plus four dedicated Ariane 5 launches, seven Soyuz launches, and nine Vega missions.
Arianespace said at least one more launch contract was in the final stage of negotiations.
The backlog makes for a record order book for Arianespace, which was founded in 1980 and is owned by the French space agency CNES and a consortium of European aerospace firms led by Airbus Defence and Space.
Follow Stephen Clark on Twitter: @StephenClark1.