Sea Launch, ILS reduce staff as projected flight rates drop
BY STEPHEN CLARK
SPACEFLIGHT NOW
Posted: August 24, 2014


With no near-term launch customers, Sea Launch said Friday it will cut its workforce and take its ocean-going vessels out of service in a money-saving measure, weeks after rival International Launch Services announced staff reductions in response to weakened commercial prospects for Russia's Proton rocket.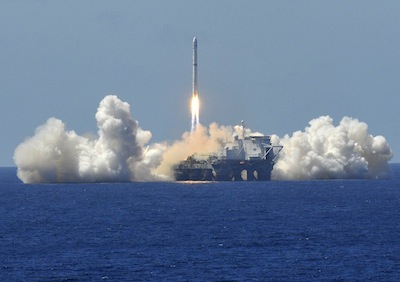 Sea Launch's most recent flight was on May 26 with the Eutelsat 3B telecom satellite. Credit: Sea Launch

Both companies announced they would cut about one-quarter of their staff, blaming gaps in their launch manifests triggered by market and geopolitical pressures, plus rocket reliability concerns.
In a press released issued Friday, Sea Launch said the layoffs and temporary mothballing of its mobile launch platform and command ship were "designed to address an upcoming gap in the launch manifest of the Zenit 3SL system."
Sea Launch is ready to resume launch operations as soon as mid-2015, the company said.
Peter Stier, a Sea Launch spokesperson, said Friday that between 25 and 30 percent of the company's staff would be cut at its headquarters in Switzerland and primary operations site in Long Beach, Calif., run by Energia Logistics Ltd.
Sea Launch's announcement Friday came less than three weeks after International Launch Services, which sells Russian Proton launches on the commercial market, revealed a 25 percent staff reduction.
Sea Launch uses a Ukrainian-built two-stage Zenit rocket topped by a Russian Block DM-SL upper stage to launch large communications satellites. Each mission's launcher and payload are assembled at the company's home port in Southern California, then transferred to a launch site in the Pacific Ocean along the equator at 154 degrees west longitude.
The Pacific Ocean launch site gives Sea Launch's rocket the capability to boost heavier satellites into orbit, thanks to the faster speed of Earth's rotation along the equator.
Energia Logistics, a subsidiary of Moscow-based RSC Energia, is the technical partner responsible for execution of Sea Launch missions. Energia has a 95 percent ownership stake in Sea Launch.
Sea Launch plans to take the Odyssey launch platform and the Sea Launch Commander control ship temporarily out of service during the launch lull.
"Taking these vessels out of service temporarily during inactive periods has been performed by Sea Launch previously and is common practice in the marine industry," Sea Launch said in a statement.
Sea Launch has publicly identified payloads for one mission scheduled for 2016.
The launch of the Energia 100 and AngolaSat communications satellites will be Sea Launch's first dual-payload flight. Both satellites are to be manufactured by Energia, giving Sea Launch its first toehold in the Russian commercial launch market.
All of Sea Launch's rockets to date have flown with satellites for large international telecom operators, such as Eutelsat, Intelsat and SES.
Stier said Sea Launch has four launch vehicles in production. The two-stage Zenit vehicle is produced in in Dnipropetrovsk, Ukraine, by Yuzhmash, while the Block DM-SL stage comes from Russia and the launcher's payload fairing is built in the United States by Boeing Co.
"As of today, we do not have any manifested launches for 2015, as typically these contracts were let 24 months prior to launch," Stier said Friday. "We do have four whitetail vehicles in various stages of completion and can support a launch as early as June 2015."
Sea Launch has conducted 36 missions since beginning service in 1999.
The company's chief executive, Sergey Gugkaev, told Spaceflight Now in a February interview that Sea Launch needs at least three launches per year to break even.
"In light of this gap in our launch manifest, Sea Launch is taking the opportunity to pursue all prudent business solutions to realize significant cost savings in labor, maintenance and fuel while maintaining the capability to call-up the vessels as needed," Gugkaev said in a statement Friday. "Sea Launch continues to aggressively market all available launch opportunities beginning in mid-2015 and will maintain a short launch call-up readiness state. While any reduction in staff is regrettable, Sea Launch will retain key personnel across all corporate and technical functions, allowing the company to ramp-up to meet its next/future launch commitments."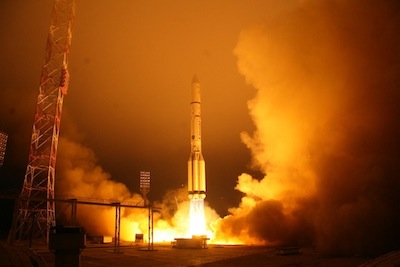 File photo of a Russian Proton rocket launching from the Baikonur Cosmodrome in Kazakhstan. Credit: Khrunichev

International Launch Services, based on Reston, Va., and owned by Russia's Khrunichev State Research and Production Space Center, announced its layoffs in an Aug. 4 press release.
The ILS staff reduction was conducted "to align better with our current level of business. None of the staff reductions were performance-related," said Phil Slack, president of ILS.
The 25 percent staff cut by ILS "is appropriate for our current backlog and our customers will continue to be well-supported. Previous staffing was consistent with planning for 7-8 launches per year. We are now targeting for 3-4 missions annually," Slack said.
A half-decade ago, ILS and Sea Launch had large shares of the commercial communications satellite launch market with Arianespace.
But a rash of launch failures, shifting market demands and concerns over the use of Russian and Ukrainian launchers have hurt their positions.
Sea Launch returned to flight in May with a successful mission after an engine steering glitch caused a Zenit 3SL rocket to crash into the Pacific Ocean in February 2013 with an Intelsat telecommunications satellite.
The Proton rocket has been grounded since a May launch failure, and ILS customers will have to wait for Russian government satellites to launch before commercial payloads are permitted to fly.
ILS has a backlog of 14 missions valued at more than $1 billion, according to the company.
But launch bookings for large commercial communications satellites have almost exclusively gone to Arianespace and SpaceX this year.
Many commercial telecom satellites are getting smaller, favoring SpaceX's Falcon 9 rocket and the heavy-lifting Ariane 5 launcher, which is tailored to haul a large and mid-sized satellite in a dual-payload configuration.
Follow Stephen Clark on Twitter: @StephenClark1.