Russian RD-180 rocket engines delivered to ULA
BY STEPHEN CLARK
SPACEFLIGHT NOW
Posted: August 20, 2014


Dodging tit-for-tat sanctions that have paralyzed trade between the United States and Russia, a cargo plane landed in Alabama on Wednesday with two Russian-made RD-180 engines destined to power U.S. government spacecraft into orbit aboard Atlas 5 rockets.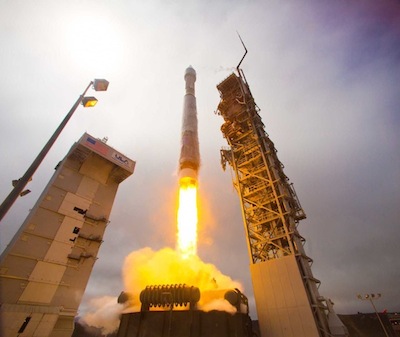 File photo of a United Launch Alliance Atlas 5 rocket powered by an RD-180 engine. Credit: United Launch Alliance

The engines flew from Moscow to Huntsville, Ala., aboard a Russian Antonov An-124 transport plane. Workers planned to unload the engines for a road trip to United Launch Alliance's rocket factory in nearby Decatur, Ala.
The shipment marked the first time RD-180 engines were delivered to the United States since a senior Russian government official threatened to cut off the supply of engines for launches for the U.S. military, the primary customer for United Launch Alliance's Atlas 5 rocket.
"Today, United Launch Alliance received two RD-180 engines at our factory in Decatur, Alabama, that will support critical near-term U.S. missions," said Jessica Rye, a ULA spokesperson, in a written statement. "We expect another shipment of three engines later this year."
RD-180 engines have flown 54 times since 2000 with a perfect record, including 48 launches of the Atlas 5 rocket.
Manufactured by NPO Energomash near Moscow, the dual-nozzle engines consume rocket-grade kerosene and liquid oxygen propellants. The engines produce 860,000 pounds of thrust at sea level and use an efficient closed-cycle staged combustion architecture.
No hydrocarbon-fueled rocket engine currently produced in the United States matches the performance of the RD-180 engine.
ULA's other rocket, the Delta 4, has a hydrogen-fueled U.S.-made Aerojet Rocketdyne RS-68 engine on its first stage.
A statement in May by Russian deputy prime minister Dmitry Rogozin, charged with overseeing the Russian space and defense industries, raised doubts about future deliveries of RD-180 engines to the United States.
Responding to U.S. government sanctions targeting individuals with ties to the government of Vladimir Putin in the wake of Russia's annexation of Crimea, Rogozin proclaimed in a May 13 press conference that shipments of RD-180 engines for U.S. military satellite launches would end.
Rogozin was also named in a lawsuit against the U.S. Air Force by ULA competitor SpaceX, which is asking a federal judge to overturn an $11 billion sole-source contract signed between ULA and the Defense Department. SpaceX says it could launch many U.S. national security payloads at less cost than ULA.
SpaceX claimed that Rogozin personally profited from the sale of RD-180 engines to the United States. Rogozin denied the allegation.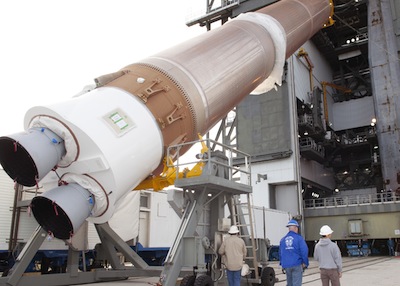 File photo of an Atlas 5 first stage with an RD-180 engine. Credit: NASA/KSC

A federal judge issued a temporary injunction banning future purchases of RD-180 engines by ULA or the Air Force, but she rescinded the order a week later after U.S. government officials assured the court that the transactions did not violate sanctions against Russia.
Rogozin's announcement that RD-180 engine exports would end was apparently not carried out in official Russian government policy. ULA and Air Force officials since May have repeatedly said their relationship with the Atlas 5's Russian propulsion suppliers was unchanged.
Former ULA president and CEO Michael Gass, who resigned as chief executive last week, said in June that production and deliveries of RD-180 engines would be accelerated at ULA's request.
Three more RD-180 engines are scheduled to arrive in the United States this fall, with at least an additional six engines due for delivery in 2015, Gass said.
After Wednesday's delivery, ULA has 15 RD-180 engines in its inventory in the United States. Another 27 RD-180 engines are on order with shipments scheduled through 2017.
ULA's contract for the engines is with RD AMROSS, a joint venture between NPO Energomash and United Technologies Corp.
United Launch Alliance announced in June it is spending internal funds for "early studies" on a U.S.-built hydrocarbon-fueled alternative to the RD-180 engine.
Officials said the company's study contracts with multiple U.S. rocket engine builders will help officials refine concepts for rocket engines and a potential new launch vehicle to use the U.S. replacement for the RD-180.
"While the RD-180 has been a remarkable success, we believe now is the right time to invest in a domestic engine, which is why we announced earlier this year that we have begun feasibility studies with multiple companies to build a new engine in the next five years," ULA said in a statement Wednesday.
"The U.S. government also recently made clear that it supports investment in a domestic engine and we look forward to participating in the development of that public-private partnership," ULA said in a statement.
Follow Stephen Clark on Twitter: @StephenClark1.