United Launch Alliance announces leadership change
BY STEPHEN CLARK
SPACEFLIGHT NOW
Posted: August 12, 2014


United Launch Alliance has named a new president and chief executive to replace Michael Gass, who led the Atlas and Delta rocket company since its inception in 2006.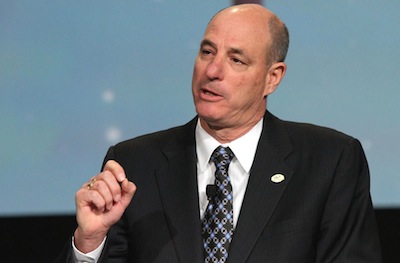 File photo of ULA's former president and CEO Michael Gass. Credit: Space Foundation

Gass will be replaced effective immediately as president and CEO by Tory Bruno, an executive at Lockheed Martin Corp., which formed ULA in December 2006 in a 50-50 joint venture with Boeing Co., ULA said in a statement Tuesday.
Gass is retiring at the end of the year, according to ULA.
The change in leadership comes as the company faces competitive pressures from SpaceX, which is pushing to win a share of lucrative U.S. military satellite launch contracts now going exclusively to ULA.
"I have been honored to serve as the chief executive officer of United Launch Alliance since its formation nearly eight years ago," Gass said in a prepared statement. "With my intent to retire in the near term and the changing industry landscape over the next several years, the board of directors and I have agreed that the immediate appointment of my successor to begin the leadership transition is in the best interest of the company."
Bruno and Gass will "work collaboratively to ensure a smooth leadership transition and continued commitment to mission success," the ULA statement said.
ULA builds and operates the Atlas 5, Delta 4 and Delta 2 rockets used to launch communications, navigation, surveillance and scientific research satellites for the U.S. government. Based in Centennial, Colo., ULA's primary customers are the Pentagon, the National Reconnaissance Office and NASA.
Bruno was previously president of strategic and missile defense systems at Lockheed Martin. In his 30-year career at Lockheed Martin, Bruno managed the Trident submarine-based nuclear missile and the Terminal High Altitude Area Defense Missile programs and served in engineering positions involving design and analysis for control systems of rockets and hypersonic reentry vehicles.
"I have known my successor, Tory Bruno, for many years," Gass said. "He has demonstrated an impressive leadership track record and has the skills to lead ULA into the future. I will support Tory over the next several months to ensure a smooth transition."
Gass led Atlas rocket programs at Lockheed Martin before taking the helm at ULA in 2006. He also held management positions at General Dynamics' Space Systems division earlier in his career, where he contributed to the creation of the Atlas-Centaur commercial business plan.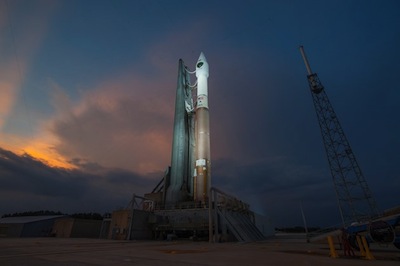 A United Launch Alliance Atlas 5 rocket sits on the launch pad at Cape Canaveral Air Force Station, Fla., before an Aug. 1 launch. Credit: United Launch Alliance

"We're grateful for Mike's leadership and contribution to ULA's customers and employees, as well as the space industry as a whole," said Craig Cooning, president of Boeing Network and Space Systems and a ULA board member. "Tory understands the launch business as well as anyone and is well-qualified to ensure ULA keeps pace with changing customer needs and launch industry dynamics."
Before the departure of Gass, ULA ratcheted up lobbying and criticism of SpaceX in the wake of its lawsuit against the U.S. Air Force calling for a federal judge to overturn an $11 billion contract signed last year with ULA for 28 satellite launches. SpaceX says it can do the job for less money.
The launches are part of the Air Force's Evolved Expendable Launch Vehicle, or EELV, program.
"The whole tenor of the campaign is to make perfectly clear there's a lot at stake when it comes to successful space launches," Gass told reporters in June. "Literally, lives are at stake."
ULA and the Air Force counter that SpaceX was not eligible to bid on the launch contract under existing rocket procurement rules.
"We also want to make it clear there's a big distinction between a company that has over a hundred years of experience and heritage and successfully delivering satellites to orbit versus a company that is not yet even certified to conduct one EELV-class mission," Gass said.
The Air Force has accepted data from SpaceX on three successful flights of the company's Falcon 9 v1.1 rocket, a key milestone as military officials try to certify the Falcon launcher to lift U.S. national security payloads into orbit.
SpaceX's Falcon 9 rocket program must still pass technical reviews, audits and independent verification and validation of the launch vehicle, ground systems, and manufacturing processes before the system will be considered for launching U.S. national security payloads, according to a statement released July 15 by the Air Force.
Officials hope to finish the certification process by the end of the year.
Russia's annexation of Crimea also spawned worries that Russia would stop exporting RD-180 engines for ULA's Atlas 5 rocket. Russian deputy prime minister Dmitry Rogozin in May threatened to cut off the supply of rocket engines for U.S. military launches, but ULA says engine shipments have been accelerated.
The next set of RD-180 engines is due to arrive at ULA's rocket factory in Alabama on Aug. 20, according to Jessica Rye, a company spokesperson.
ULA said in June it had awarded study contracts to multiple U.S. companies working on an American engine that could eventually replace the RD-180.
"Mike's track record speaks for itself: 86 successful launches in a row, including many of our nation's most complex and critical space missions," said Rick Ambrose, executive vice president of Lockheed Martin Space Systems and a ULA board member, in ULA's statement. "Tory is an ideal leader to take the reins at ULA. He'll bring the same unwavering commitment to mission success that has been ULA's hallmark, and will apply his proven track record of driving customer focus, innovation and affordability to shape ULA's future."
Follow Stephen Clark on Twitter: @StephenClark1.