Extension granted for NASA's Spitzer infrared telescope
BY STEPHEN CLARK
SPACEFLIGHT NOW
Posted: July 25, 2014


NASA officials said this week they plan to keep funding the Spitzer observatory for two more years, reversing a preliminary decision this spring to shut down the space-based infrared telescope due to budget concerns.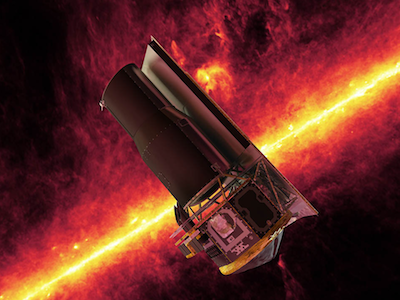 Artist's concept of the Spitzer Space Telescope. Credit: NASA/JPL-Caltech

Launched in August 2003, the Spitzer mission is in an extended mission. A biennial senior review panel commissioned by NASA to issue funding recommendations for the space agency's long-lived astrophysics missions concluded in May that Spitzer did not warrant further funding, at least at the levels requested by scientists.
But NASA left open the opportunity for Spitzer managers to submit an amended proposal offering a dialed-back mission that required less federal funding.
J.D. Harrington, a NASA spokesperson, said the space agency's science directorate received a follow-up proposal from the Spitzer team and identified funding to keep the mission going.
"Of course, we are relieved that NASA has found a way forward keeping Spitzer in operation," said George Helou, deputy director of the Spitzer Science Center at the California Institute of Technology. "And we are grateful to the community and to the NASA leadership for their support."
Helou declined to share the annual budget NASA has approved for Spitzer over the next two years, saying it was under embargo until the end of July.
"However, we do know that some reduction in workforce will be needed because we are expecting a lower budget," Helou wrote in an email to Spaceflight Now. "In fact, even the budget we had proposed would have entailed some workforce reduction as cost savings. The implications for operations are not a planned cut in the number of observing hours, but a greater likelihood that such cuts will arise because of less refined schedules, or because of slower recovery from a fault condition. Other implications are a reduced level of funding for the observers to use in analyzing and publishing their data."
In a statement, NASA said Spitzer "is an important resource for on-going infrared observations for programs across the science mission directorate."
The extension granted by NASA is still subject to congressional appropriations in fiscal year 2015, which begins Oct. 1, officials said.
Harrington said NASA's astrophysics and planetary science divisions have requested observing time on Spitzer for next year, and both divisions have committed funding to support their observations.
NASA directed Spitzer managers to plan for a budget comparable to the mission's fiscal year 2014 operating budget, according to Harrington.
Helou said this year's Spitzer budget is $16.5 million, and money was set to run out Sept. 30. Spitzer officials initially proposed slashing the mission's 2015 budget to $15.35 million, knowing funding was scarce in NASA's money-starved astrophysics budget.
Officials said Spitzer's budget next year will likely end up below the $15.35 million figure first requested by the mission's scientists.
The space agency's top astrophysics priority is the James Webb Space Telescope, a successor to the Hubble Space Telescope set for launch in 2018. NASA says its share of the ambitious once-in-a-generation space telescope will cost U.S. taxpayers $8.8 billion.
Harrington said Spitzer would incorporate a guest observer program and achieve budget savings through "operational efficiencies."
Spitzer is one of NASA's famed Great Observatories alongside Hubble, the Chandra X-ray Observatory and the Compton Gamma Ray Observatory, which ended its mission in 2000.
Hubble and Chandra received four-year extensions after the astrophysics senior review panel ranked those missions as high-priority. Other NASA missions, such as the Kepler planet-hunting observatory, were granted two-year extensions.
"We are committed to continuing to enable Great Observatory science with the Spitzer warm mission, thereby setting the scientific stage for JWST, within allocated resources," Helou wrote in an email to Spaceflight Now.
Spitzer's total cost, including its development, construction, launch and operations, comes to more than $1 billion.
The telescope was launched into an Earth-trailing orbit around the sun, and it is now located about 120 million miles from Earth, a distance that is gradually increasing. Spitzer will eventually be in a position where distance and interference from the sun will prevent stable communications with Earth.
"We have verified that we can operate through 2018 with manageable degradation in communications," Helou wrote in an email. "We have not tried to probe further than that."
Spitzer launched with a supply of super-cold liquid helium to cool its most sensitive infrared detectors, which were designed to image some of the coldest reaches of the universe.
Since 2009, Spitzer has only been able to use two of its shorter wavelength imaging bands after running out of cryogenic helium. Detectors in the near-infrared bands do not need to be chilled to do their work.
But officials still see high demand for Spitzer in the astronomy community.
"Researchers are asking for six times more hours of observing than we have to allocate," Helou said in an interview. "That's been the case for the last two years. There are 700 papers published every year that leverage Spitzer data."
One primary task for Spitzer recently has been to follow up on planet discoveries by Kepler, confirming their existence and studying their environments.
"We are making great progress both in exoplanets and in the study of the very early universe ... where we're studying the galaxies formed in the first half billion years of the universe," Helou said.
Follow Stephen Clark on Twitter: @StephenClark1.