ESA inks deal to stimulate ship-tracking industry
BY STEPHEN CLARK
SPACEFLIGHT NOW
Posted: July 15, 2014


FARNBOROUGH, England -- The European Space Agency signed a $41 million contract with a startup Luxembourg-based spacecraft manufacturer for two microsatellites Tuesday, launching a public-private partnership to expand maritime coverage for security, safety and environmental purposes.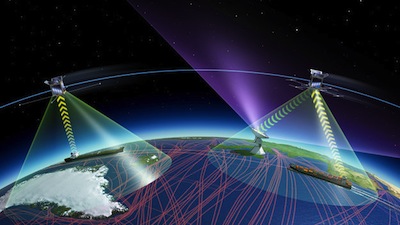 Artist's concept of the two ship-tracking microsatellites. Credit: ESA

Built by LuxSpace of Luxembourg, the satellites will launch by 2019 and form the centerpiece of a constellation of spacecraft to give authorities better data on the locations and movements of more than 100,000 vessels around the world.
The agreements were signed at the Farnborough International Airshow here by Magali Vaissiere, ESA's director of telecommunications, LuxSpace managing director Jochen Harms, and Peter Mabson, president of exactEarth Ltd., a company established to commercialize the reception of identification and tracking signals from ships via satellite.
The satellites to be built by LuxSpace will be operated by exactEarth in a public-private partnership paradigm successfully employed by ESA and industry on several larger satellite programs, including the Alphasat mission launched in 2013.
Alphasat was a partnership worth more than $1 billion between ESA, London-based commercial operator Inmarsat, and European satellite-builders Airbus Defence and Space and Thales Alenia Space.
The partnership between ESA, LuxSpace and exactEarth falls on the other end of the budgetary spectrum.
"This time we are launching a public-private partnership with more a modest system operator and together with manufacturers of smaller size," Vaissiere said, noting that LuxSpace and Canada-based exactEarth, which comes from an ESA cooperating state, are based in the space agency's less significant financial contributors.
"All of these players are supported not by the largest contributors to ESA that we usually find in the other public-private partnerships," Vaissiere said. "It shows that we as ESA can be flexible enough to really service the needs of the market."
The contract signed Tuesday is part of an initiative called SAT-AIS, which aims to foster the development of a fleet of small satellites to receive and relay Automatic Identification System signals from ships.
The International Maritime Organization mandates every passenger ship carry equipment to transmit the radio signals, which include navigational and voyage-related data. The AIS signals were designed to be routed through land-based receivers, but their range is limited by line-of-sight and usually extends no more than 40 nautical miles from shore.
ESA is already developing an advanced AIS receiver to fly on Norway's Norsat 1 satellite set for launch in 2016, leading up to the launch of the two dedicated SAT-AIS missions in 2018 and 2019.
A handful of other commercial and government-owned ship tracking satellites are already in orbit, but exactEarth and ESA officials say the SAT-AIS program will offer improved coverage.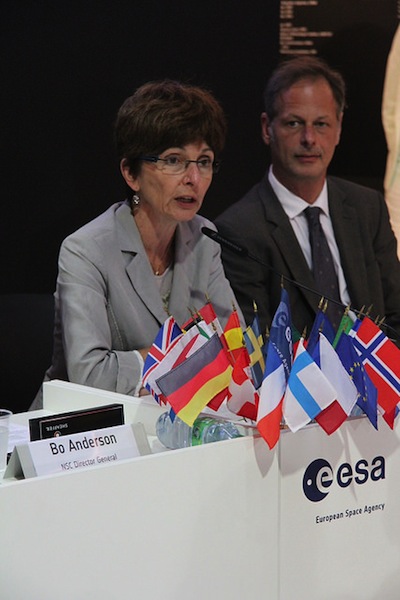 Magali Vaissiere, ESA's director of telecommunications, LuxSpace managing director Jochen Harms present the SAT-AIS partnership at the Farnborough International Airshow. Credit: ESA

"AIS transponder [signals] were never meant to be received from space," said Mabson said. "It's a signal of opportunity, but this really is a game changer for maritime surveillance and vessel tracking. It provides a level of detail ... that has never existed before."
The satellites will receive transmissions from thousands of ships simultaneously, Mabson said. The company's existing five-satellite constellation tracks more than 120,000 vessels every day, relaying up to 6 million position update in that time.
Mabson said exactEarth is behind most of the private investment in the public-private partnership.
The company's European subsidiary, exactEarth Europe, will own the satellites and distribute data publicly, including to the European Maritime Safety Agency, which is charged with implementing European Union maritime regulations.
The satellite manufacturing contract signed by ESA and LuxSpace is worth 30 million euros, or about $41 million, according to Harms.
The deal covers the construction of two 100-kilogram (220-pound) spacecraft but does not include launch services, Harms said.
The SAT-AIS satellites will be the largest platforms manufactured by LuxSpace, which built two 30-kilogram (66-pound) ship-tracking satellites launched from India and China in 2011 and 2012 for Orbcomm Inc., a U.S.-based machine-to-machine communications company that also provides commercial vessel-identification services in competition with exactEarth.
LuxSpace was formed in 2004 as a daughter company of Germany's OHB System AG. It employs approximately 40 engineers at its headquarters in Luxembourg, according to the company's website.
Harms said the public-private SAT-AIS partnership strikes a "balance between industry-driven satellite manufacturing and necessary product assurance and quality assurance coming from ESA."
"I hope that if we succeed that this will be a further inroad for more microsatellites, not only for AIS but for other application areas," Harms said.
ESA's ship-tracking satellite program, also known as E-SAIL, could be expanded to more satellites if the business case supports growth.
The satellites will carry an on-board signal processing payload and advanced antennas to increase the volume and bandwidth of ship-identification data accessible from space.
Follow Stephen Clark on Twitter: @StephenClark1.