ULA awaits NASA decision before outfitting pad for crew
BY STEPHEN CLARK
SPACEFLIGHT NOW
Posted: July 9, 2014


United Launch Alliance has completed the design of a modified Atlas 5 launch pad to accommodate astronaut flights at Cape Canaveral, and construction workers will start installing the upgrades this fall if one of ULA's partners wins NASA funding in the commercial crew program.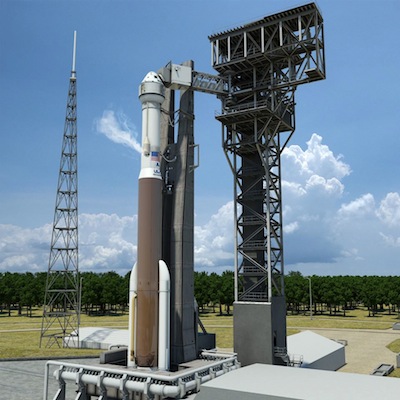 Artist's concept of an Atlas 5 rocket and CST-100 crew capsule on the launch pad. Credit: United Launch Alliance

The Colorado-based rocket contractor announced Monday the completion of the critical design review for crew accommodations at the Atlas 5 rocket's Complex 41 launch pad at Cape Canaveral Air Force Station, Fla.
The launch pad modifications are designed to allow Boeing's CST-100 crew capsule to lift off from the launch pad with astronauts.
"This was a critical milestone to ensure all elements are in place to begin the construction as early as this fall to support the Boeing team and crewed launches of CST-100 from SLC-41," said Ellen Plese, director of ULA human launch services, in a ULA statement. "As ULA was creating the innovative new design elements for the pad, human safety factors were the primary consideration."
Boeing Co. is one of three companies bidding to win NASA funding to finish development of human-rated spacecraft to ferry astronauts to and from the International Space Station, ending U.S. reliance on Russia for crew transportation.
NASA says it will select one or more companies to continue working on space taxis in August or September, leading to operational flights to the space station by the end of 2017.
Boeing's CST-100 crew capsule is competing against SpaceX's Dragon spacecraft and the Dream Chaser lifting body space plane proposed by Sierra Nevada Corp. The CST-100 and Dream Chaser vehicles are designed to initially launch on ULA's Atlas 5 rocket, while SpaceX plans to launch the Dragon spacecraft on its own Falcon 9 booster.
If Boeing or Sierra Nevada receive funding to complete development of their crew-carrying vehicles, ULA says construction at the Atlas 5 launch pad will kick off before the end of the year.
Orlando, Fla.-based Hensel Phelps Construction Co. is leading the contractor team working on the Atlas 5 launch pad modifications.
The changes planned for Complex 41 include a crew access tower and crew access arm with a white room for astronauts to climb through the hatch into a spacecraft mounted on top of the Atlas 5 launcher. Engineers also designed a crew escape system designed to whisk astronauts safely away from the rocket in case of a dangerous countdown mishap.
The fixed crew access tower, standing more than 20 stories tall, will be built on the west side of the Atlas 5 launch pad, just a car width away from the mounting point for the rocket's mobile umbilical tower and launch platform.
Technicians assemble the Atlas 5 rocket's booster stage, Centaur upper stage and payload inside the Vertical Integration Facility about 1,800 feet south of the launch pad. The rocket rolls to the launch pad on the eve of liftoff on top of a mobile launch table, which locks into place over the flame trench to connect the rocket with propellant plumbing and electrical power.
Officials said the design of the launch pad upgrades so far has been specifically geared to support flights of the Boeing CST-100 spacecraft because the aerospace giant received more NASA funding than its competitors.
NASA awarded agreements to Boeing, SpaceX and Sierra Nevada in August 2012 worth up to $460 million, $440 million and $212.5 million, respectively. The space agency added a cumulative $55 million to the awards in amendments posted last year.
NASA pays the companies in installments upon completion of milestones such as hardware testing, financing and design reviews.
SpaceX hopes to launch astronaut crews from Kennedy Space Center's launch pad 39A, the former Apollo and space shuttle launch facility. SpaceX signed a 20-year lease of the launch pad in April.
Howard Biegler, human launch services lead for ULA, said last month the construction at Complex 41 will take about 18 months to complete.
One of the first steps in construction -- if it gets the go-ahead -- will be to excavate about 30 feet of concrete, then drive 30-inch diameter pillars 105 feet into Florida bedrock.
Workers will prepare seven segments comprising the main structure of the crew access tower, which will measure 20 feet by 20 feet, at a nearby staging point before transporting the steel sections to the launch pad between Atlas 5 launches for hoisting by a crane.
Once construction teams add the crew access arm and steel cladding, ULA plans to hook up hydraulics and instrumentation while testing the system with a CST-100 mockup at the launch pad.
The Atlas 5's busy manifest, filled with missions for the U.S. military, NASA and commercial customers, will continue unabated during the launch pad rework, according to Dan Collins, ULA's chief operating officer.
Collins said 14 Atlas 5 launches are planned from the launch pad during the 18-month construction phase.
Officials expect the launch pad crew accommodations under development for Boeing's CST-100 spacecraft could be adjusted to support Sierra Nevada's Dream Chaser if it flies.
"Boeing has been the customer that has moved forward, and that's why the design is focused right now on CST-100," Collins said.
"September of 2016 is when I will have everything built and ready to support commercial crew," Biegler told reporters on a tour of the launch pad.
ULA is also working on an emergency detection system to be bolted to Atlas 5 rockets on crewed missions. The avionics box will monitor the health of the launch vehicle and trigger an in-flight abort if it detects a major anomaly.
Boeing's CST-100 crew capsule will launch on an Atlas 5 rocket with two solid rocket boosters and a dual-engine Centaur upper stage.
Follow Stephen Clark on Twitter: @StephenClark1.