Enthusiasm wanes for quick start to new engine program
BY STEPHEN CLARK
SPACEFLIGHT NOW
Posted: July 7, 2014


With the Obama administration, NASA and industry leaders preaching caution -- and no sign Russian rocket engine exports will end -- the rush to replace the Russian RD-180 engine used to power billions of dollars of U.S. military and scientific research satellites into space has cooled in recent weeks.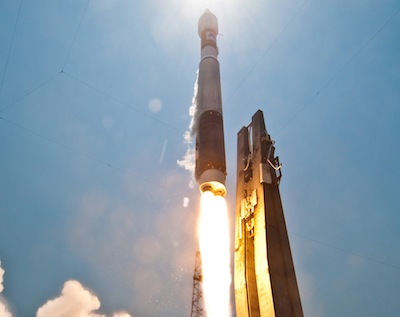 A United Launch Alliance Atlas 5 rocket lifts off from Cape Canaveral. Credit: United Launch Alliance

Bills drawn up in both houses of Congress include funding lines to kick-start development of a new rocket engine, but Congress has not sent a budget bill to the White House for President Barack Obama's signature.
There is no sign of an imminent cutoff to the supply of Russian rocket engines, despite a proclamation from Russian deputy prime minister Dmitry Rogozin in May that engine exports for U.S. military satellite launches would end.
Rogozin made the announcement in a May 13 press conference, but U.S. officials have said a shipment of two RD-180 engines is due to arrive in the United States in August with no indication of any legal, logistical or regulatory hurdles.
The RD-180 engine powers the first stage of the United Launch Alliance Atlas 5 rocket, one of two launchers that put the bulk of the U.S. government's national security payloads into orbit.
Despite bipartisan agreement in the House and Senate, which proposed funneling millions of dollars into an engine development program beginning next year to eventually replace the RD-180, the White House's Office of Management and Budget released a policy statement June 17 calling for a more measured approach to the propulsion predicament.
The White House statement was released in response to the House Defense Appropriations Act for fiscal year 2015, which includes $220 million set aside for rocket engine development. The Senate version of the Defense Department's fiscal year 2015 budget includes $100 million for a similar purpose.
Legislators still have to work out the differences in the bills before sending it to President Obama to be signed into law.
"This approach prematurely commits significant resources and would not reduce our reliance on Russian engines for at least a decade," officials wrote in the White House policy statement.
Defense authorization bills penned by the House and Senate direct the Pentagon to work with NASA to jointly manage the engine development under a commercial procurement scheme.
NASA Administrator Charlie Bolden used similar language as the White House policy paper in a June 18 exchange with reporters at the Kennedy Space Center in Florida.
"I think it's premature to think about a new rocket engine," Bolden said. "We've been discussing this quite a bit ... Our focus is on access to space. How do we provide routine, reliable access to space?"
Bolden said it is up to industry to provide transportation for missions to low Earth orbit, citing the space agency's agreements with companies flying resupply missions to the International Space Station as an example of a successful partnership between government and industry.
"When you get focused on a specific engine, you may ask yourself then, 'OK, what vehicle are you going to put it on and everything else?' NASA's approach is let's focus on access to space," Bolden said.
The White House cited a recent study commissioned by Defense Secretary Chuck Hagel that concluded it would take up to eight years and cost up to $1.5 billion to design and test a new rocket engine in the same class as the Russian-built RD-180, which uses an efficient closed-cycle staged combustion architecture and generates 860,000 pounds of thrust at sea level.
The Defense Department study committee -- staffed by incumbent and retired officials from NASA, the Air Force and the National Reconnaissance Office -- wrote in a summary report obtained by Spaceflight Now that it would cost up to $3 billion to field a new launch vehicle to use the U.S.-made engine.
The panel recommended the U.S. government begin paying companies to develop a new engine.
Built near Moscow by NPO Energomash, the RD-180 engine is fueled by RP-1, a grade of highly-refined kerosene, and cryogenic liquid oxygen. There is no U.S.-built hydrocarbon-fueled engine in the same performance class as the RD-180.
ULA's other rocket, the Delta 4, has a hydrogen-fueled U.S.-made Aerojet Rocketdyne RS-68 engine on its first stage.
Instead of launching full-scale development in fiscal year 2015, which begins Oct. 1, the Obama administration says it is "evaluating several cost-effective options including public-private partnerships with multiple awards that will drive innovation, stimulate the industrial base, and reduce costs through competition."
The paper said the White House's policy is aimed at "promptly reducing our reliance on Russian technology," adding it will work with Congress once the White House completes its analysis of the engine issue.
United Launch Alliance announced in June it is spending internal funds for "early studies" on a U.S.-built hydrocarbon-fueled alternative to the RD-180 engine.
Michael Gass, ULA's president and CEO, said the company's contracts with multiple U.S. rocket engine builders will help officials refine concepts for rocket engines and a potential new launch vehicle to use the U.S. replacement for the RD-180.
"To just design an engine without looking at the systems effect to understand the market, [and] the satellites, and optimize around that is foolhardy," Gass said. "You've got to have some end goal in mind when you design a propulsion system for a launch vehicle, so we're making sure we do that."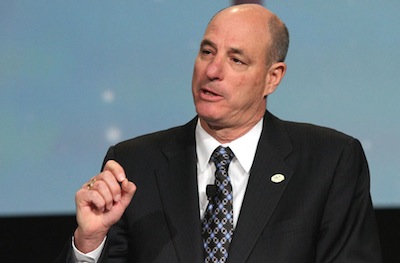 File photo of Michael Gass, ULA's president and CEO. Credit: Space Foundation

The results of the studies will "mature" the technical concepts for new U.S.-built engine options, plus help ULA make the business case for continued investment by providing cost estimates.
"All of the money we're spending today is to position ourselves to respond to our own business needs, as well as potentially working with the government in doing something that we all support, which is to move to state-of-the-art propulsion technology in this country," Gass said.
ULA has not identified which companies it is paying for the propulsion studies. The company is looking at single- and dual-engine concepts for the first stage of a new launch vehicle based on the Atlas 5, Gass said.
"When you change main propulsion, everything above changes," Gass said. "We always have a little joke between us and the propulsion houses: Which is the chicken and which is the egg?"
Gass stressed the importance of continuing the Atlas rocket line, even if it comes with a new main engine and has a "new name or new model number."
"The beauty of the Atlas and Delta product is that it has that [nearly] 120-year heritage," Gass said. "All that experience, all that knowledge is embedded in our system design and expertise, so we would want to make sure that we continue to emphasize that when we put forward a product, it's coming with all that heritage."
Gass estimated it would take five-to-seven years to develop a new engine, depending on funding and technical risks.
If ULA selects a new engine, engineers could introduce the powerplant in evolutionary upgrades to the Atlas rocket while continuing to fly RD-180 engines on the legacy model of the Atlas 5.
ULA could opt to keep using RD-180 engines, even though Gass says company officials "believe now is the right time for a domestic investment" in a U.S. alternative.
Officials said ULA faces a deadline some time next year to decide whether to extend its RD-180 engine contract with RD AMROSS, a joint venture between United Technologies Corp. and NPO Energomash.
There are currently 15 RD-180 engines in the United States, with 29 more engines due to arrive from Russia through 2017. A decision on a contract extension is needed next year to ensure no gap in engine deliveries in 2018 and beyond.
"From our perspective, we are covering all bases, and putting plans in place to address any potential outcome," Gass said. "We are fully committed to putting in place a near-term, mid-term and long- term plan to continue to launch our reliable Atlas 5 into the next decade and beyond."
SpaceX president Gwynne Shotwell said she favors public investment in propulsion technologies, but not a traditional government procurement of a new engine.
SpaceX is working on sub-scale hardware for a methane-fueled million-pound thrust Raptor engine, but the company has not publicly disclosed when the engine could be ready for flight tests.
According to Shotwell, SpaceX is moving away from kerosene-fueled engines like the Merlin powerplant on the Falcon 9 rocket. For higher-thrust engines in the class of the RD-180, SpaceX wants to switch to methane fuel and liquid oxygen.
"I don't know whether that's exactly the right choice," Shotwell said, referring to building an engine to directly replace the RD-180. "Investing in liquid propulsion technologies is a great choice for sure, certainly on components that can be used to build whatever engine the propulsion community finds a market for."
Shotwell said SpaceX would be interested in government funding for early-phase risk reduction projects. In a similar vein, SpaceX received $396 million from NASA to go along with private capital to design and demonstrate the Falcon 9 rocket and Dragon cargo spacecraft to resupply the International Space Station.
"I think investing in the community is a great idea," Shotwell said. "I'd like to see it more on the component development -- technology development -- side," Shotwell said.
She said elements of SpaceX's Raptor engine could be applied to other propulsion projects.
"There are so many questions unanswered," Gass said, responding to a question on the White House's policy statement on liquid-fueled propulsion. "What's the acquisition strategy? What's the approach? What's the definition of a public-private partnership?"
ULA is advocating for a long-term strategy, accounting for market demand with an eye toward a next-generation launcher that could incorporate a new U.S.-built liquid-fueled engine, assuming such a propulsion system is built.
"It shouldn't be a field of dreams kind of approach, [assuming] if you build it they will come," Gass said.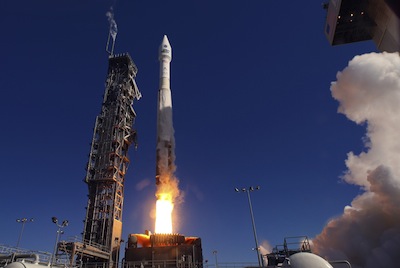 File photo of an Atlas 5 launch from Vandenberg Air Force Base, Calif. Credit: United Launch Alliance

"You can build an engine and totally miss the mark in terms of our national security needs," Gass said. "So there's a right sort of reticence. Let's not just jump off on an engine."
Gass described a public-private partnership that would innovate and stimulate technological advancements as a "right first step."
But he said officials eventually must decide on an approach and a new engine design, whether its development is funded primarily through government or private money.
"You can't have hundreds of options," Gass said. "I'll remind people this is a worldwide market, and it's not [just] companies competing. In some cases, it's country versus country, and we as a nation need to use our investment smartly."
ULA is lobbying for a government investment in domestic engine technologies, but the rocket maker is lobbying against an abrupt stop to the use of Russian RD-180 engines, a position favored by Sen. John McCain, who inserted language into a Senate bill to prohibit new engine purchases from Russia for national security satellite launches.
"You wouldn't want to cut it off before a new engine is certified," Gass said. "There are some people that are trying to encourage the nation to just have a date certain [to stop using RD-180 engines]. A date certain leads to potentially wrong decisions or inefficient use of investment dollars."
While ULA says it is willing to spearhead development a new rocket engine with private funds -- if there is a business case. Gass cautioned the "risk-averse" nature of commercial endeavors could lead companies to avoid more challenging engine concepts that could lead to innovations in efficiency, cost, or components.
"We're not afraid of doing it as a fully [commercial] investment if that's what is necessary to meet the market, but obviously that's a more challenging business case," Gass said. "It will also drive the nation to potentially less advancement in propulsion technology."
Follow Stephen Clark on Twitter: @StephenClark1.