Record cluster of satellites launched by Dnepr rocket
BY STEPHEN CLARK
SPACEFLIGHT NOW
Posted: June 19, 2014


A cluster of 37 satellites launched out of an underground silo on a remote Russian military base Thursday, rocketing into orbit on top of a Soviet-era ballistic missile modified to haul spacecraft instead of nuclear bombs.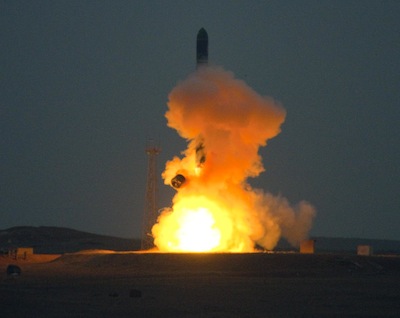 File photo of a previous Dnepr launch. Credit: ESA/S. Corvaja

The payload package is the most number of individual satellites ever launched on a single rocket, representing nations from 17 countries on four continents.
Most of the payloads will turn toward Earth, gathering imagery for environmental and security purposes.
The Dnepr rocket blasted out of a silo at the Dombarovsky military base near Yasny, Russia, at 1911:11 GMT (3:11:11 p.m. EDT).
The 111-foot-tall booster lit its hydrazine-fueled first stage engine moments later and flew south from the launch site, reaching space a few minutes after liftoff. Then its third stage flipped around and flew backwards, firing thrusters to reach the mission's targeted orbit 391 miles (630 kilometers) above Earth at an inclination of 98 degrees.
Thirty-three of the rocket's satellites deployed in a precisely-timed 30-second sequence to avoid collisions, concluding the Dnepr rocket's 20th flight since debuting in 1999. Another four satellites are housed inside a mother spacecraft for release later.
The launch was managed by Kosmotras, a Moscow-based company with joint Russian-Ukrainian ownership that oversees the commercial exploitation of the Dnepr rocket.
"All spacecraft have been successfully inserted into their target orbits," Kosmotras said in a statement.
The Dnepr rocket is based on Ukraine's R-36M missile, also known as the SS-18 by Western analysts.
Thursday's launch of 37 satellites followed a previous Dnepr flight with 32 spacecraft in November 2013. Kosmotras booked contracts with satellite owners and companies specializing in arranging launch opportunities for CubeSats, which are often built by institutions with limited experience in the space business.
The launcher's largest payloads were the Deimos 2 and KazEOSat 2 satellites owned by Elecnor Deimos of Spain and the government of Kazakhstan. The satellites carry Earth observing cameras to supply imagery to commercial clients and government authorities.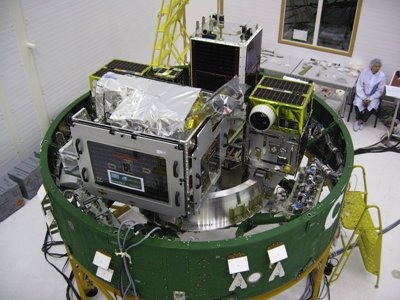 Some of the mission's 37 satellites are seen inside a clean room at the launch site. Credit: SSTL

Deimos 2's camera will see features on the ground as small as 75 centimeters, or about 30 inches. The 300-kilogram (661-pound) spacecraft joins the Deimos 1 satellite launched in 2009.
Built in Spain in partnership with Satrec Initiative of South Korea, Deimos 2 will be able to image any region on Earth every two days, panning up to 45 degrees on either side of its ground track to snap photos.
KazEOSat 2 is a medium-resolution imaging satellite built by U.K.-based Surrey Satellite Technology Ltd. Also known as KazMRES, the spacecraft will collect 6.5-meter (21.3-foot) imagery for the Kazakh government's civil and security officials.
SSTL trained 16 Kazakh engineers and three managers to operate the 180-kilogram (396-pound) satellite, which complements a high-resolution remote sensing spacecraft launched by a European Vega rocket in April.
The SaudiSat 4 spacecraft, a collaboration between NASA's Ames Research Center and Saudi Arabia's King Abdulaziz City for Science and Technology, launched Thursday will demonstrate enabling technologies for future missions conducting research on gravitational waves.
The Dnepr rocket was loaded with 11 small CubeSats for Planet Labs Inc., a San Francisco-based company in the midst of deploying a fleet of 100 Earth-viewing satellites to cover the globe every 24 hours.
The Planet Labs CubeSats are about the size of a loaf of bread. The craft will monitor natural disasters, deforestation, agricultural yields and other environmental changes. Planet Labs says the satellites will allow scientists and the public to track changes to Earth's surface.
Robbie Schingler, a co-founder of Planet Labs, tweeted that all 11 of the Earth imaging satellites contacted Earth as scheduled, signaling they were in good health.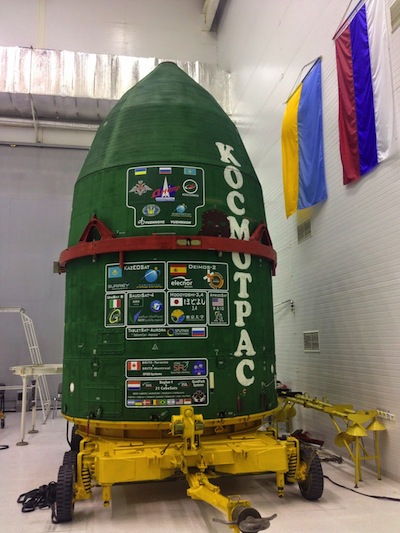 The Dnepr rocket's payload fairing, or space head module, encloses the satellites. Credit: Elecnor Deimos

An Italian-built satellite named UniSat 6 launched Thursday acts as a mothership for four other spacecraft, which will pop out of the host satellite as soon as Friday.
Built at La Sapienza University of Rome, UniSat 6 carries daughter satellites assembled by Iraqi students studying in Italy, NanoSatisfi Inc. and Aerospace Corp. of the United States, and engineering students in Uruguay.
Two U.S.-built AprizeSat asset tracking satellites, each weighing about 25 pounds, also rode into orbit on Thursday's Dnepr launch.
The University of Tokyo developed the Hodoyoshi 3 and Hodoyoshi 4 satellites sent into orbit Thursday for remote sensing missions. Officials with the Hodoyoshi project said the satellites will monitor the environment around the Fukushima and Chernobyl nuclear power plants in Japan and Ukraine.
Owned by Sputnix Ltd., a commercial microsatellite named TableSat-Aurora aboard the Dnepr rocket will test systems for a privately-operated Russian Earth observing constellation.
The BugSat remote sensing satellite from Argentina launched to prove out a new design for miniature spacecraft.
Other small satellites on Thursday's flight came from universities and companies in Canada, Singapore, Belgium, Taiwan, Denmark, Israel, Ukraine and Brazil.
Follow Stephen Clark on Twitter: @StephenClark1.