Europe's rocket builders announce consolidation plan
BY STEPHEN CLARK
SPACEFLIGHT NOW
Posted: June 17, 2014


Signaling a recognition of the changing landscape of the global space business, two European aerospace contractors say they will combine forces in a joint venture to cut the cost of Ariane launchers for commercial satellites and European government missions.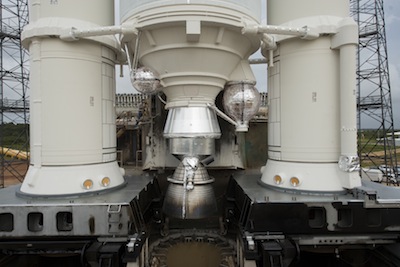 Photo of an Ariane 5 rocket on the launch pad in Kourou, French Guiana. Credit: ESA/S. Corvaja

Airbus Group and Safran announced Monday they have agreed to create a 50-50 joint venture to oversee rocket production sites in France and Germany. Airbus Defence and Space is prime contractor for the Ariane 5 rocket, and Paris-based Safran's Snecma and Herakles divisions build the launcher's liquid-fueled engines and solid rocket motors.
Development of an evolved, more capable version of Europe's Ariane 5 rocket for launches beginning in 2018 and the next-generation Ariane 6 launcher, set to debut in the early 2020s, is at the core of the new industrial arrangement, the companies said.
The jointly-owned company should begin operations before the end of 2014, officials said.
The rocket development projects are focused on continuing Europe's independent access to space while remaining a force in the global launch business.
Industry officials said the joint company was partly conceived to answer pressures from SpaceX, the U.S. space transportation company founded by Elon Musk, which has grabbed launch contracts for commercial satellites that once went to Europe's Ariane 5 rocket.
Arianespace, the operator of the Ariane 5, has seen its lead in the commercial launch market shrink since the arrival of SpaceX's Falcon 9 rocket, but the French launch services provider still garners more commercial business than any other rocket company.
Europe's challenge is to hang on to that edge in the commercial launch services market.
European Space Agency member states, European industrial representatives and Arianespace agree on the necessity of developing a less costly rocket to replace the Ariane 5, which must launch two commercial satellites at a time to remain competitive.
The answer is the Ariane 6, which officials say should launch for 70 million euros, or about $95 million, per flight and be capable of putting up to 6.5 metric tons of payload into geostationary transfer orbit, the destination for most commercial communications satellites.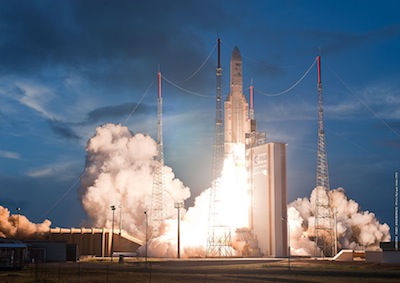 File photo of an Ariane 5 launch. Credit: ESA/CNES/Arianespace

If Europe is able to achieve such a price point, it would be about half the cost of an Ariane 5 launch today but slightly higher than prices advertised by SpaceX.
The Falcon Heavy rocket, a heavy-lift launcher still under development by SpaceX, carries a price tag of $85 million to deliver 6.4 metric tons to geostationary transfer orbit, according to SpaceX's website.
The less powerful Falcon 9 rocket cannot lift the heaviest commercial telecom satellites. Its performance to most geostationary transfer orbits is limited to 4.85 metric tons at a price of $61 million.
The prices do not account for SpaceX's plans to make the Falcon 9 rocket's first stage reusable, which the company says would reduce costs if proven technically and economically viable.
Officials said cost reductions in the Ariane rocket program might hinge on consolidation of the European rocket industry, an end that could be fostered by the joint venture announced by Airbus and Safran.
"It's all about enhancing the competitiveness of our space launcher business going forward," said Tom Enders, CEO of Airbus Group, in a statement. "The Ariane program has been hugely successful during the last 30 years, but in order to remain relevant and competitive for the future we need a much more efficient industrial structure. This is what the customers expect from us. Our agreement with Safran is the starting point of an exciting journey towards a more integrated, more efficient and hence more profitable launcher business in Europe."
ESA last year selected the basic design for the Ariane 6, deciding in favor of a recommendation from CNES -- the French space agency -- involving four solid-fueled rocket motors topped by a hydrogen-fueled cryogenic upper stage.
But officials are still debating rocket's make-up, with Germany publicly lobbying for a liquid-fueled core stage for the Ariane 6. Such a design modification would give Germany a bigger stake in the Ariane 6's design and production.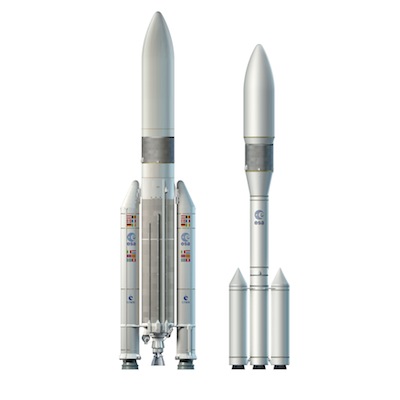 A side-by-side comparison of the Ariane 5 and the current design for the Ariane 6 rocket. Credit: ESA

Germany is ESA's leading overall financial contributor, but it ranks behind France in funding of Europe's launcher programs.
The French government's space minister said last month France is willing to entertain changes to the Ariane 6's baseline design, according to a report by Space News.
Top officials representing the ESA member states most active in launcher development and manufacturing -- France, Germany, Italy and Switzerland -- will meet July 8 in another in a series of colloquia aimed at ironing out differences on Europe's next launcher.
Government ministers will meet in Luxembourg in December to decide the fate of Europe's launcher program, including the Ariane 6, a halfway-finished upgrade to the Ariane 5 rocket, and performance augmentations to the light-class Vega booster.
ESA will ask its member states at the December conference in Luxembourg for 1.2 billion euros, or about $1.6 billion, to finish development of Ariane 5 ME for a first launch by 2018. The member states will also decide on a 4 billion euro, $5.5 billion, funding package for Ariane 6.
The upgraded Ariane 5 rocket, known as the Ariane 5 Mid-life Evolution, is scheduled to debut by 2018. It features a new Vinci upper stage engine capable of reigniting in space to boost heavier satellites into different types of orbits.
The current version of the Ariane 5, called the Ariane 5 ECA, flies with an HM7B upper stage engine that can only fire once per flight.
Backers of the Ariane 5 ME promise it will allow European governments to end subsidies to Arianespace, the French launch services company responsible for operating the Ariane rocket family.
The Ariane 6 design endorsed by ESA and CNES last year is powered by first and second stages, along with two strap-on boosters, using solid propulsion and a liquid hydrogen-fueled cryogenic third stage powered by the same Vinci engine under development for the Ariane 5 ME.
The Ariane 6 configuration is known by the French acronym "PPH" design, using the French words for solid and hydrogen fuel.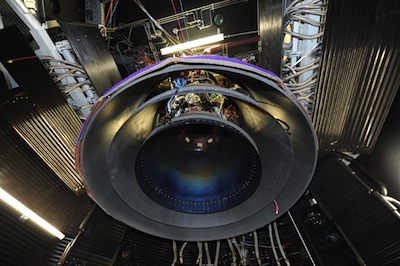 A Vinci engine with an expansion nozzle is seen inside a test chamber in Germany. Credit: DLR

The Vinci engine for Ariane 5 ME and Ariane 6, the Ariane 5's solid rocket boosters and Vulcain main engine, and Vega's solid-fueled first stage are built by Safran business units. Airbus leads the industrial consortium that manufactures the Ariane 5 rocket before handing it over to Arianespace for launch operations in French Guiana.
The venture by Airbus and Safran aims to "further develop the Ariane 6 launcher in a jointly agreed configuration, able to fulfill a range of missions as expressed by ESA, the national space agencies, Arianespace and satellite operators," the companies said in a joint statement.
"Among an increased number of actors worldwide and in addition to high technological challenges, European industry must provide competitive solutions for all space segments, among which launchers remain at the forefront. Today, we are at a defining moment to drive change as we have to be more agile, our products more affordable, and our structures more integrated. This new joint entity will be a major worldwide player in the launcher domain, with the aim to benefit from growth and better serve institutional as well as commercial customers," said Jean-Paul Herteman, chairman and CEO of Safran, in a press release.
Follow Stephen Clark on Twitter: @StephenClark1.